January 7, 2014
TransJustice is excited to open up our applications for the 5th Cycle of TransJustice Community School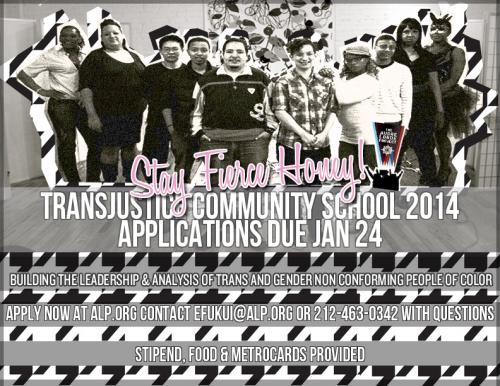 The TransJustice Community School aims to strengthen our community and ourselves and build participants confidence and self-esteem.  The TransJustice Community School will focus on building the leadership of Trans and Gender Non Conforming People of Color, while participating in a larger multi-racial, multi-gender community that fights injustice facing those who are most historically targeted in the U.S.  Through discussions and panels, workshops, visiting other groups and experience participants will: 
•    Gain Self-Confidence and awareness of your relationships to yourself and the world at large
•    Be able to analyze and engage with how power, privilege, and oppression impact our relationships to ourselves and our community
•    Learn the history of Trans Liberation movements and campaigns in Trans and Gender Non-Conforming Communities of Color
•    Learn Strategies and Tactics for how to build a campaign
•    Gain life skills, like budgeting, resume writing, and research as well as organizing skills like public speaking, facilitation, campaign strategy, and more!
•    Gain skills and tools for self-care, community care, resiliency and survival
The TransJustice Community School is an eight week program that will begin on March 10th, 2014 and will end on April 30th, 2014.  
•    There is no fee for participation.  Participants will receive a meal at each session, a $70 weekly stipend, metrocards, and a certificate of completion (full participation is required).  On time attendance at all sessions is also required.  
•    Location will be at ALP, 147w 24 ST 3rd fl NY N.Y. 10011, unless otherwise notified
Please fill out the attached application form, or click HERE to fill out the application online!
For more info, contact efukui@alp.org or call Elliott at (212)463-0342 Ext. 13.