Since the Audre Lorde Project first opened its doors in the summer of 1996, volunteers have been essential in building every aspect of ALP from setting up computer systems, to developing ALP's newsletter, to organizing events, to setting the direction and vision for ALP's work.
During the spring of 2010 The Audre Lorde Project launched a new membership program that provides a way for you to take part in the work of ALP whether you have a lot of time or just a little.
What Can Members do at The Audre Lorde Project?
Administrative Work
Fundraising
Outreach
Special Events
Writing/Editing
Members can also participate on Working Groups. Working Groups are structured committees where members can help develop organizational policy on various issues and help implement programs. Participating on a working group requires a commitment of at least 3 months for up to 10 hours a month. Working Groups include:
3rd Space Support - Immigrant Rights, Interpreter Trainings, Advocacy/Support Circles.
Membership - Holding basebuilding, supportive programming, wellness and holistic health education of our communities.
The SOS Collective - organize campaigns & actions against violence that's directed against LGBTSTGNC People of Color & broader communities of color.
TransJustice - by & for Trans & Gender Non-conforming people of color, works to mobilize its communities & allies into action on pressing political issues they face such as employment & education.
Why Get Involved at ALP?
Besides the rewarding experience of giving back to your community and working towards specific community based projects, people come to ALP to have fun, to meet other people and to learn about our community. You can also take advantage of ALP's different programs, which include events, community forums, trainings, discussion/support group meetings & poetry readings. As an ALP member you will be added to our mailing list and receive our newsletter, program materials and member related information. You'll also be invited to special volunteer events.
How To Become a Member
Individuals interested in becoming ALP members can contact The Audre Lorde Project by phone or by filling out the online member info form. You'll then set up an appointment with ALP staff to discuss your interests & decide on the most suitable volunteer project for you. Once you sign the ALP member agreements you will be scheduled to attend our next member orientation.
Who Should Become a Member?
People who are interested in supporting an organization that provides so much to our community. Prospective members should be responsible, committed to our mission, guiding principles & have free time to give. Member projects can fit your schedule. You can volunteer once a month or more often, do projects at home, at ALP or in the borough most convenient for you.
Membership Levels
Supportive Members get updated on Audre Lorde Project events, campaigns and programs. This level is open to all with a low time commitment.
Active & Active Ally Members help implement programs, get access to trainings and build community support for the Audre Lorde Project. This level is open to all and has a medium time commitment.
Core Members participate in decision making, conduct trainings and develop leadership of the Audre Lorde Project. This level is open to LGBTSTGNC POC and has a high time commitment.
When:
Sunday, August 6, 2017 -

12:00pm

to

5:00pm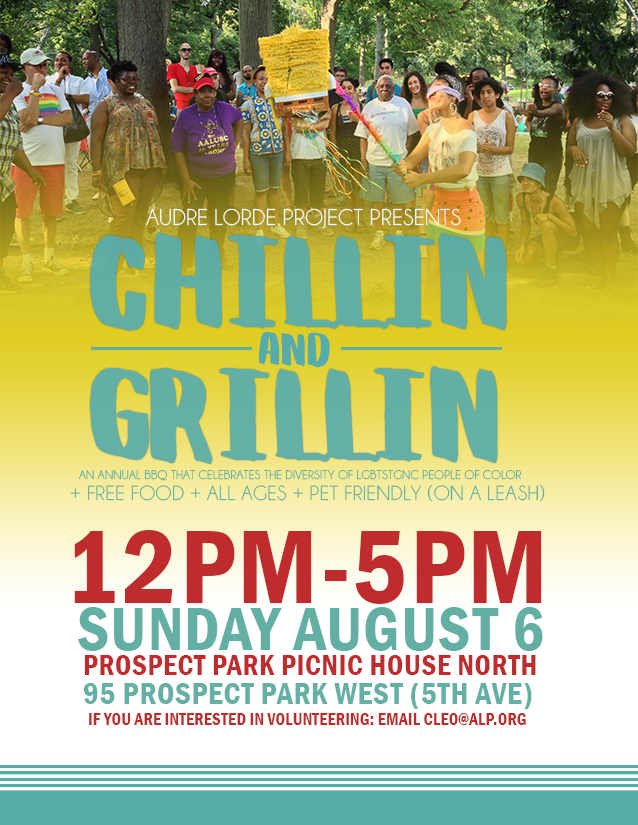 Chillin' & Grillin' is an annual FREE BBQ and community event that celebrates the diversity of the LGBTSTGNC People of Color community and unites its various groups for summer FUN! Now in its 19th year, the event has become a summer tradition, with an attendance of more than 300 people. If you're looking for a more intimate time, there will be plenty of space and activities for smaller groups to socialize (Pet friends/family are allowed as long as they are on a leash)! For any questions or suggestions, please e-mail Cleopatra at Cleo@alp.org
To get to the Picnic House North you can enter at 5th Street and Prospect Park West:
F Train to 7th Avenue; walk up 9th Street to Prospect Park West & turn left; walk dow


n Prospect Park West to the 5th Street Entrance

2/3 Train to Grand Army Plaza; walk down Prospect Park West to the 5th Street Entrance (6-7 blocks)

B69 Bus along 9th Street to 9th Street/Prospect Park West
To make sure this Chillin' & Grillin' is the most successful one we've ever had, we'll need about 25-30 volunteers to make sure the day goes as smoothly as possible.
If you're interested in volunteering for this event please sign up here or e-mail cleo@alp.org.
Space Holder: We'll need 4 folks to wake up with yours truly at the crack alley of dawn (6am) to help reserve picnic tables for our folks to chill at for the rest of the day. THIS IS A VERY IMPORTANT ROLE!! EARLY RISERS NEEDED! You will also be rewarded with the first meal of the day and be proclaimed the picnic (S)heroes ;-) (Shift: 6am-9am)

Set-Up: We'll need about 4 folks at 8am to help with loading the van, and packing the supplies (i.e. the food and snacks!!). How else are we going to get our grub and drink on?! You will also have the option of traveling to the park to continue with set up at the BBQ site. (Shift: 8am-9am) We'll need about 10 folks at 10am to help with unloading the van, and unpacking the supplies (i.e. the food and snacks!!). How else are we going to get our grub and drink on?! (Shift: 10am-12pm)

Chalkers: We'll need about 6 folks to help with chalking directions to the picnic site on the ground around prospect park so everyone can enjoy the fun times!




(Shift: 9:30am-11am)

Essential Supporters: We'll need folks to welcome people, sign them in, and stand by for other misc. tasks (12-6pm)
Game Masters:We'll need about 3 folks to help set up various board games and activities through out the day (dominoes, flag football, relay race) (Shift: 1pm-4pm)
Pinata: We'll need 3 folks to help coordinate both the kids and adult pinata (Shift: 3pm-4:30pm)

Breakdown: We'll need about 10 folks from about 5pm-6pm to assist with loading the van back up, and re-packing the supplies. Left over food should be wrapped up to be given away and taken home, but let's all do our part and make sure that doesn't happen :-) (Shift: 4pm-7pm)

Office Clean Up: This shift requires volunteers to either travel from the picnic to the ALP brooklyn office OR meeting us at the Brooklyn Office at 7pm to help us put things away in the BK office and ensuring that it is organized (7-8:30pm)
Please sign up for the shift that makes sense for you! To sign up, e-mail Cleopatra at Cleo@alp.org.