Since the Audre Lorde Project first opened its doors in the summer of 1996, volunteers have been essential in building every aspect of ALP from setting up computer systems, to developing ALP's newsletter, to organizing events, to setting the direction and vision for ALP's work.
During the spring of 2010 The Audre Lorde Project launched a new membership program that provides a way for you to take part in the work of ALP whether you have a lot of time or just a little.
What Can Members do at The Audre Lorde Project?
Administrative Work
Fundraising
Outreach
Special Events
Writing/Editing
Members can also participate on Working Groups. Working Groups are structured committees where members can help develop organizational policy on various issues and help implement programs. Participating on a working group requires a commitment of at least 3 months for up to 10 hours a month. Working Groups include:
3rd Space Support - Immigrant Rights, Interpreter Trainings, Advocacy/Support Circles.
Membership - Holding basebuilding, supportive programming, wellness and holistic health education of our communities.
The SOS Collective - organize campaigns & actions against violence that's directed against LGBTSTGNC People of Color & broader communities of color.
TransJustice - by & for Trans & Gender Non-conforming people of color, works to mobilize its communities & allies into action on pressing political issues they face such as employment & education.
Why Get Involved at ALP?
Besides the rewarding experience of giving back to your community and working towards specific community based projects, people come to ALP to have fun, to meet other people and to learn about our community. You can also take advantage of ALP's different programs, which include events, community forums, trainings, discussion/support group meetings & poetry readings. As an ALP member you will be added to our mailing list and receive our newsletter, program materials and member related information. You'll also be invited to special volunteer events.
How To Become a Member
Individuals interested in becoming ALP members can contact The Audre Lorde Project by phone or by filling out the online member info form. You'll then set up an appointment with ALP staff to discuss your interests & decide on the most suitable volunteer project for you. Once you sign the ALP member agreements you will be scheduled to attend our next member orientation.
Who Should Become a Member?
People who are interested in supporting an organization that provides so much to our community. Prospective members should be responsible, committed to our mission, guiding principles & have free time to give. Member projects can fit your schedule. You can volunteer once a month or more often, do projects at home, at ALP or in the borough most convenient for you.
Membership Levels
Supportive Members get updated on Audre Lorde Project events, campaigns and programs. This level is open to all with a low time commitment.
Active & Active Ally Members help implement programs, get access to trainings and build community support for the Audre Lorde Project. This level is open to all and has a medium time commitment.
Core Members participate in decision making, conduct trainings and develop leadership of the Audre Lorde Project. This level is open to LGBTSTGNC POC and has a high time commitment.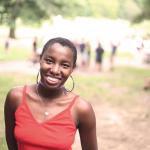 Chillin' & Grillin' is an annual FREE BBQ and community event that celebrates the diversity of the LGBTSTGNC People of Color community and unites its various groups for summer fun. 
When:
Thursday, September 7, 2017 -

6:00pm

to

9:00pm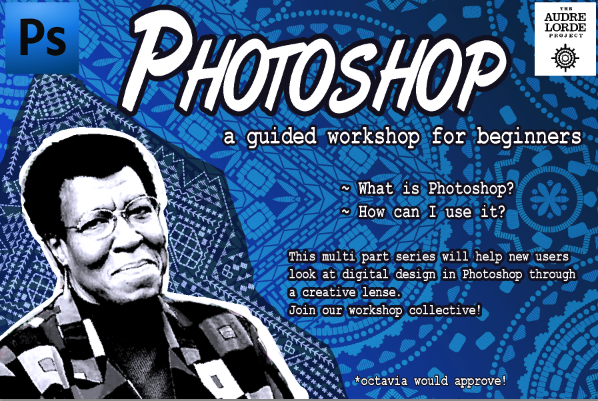 This workshop will be a brief guided 'tour' through tools used the most often in Photoshop. We will be recreating the flier for this event (you can bring your own images but all images on the flier will be provided). Afterwards, time permitting, we will open the floor for questions about projects you are working on.
To be considered for this workshop you MUST fill out the form below, as we have a limited number of computer for folks to work from!
https://goo.gl/forms/Fo5b9b5rgIJKWWlx1
"What are the words you do not yet have? What do you need to say? What are the tyrannies you swallow day by day and attempt to make your own, until you will sicken and die of them, still in silence." Audre Lorde, 'The Transformation of Silence into Language and Action', (1978)
ABOUT THE COMMUNITY LEADERSHIP SKILLS TRAINING SERIES
What do you want to organize OUTside the lines? Do you have an organizing project you are looking to build from the inside OUT, and need the skills to do it? We are here to cultivate your skills to build towards a dream project that you have wanted to bring to life.
This Leadership Development Series will support you by increasing your skills and developing your leadership within the realm of community organizing and social change work. This training will help you to better challenge the multiple oppressions faced by LGBTSTGNC People of Color communities. We committed training and building our community members so that we are all recognized as individuals with power who are collectively building movement. We want you to have more tools to build vision and transform our lives!
***This Workshop series is open to folks who identify as LGBTSTGNC POC only***
When:
Sunday, September 10, 2017 -

1:00pm

to

6:00pm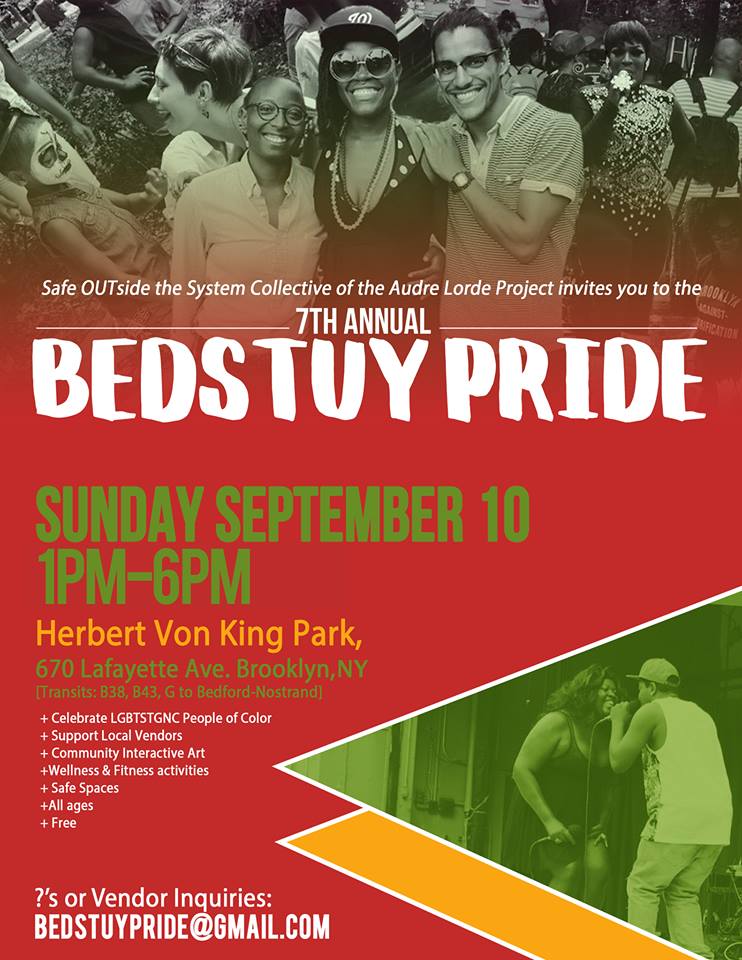 Come celebrate lesbian, gay, bisexual, two spirit, transgender and gender-non-conforming people of color living in the Bed-Stuy and Central Brooklyn community. The day will feature local artists, performances, workshops, music, vendors, family friendly wellness & fitness activities and more!
Want to support or get involved in the 7th Annual Bed-Stuy Pride?
- If you are inquiring about volunteering please email cleo@alp.org.
- If you'd like to be a vendor, performer, or host a workshop, please contact bedstuypride@gmail.com.
Notes on access: It is our intention to create an accessible and welcoming space for LGBTSTGNC POC families, communities, and allies in Central Brooklyn. The venue is physically accessible (flat venue with ramps to the bathrooms), can be accessed by public transit (B38, B43, and G to Bedford-Nostrand), and provides gender neutral public bathrooms. We will offer Spanish language interpretation. Audre Lorde Project community practitioners and other community members will provide a variety of wellness and physical activities for event goers. ALP members trained in security and de-escalation will support the safety and well-being of our community members throughout the event. Please contact bedstuypride@gmail.com if you have any suggestions or additions on how to make the space more accessible, and if you have any particular concerns about security.
Who we are: The Safe OUTside the System (SOS) Collective is an anti-violence program led by and for Lesbian, Gay, Bisexual, Two Spirit, Trans, and Gender Non Conforming people of color. We are devoted to challenging hate and police violence by using community based strategies rather than relying on the police. SOS is a project of the Audre Lorde Project, a LGBTSTGNC people of color community organizing center. www.alp.org
*********************************************************************
Ven a celebrar con la comunidad de color lésbica, gay, bisexual, dos espíritu, trans y disidente de género (LGBDETDDG) que viven en la comunidad de Bedford-Stuyvesant y en el Centro de Brooklyn. ¡ Este día habrá artistas, espectáculos, talleres, música, vendedores, actividades de salud y bienestar para toda la familia y mucho más!
¿Quieres apoyar o participar en el sexto festival anual del orgullo en Bedford-Stuyvesant?
- Si necesitas información sobre cómo ser voluntaria/o, por favor comunícate con cleo@alp.org.
- Para cualquier otra consulta, por favor, escribe a bedstuypride@gmail.com.
Acerca del acceso: Queremos crear un espacio amigable y accesible para lxs aliadxs, familiares y comunidades LGBDETDDG de color del centro de Brooklyn. El lugar del evento es físicamente accesible (es un piso plano con rampas para los baños). Puede llegarse en bus (líneas B38 y B43) y por metro (estación Bedford-Nostrand de la línea G). Tiene baños públicos unisex. Ofreceremos interpretación en español. El equipo profesional del Proyecto Audre Lorde y otros miembros de la comunidad proporcionarán varias actividades de salud y bienestar para lxs asistentes al evento. Lxs miembros de ALP entrenadxs en seguridad y en la reducción de conflicto apoyarán con la seguridad y el bienestar de lxs miembros de nuestra comunidad durante todo el evento. Por favor, escribe a bedstuypride@gmail.com si tienes alguna sugerencia o comentario adicionales sobre cómo hacer el espacio más accesible, o si tienes alguna preocupación en particular sobre la seguridad.
Quiénes somos: El colectivo "Segurxs Fuera del Sistema" (SOS, por sus siglas en inglés) es un programa de anti-violencia dirigido por y para lesbianas, gays, bisexuales, dos espíritus, trans, y gente disidente de género de color. Estamos dedicadxs a desafiar el odio y la violencia policial mediante el uso de estrategias comunitarias en lugar de depender de la Policía. SOS es un proyecto del Proyecto Audre Lorde, un centro de organización comunitaria para personas de color LGBDETDDG www.alp.org.