Since the Audre Lorde Project first opened its doors in the summer of 1996, volunteers have been essential in building every aspect of ALP from setting up computer systems, to developing ALP's newsletter, to organizing events, to setting the direction and vision for ALP's work.
During the spring of 2010 The Audre Lorde Project launched a new membership program that provides a way for you to take part in the work of ALP whether you have a lot of time or just a little.
What Can Members do at The Audre Lorde Project?
Administrative Work
Fundraising
Outreach
Special Events
Writing/Editing
Members can also participate on Working Groups. Working Groups are structured committees where members can help develop organizational policy on various issues and help implement programs. Participating on a working group requires a commitment of at least 3 months for up to 10 hours a month. Working Groups include:
3rd Space Support - Immigrant Rights, Interpreter Trainings, Advocacy/Support Circles.
Membership - Holding basebuilding, supportive programming, wellness and holistic health education of our communities.
The SOS Collective - organize campaigns & actions against violence that's directed against LGBTSTGNC People of Color & broader communities of color.
TransJustice - by & for Trans & Gender Non-conforming people of color, works to mobilize its communities & allies into action on pressing political issues they face such as employment & education.
Why Get Involved at ALP?
Besides the rewarding experience of giving back to your community and working towards specific community based projects, people come to ALP to have fun, to meet other people and to learn about our community. You can also take advantage of ALP's different programs, which include events, community forums, trainings, discussion/support group meetings & poetry readings. As an ALP member you will be added to our mailing list and receive our newsletter, program materials and member related information. You'll also be invited to special volunteer events.
How To Become a Member
Individuals interested in becoming ALP members can contact The Audre Lorde Project by phone or by filling out the online member info form. You'll then set up an appointment with ALP staff to discuss your interests & decide on the most suitable volunteer project for you. Once you sign the ALP member agreements you will be scheduled to attend our next member orientation.
Who Should Become a Member?
People who are interested in supporting an organization that provides so much to our community. Prospective members should be responsible, committed to our mission, guiding principles & have free time to give. Member projects can fit your schedule. You can volunteer once a month or more often, do projects at home, at ALP or in the borough most convenient for you.
Membership Levels
Supportive Members get updated on Audre Lorde Project events, campaigns and programs. This level is open to all with a low time commitment.
Active & Active Ally Members help implement programs, get access to trainings and build community support for the Audre Lorde Project. This level is open to all and has a medium time commitment.
Core Members participate in decision making, conduct trainings and develop leadership of the Audre Lorde Project. This level is open to LGBTSTGNC POC and has a high time commitment.
Fill out the Member Info Form online.
For more information, contact our Member Engagement & Leadership Coordinator, Kade Cahe, at kade@alp.org
February 13, 2019
In this interview between Kade Cahe, The Audre Lorde Project's  Membership coordinator, and Janhavi Pakrashi, the Communications Coordinator, the discussion covers the role and impact of membership development at our organization. At the last Membership Orientation, Kade mobilized a group of 22 new members to participate in an informational gathering in which folks were grounded in the organizing principles of the Audre Lorde Project, in addition to having the opportunity to get to know our staff members and each other. During the gathering, folks broke into group exercises that set the tone for sharing and conceptualizing the roles they might envision for themselves as participants in intersectional feminist movement building.
When:
Monday, February 25, 2019 -

6:00pm

to

9:30pm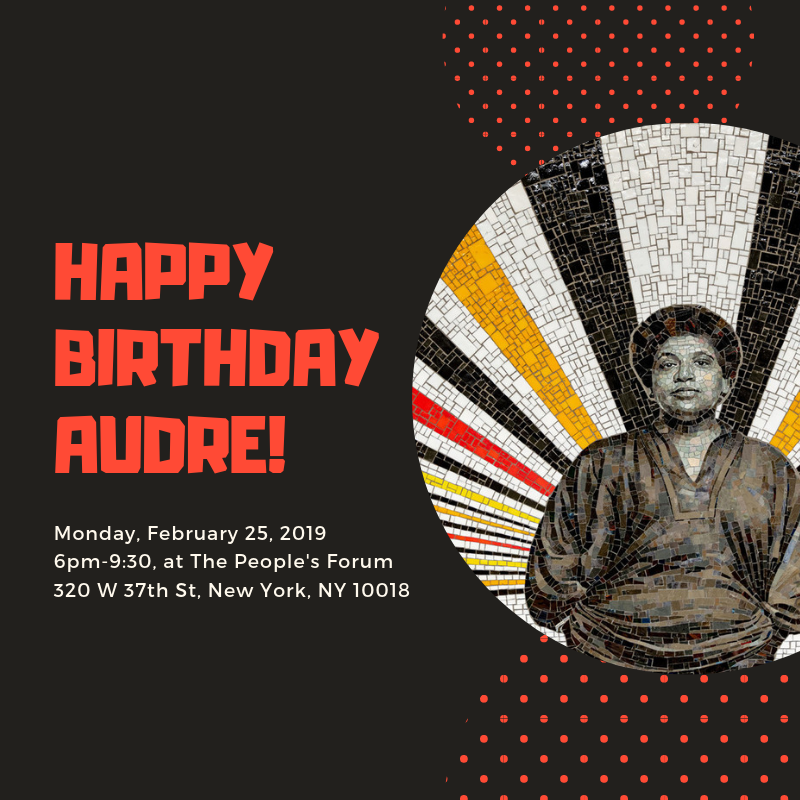 Join us as we gather to celebrate Audre Lorde's 85th birthday and her lasting legacy in our community!  We will also honor and celebrate our resilient LGBTSTGNC Communities of Color in New York. Come for dinner, drinks, cultural performances, dancing, and good company! This is a completely FREE event. The space is wheelchair accessible. Childcare can be provided upon request. Dinner will begin at 6pm & the program will start at 7:00pm! Our intergeneration event is open to all LGBTSTGNC POC and Allies! 
When:
Wednesday, January 30, 2019 -

6:30pm

to

8:00pm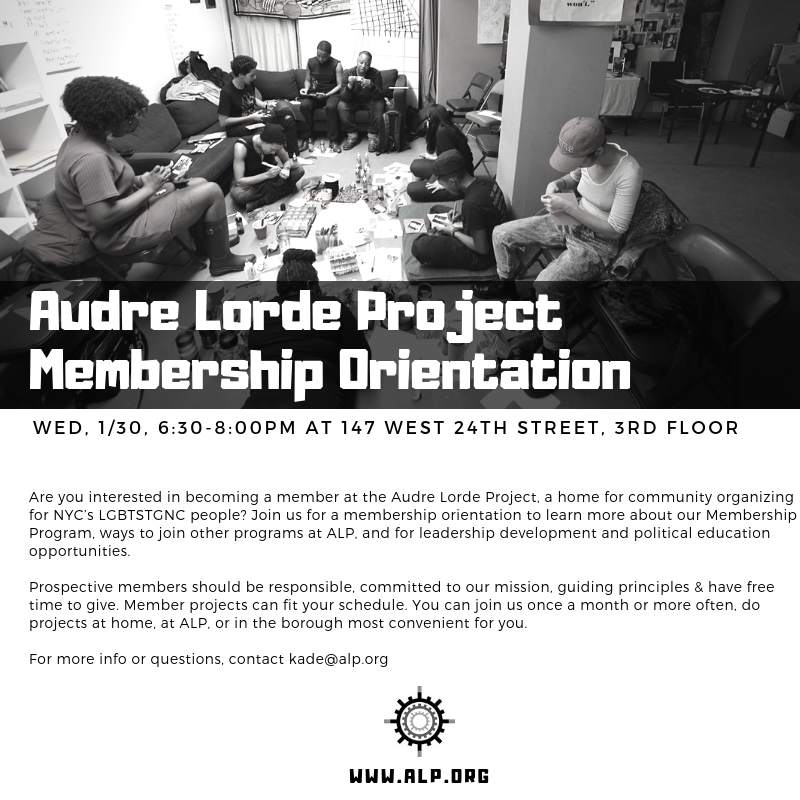 ALP MEMBERSHIP ORIENTATION
When: Wednesday, January 30th, 2018 - 6:30pm to 8:00pm
Where: ALP - Manhattan, 147 West 24th St., 3rd Fl., New York, NY
Are you interested in becoming a member at the Audre Lorde Project, a home for community organizing for NYC's LGBTSTGNC people? Join us for a membership orientation to learn more about our Membership Program, ways to join other programs at ALP, and for leadership development and political education opportunities.