Since the Audre Lorde Project first opened its doors in the summer of 1996, volunteers have been essential in building every aspect of ALP from setting up computer systems, to developing ALP's newsletter, to organizing events, to setting the direction and vision for ALP's work.
During the spring of 2010 The Audre Lorde Project launched a new membership program that provides a way for you to take part in the work of ALP whether you have a lot of time or just a little.
What Can Members do at The Audre Lorde Project?
Administrative Work
Fundraising
Outreach
Special Events
Writing/Editing
Members can also participate on Working Groups. Working Groups are structured committees where members can help develop organizational policy on various issues and help implement programs. Participating on a working group requires a commitment of at least 3 months for up to 10 hours a month. Working Groups include:
3rd Space Support - Immigrant Rights, Interpreter Trainings, Advocacy/Support Circles.
Membership - Holding basebuilding, supportive programming, wellness and holistic health education of our communities.
The SOS Collective - organize campaigns & actions against violence that's directed against LGBTSTGNC People of Color & broader communities of color.
TransJustice - by & for Trans & Gender Non-conforming people of color, works to mobilize its communities & allies into action on pressing political issues they face such as employment & education.
Why Get Involved at ALP?
Besides the rewarding experience of giving back to your community and working towards specific community based projects, people come to ALP to have fun, to meet other people and to learn about our community. You can also take advantage of ALP's different programs, which include events, community forums, trainings, discussion/support group meetings & poetry readings. As an ALP member you will be added to our mailing list and receive our newsletter, program materials and member related information. You'll also be invited to special volunteer events.
How To Become a Member
Individuals interested in becoming ALP members can contact The Audre Lorde Project by phone or by filling out the online member info form. You'll then set up an appointment with ALP staff to discuss your interests & decide on the most suitable volunteer project for you. Once you sign the ALP member agreements you will be scheduled to attend our next member orientation.
Who Should Become a Member?
People who are interested in supporting an organization that provides so much to our community. Prospective members should be responsible, committed to our mission, guiding principles & have free time to give. Member projects can fit your schedule. You can volunteer once a month or more often, do projects at home, at ALP or in the borough most convenient for you.
Membership Levels
Supportive Members get updated on Audre Lorde Project events, campaigns and programs. This level is open to all with a low time commitment.
Active & Active Ally Members help implement programs, get access to trainings and build community support for the Audre Lorde Project. This level is open to all and has a medium time commitment.
Core Members participate in decision making, conduct trainings and develop leadership of the Audre Lorde Project. This level is open to LGBTSTGNC POC and has a high time commitment.
Fill out the Member Info Form online.
For more information, contact our Member Engagement & Leadership Coordinator, Kade Cahe, at kade@alp.org
Recently, a memo for the federal Health and Human Services (HHS) Department was leaked, sharing HHS's plan to define sex as male or female, and only recognize people in these categories based on their sex assignment at birth. This is yet another attempt by the federal administration to harm trans and gender non-conforming communities by rolling back policies designed to protect us against discrimination. While our community is an already vulnerable and heavily marginalized group, particularly around accessing care, our freedom to self-determine our own gender identities and expressions is at stake. It is important to note that this memo is not yet law. We have an opportunity now to mobilize and demand that government not attempt to erase the lives and experiences of TGNC people.
When:
Friday, November 2, 2018 -

6:00pm

to

9:00pm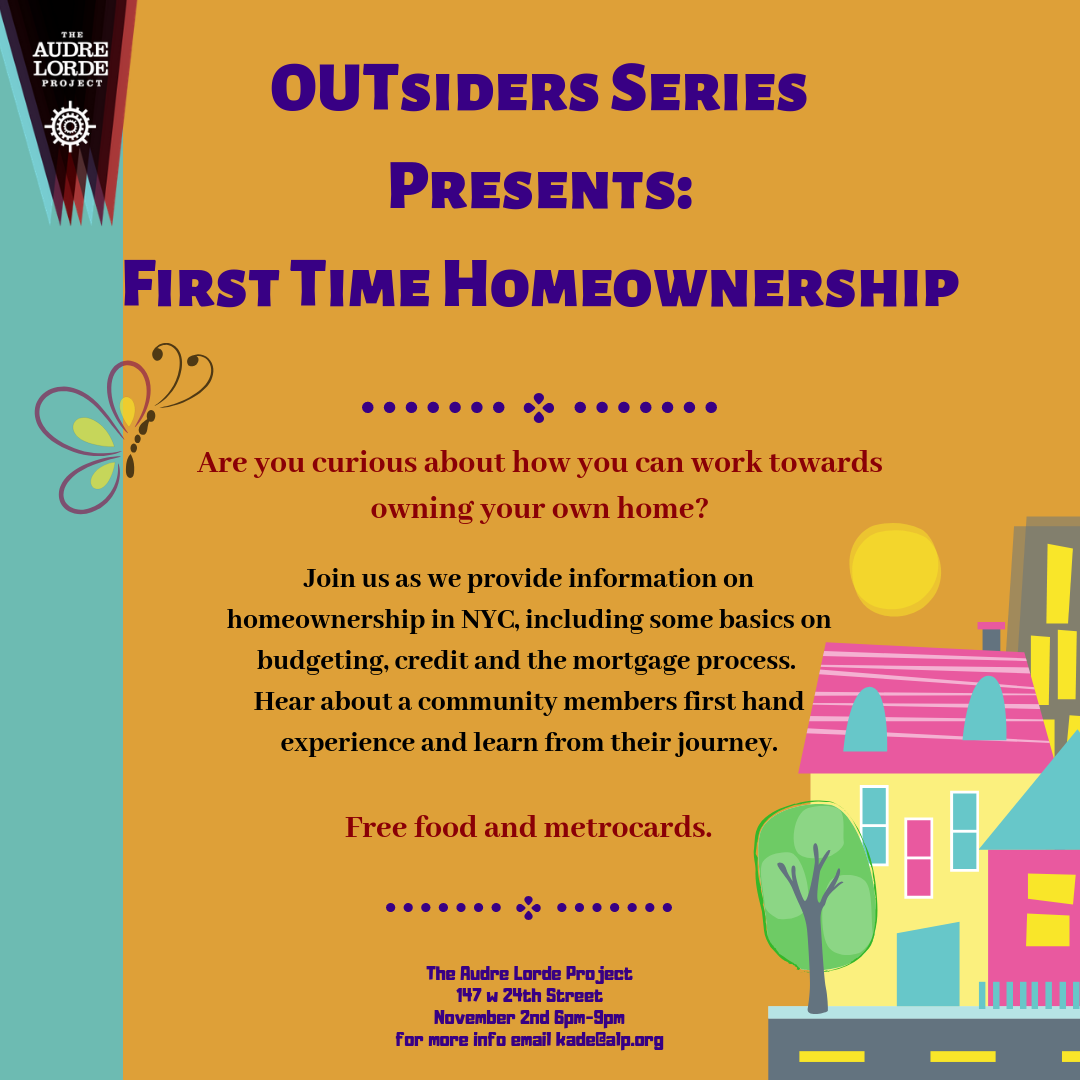 Are you curious about how you can work towards owning your own? Join us as we provide information on homeownership in NYC, including an introductions to budgeting, credit, and the mortgage process. Hear from our Audre Lorde Project's community members' first hand experience and learn from their journey. First Time Homeownership is an informative event that aims to build the skills and knowledge in securing homes in our city as we resist gentrification and displacement. This event is open to all Lesbian Gay Bisexual Two-Spirit Trans & Gender Non-Conforming People of Color!
RSVP by following this link: https://goo.gl/forms/ShN7G63KAJTOjlX33
Please complete the RSVP form by November 1st, 2018
This workshop will be Friday, November 2nd, from 6:00pm to 9pm at the Audre Lorde Project's Manhattan office at 147 w 24th Street. 
Dinner will be served from 6:00-6:30. The workshop begins at 6:30pm. 
October 25, 2018
The Audre Lorde Project and TransJustice will present Transgender Day of Remembrance 2018, taking place at St. John's Lutheran Church on Monday, November 19, 2018 from 6pm to 9pm, and featuring conversations and performances in memoriam of those who have passed, but are not forgotten, in our communities. In our current political climate, it is more important than ever to honor the work and resilient legacies of community members who fought, and are fighting, tirelessly for self-determination and survival in the face of overbearing violence and structural oppression. On this day, we confront erasure by honoring their work and lives.