TransJustice is a political group created by and for Trans and Gender Non-conforming people of color. TransJustice works to mobilize its communities and allies into action on the pressing political issues they face, including gaining access to jobs, housing, and education; the need for Trans-sensitive healthcare, HIV-related services, and job-training programs; and resisting police, government and anti-immigrant violence. TransJustice Campaign meetings are 1st & 3rd Monday from 6:00PM - 9:00PM at the Audre Lorde Project at 147 West 24th Street, 3rd Floor, New York, NY. For more information contact our Director of Programs, Cleopatra Acquaye-Reynolds, at cleo@alp.org
When:
Friday, February 1, 2019 - 11:59pm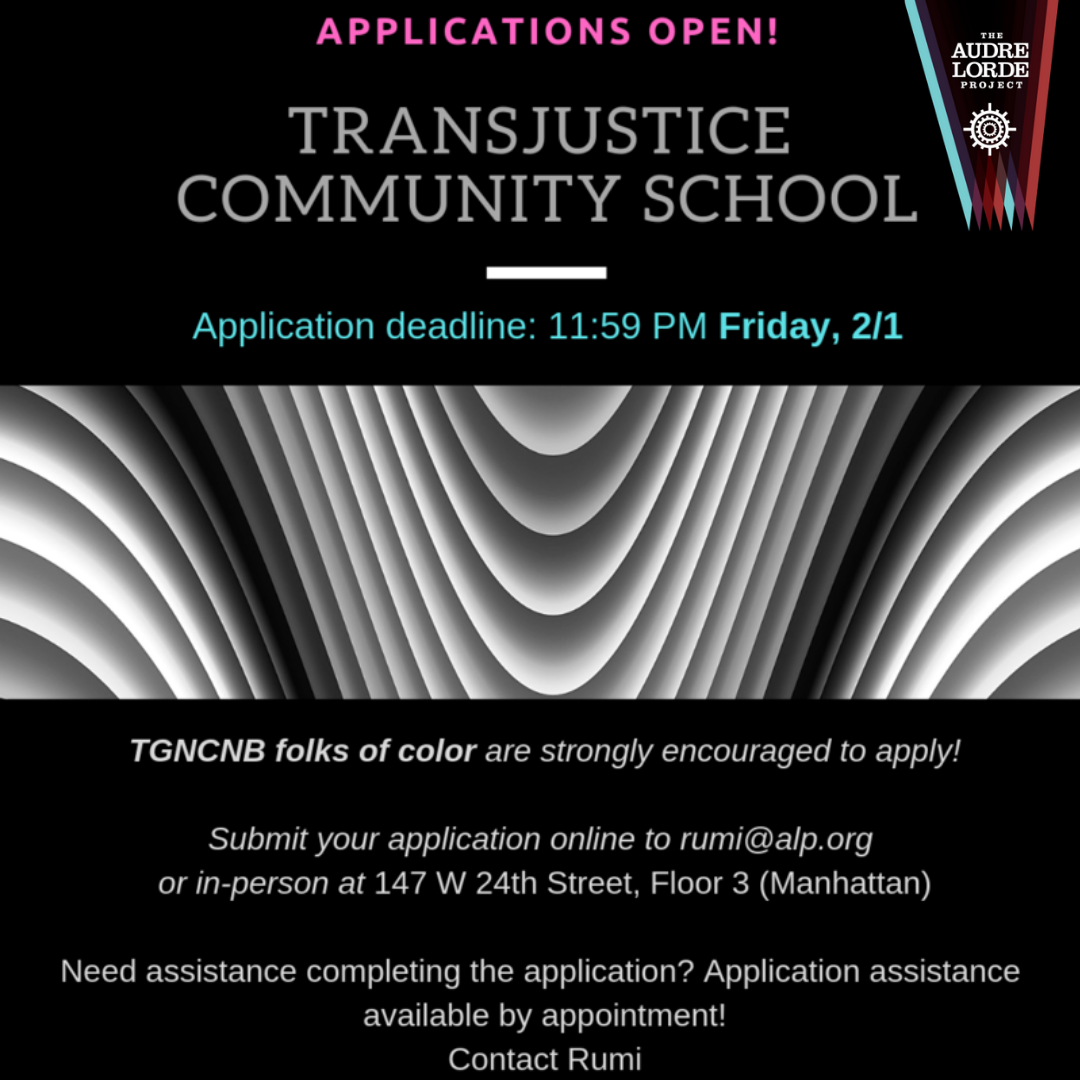 TransJustice Schools are for People of Color who identify as Trans and Gender Non-Conforming - for example, people who identify as trans, gender non-conforming, gender variant, gender deviant, butch lesbians, drag queens, bi-gendered, Two-Spirit, drag kings, femme queens, A.G., genderqueer, agender, andro, gender-benders, etc. - to expand our opportunities in creating spaces where we can build, learn, and support our collective work to liberate Trans and Gender Nonconforming Communities of Color. Please follow this link for the Application.
November 8, 2018
Our annual Trans Day of Remembrance is at 81 Christopher st at St. John's Lutheran Church on Monday, November 19th from 6-9pm. We are in need of volunteers for this year's TDOR 2018! Please come to support, and for healing, and transformation as we affirm that we will not be erased. We are most powerful when we are in community and there is no community as resilient as ours. Check out shifts below and how to sign up