TransJustice is a political group created by and for Trans and Gender Non-conforming people of color. TransJustice works to mobilize its communities and allies into action on the pressing political issues they face, including gaining access to jobs, housing, and education; the need for Trans-sensitive healthcare, HIV-related services, and job-training programs; and resisting police, government and anti-immigrant violence. TransJustice Campaign meetings are 1st & 3rd Monday from 6:00PM - 9:00PM at the Audre Lorde Project at 147 West 24th Street, 3rd Floor, New York, NY. For more information contact our Director of Programs, Cleopatra Acquaye-Reynolds, at cleo@alp.org
February 15, 2019
Dear Community,
Love asks us to be tenacious, it asks us to be generous, it asks us to imagine being part of something bigger than ourselves. It asks us to forgive, to listen and revise obsolete ways and evolve in order to fully participate in the work ahead. It teaches us that in order to fully engage with the work of dismantling oppressive systems, we must care for ourselves, examine where we are replicating those systems, and love ourselves most of all by allowing transformation.
Those of you have participated in programs and events with the Audre Lorde Project may have noticed a sense of levity and warmth when we come together to heal ourselves, each other, and our communities. The act of gathering centers and sustains us, in resistance against daily microaggressions and trauma that are par for the course when resourcing ourselves to thrive in a hostile world. This month ALP showed up for protests around the brutal racist and homophobic attack on Jussie Smollet, as well as the ongoing assualt of neglect on our incarcerated communities at Metropolitan Detention Center, in Brooklyn.
Your contributions of time, thought, and resources keep our communities thriving. Thank you for your ongoing support and generosity.
When:
Friday, February 1, 2019 - 11:59pm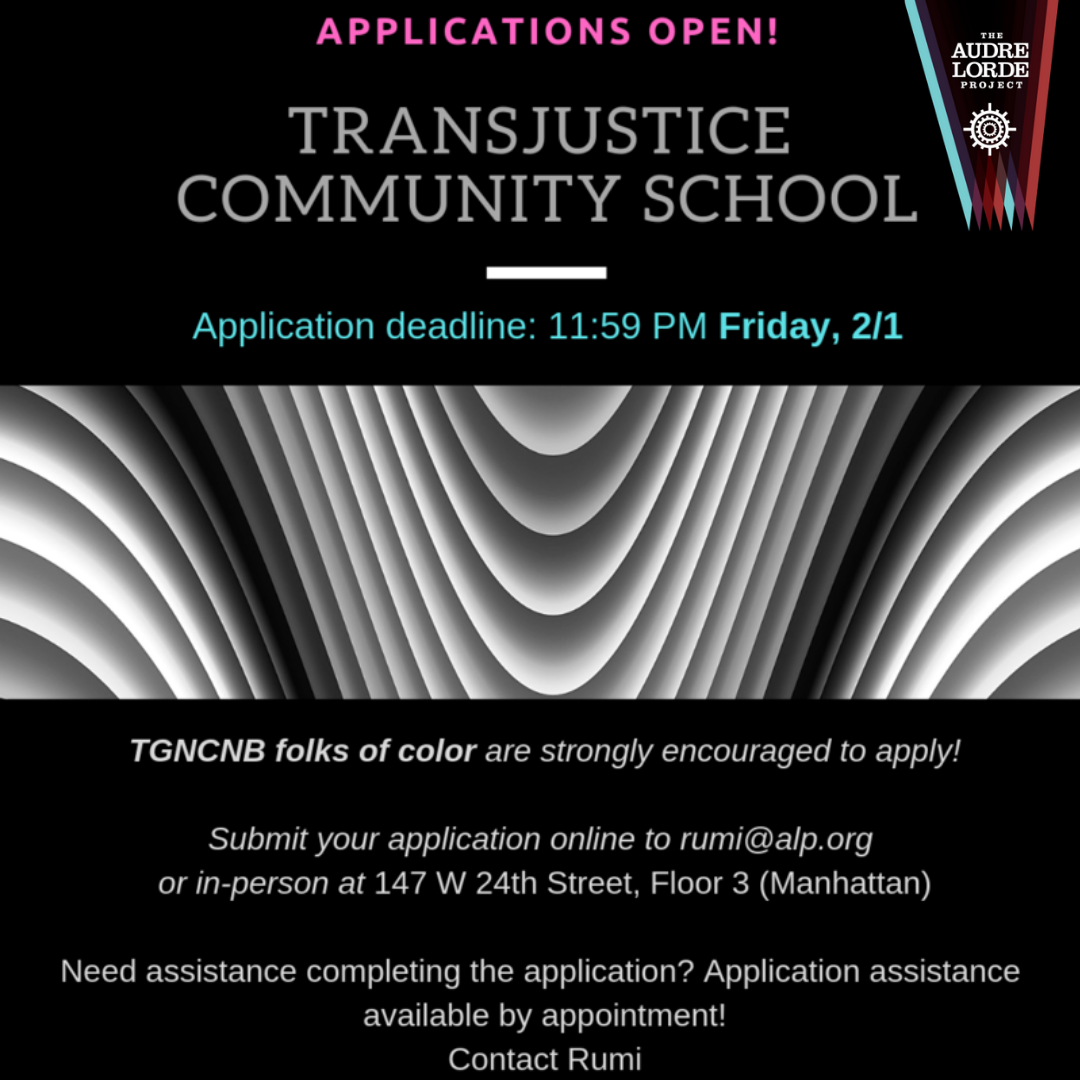 TransJustice Schools are for People of Color who identify as Trans and Gender Non-Conforming - for example, people who identify as trans, gender non-conforming, gender variant, gender deviant, butch lesbians, drag queens, bi-gendered, Two-Spirit, drag kings, femme queens, A.G., genderqueer, agender, andro, gender-benders, etc. - to expand our opportunities in creating spaces where we can build, learn, and support our collective work to liberate Trans and Gender Nonconforming Communities of Color. Please follow this link for the Application.