Highlights from ALP
ALP organizes LGBTSTGNC POC in NYC to change the conditions that negatively impact our communities, however we also recognize that while working to build our community's power we must address the immediate economic and wellness concerns that we individually and collectively face. The 3rd Space Support Program works to ensure that communities facing the greatest barriers to survival stay central to ALP's membership, leadership and organizing by connecting people with wellness, grief and crisis resources and integrate a culture of sustainability and holistic care at ALP and in our movements. The 3rd Space Support Coordinator works closely with the Membership, SOS and TJ Coordinators to ensure that members of ALP have access to cultural and community wellness practices, healing justice strategies and are connected to resources and services that include but are not limited to housing, health care, public assistance and job training support. In addition the 3rd Space Support Coordinator connects ALP's membership to the abundance of ancestral traditions of LGBTSTGNC POC healing practices and methodologies in our NYC community, including reiki, acupuncture, and massage, and supports mutual aid and community care practices. This includes creating a team of on-call practitioners, cultural workers, and other ALP community members who will provide resources, referrals and community care strategies for our base.
The Audre Lorde Project continues to be a locally and nationally
recognized force in the struggle for racial, social and economic justice, that center wellness and safety strategies as integral to our collective survival and liberation. In this heightened political moment we are seeking an Executive Director that can help guide vision and mission of ALP.
This position will bring political leadership to ALP, build organizational infrastructure for the long term, and center organizing and programming in LGBTSTGNC People of Color in New York City. This position is accountable to the Board, who will work with our core member leadership, program and administrative staff; and supervises and supports the leadership of the Manager of Finance & Administration, Manager of Development, and the Director of Programs. This leader must be a dynamic, flexible, and creative individual committed to justice, leadership development, and practices that reflect ALP's principles.
When:
Thursday, June 8, 2017 -

5:00pm

to

7:00pm
Help The Audre Lorde Project prep for our 13th Annual Trans Day of Action!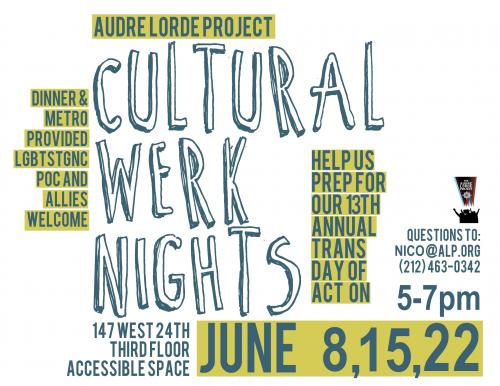 Upcoming Events
When:
Friday, June 23, 2017 -

2:00pm

to

5:00pm
****ENGLISH TRANSLATION BELOW SPANISH***
Llamamos a nuestras comunidades de Personas de Color (POC en Inglés) Trans y Género No-Conforme (TGNC) y a nuestros aliados para que se unan a TransJustice en el 13º Día de Acción Trans por la Justicia Social y Económica en la ciudad de Nueva York!
**********************************************************************
We call on our communities of Trans and Gender Non-Conforming (TGNC) People of Color (POC) and our allies to come together and join TransJustice as we mobilize for our 13th annual NYC Trans Day of Action for Social and Economic Justice!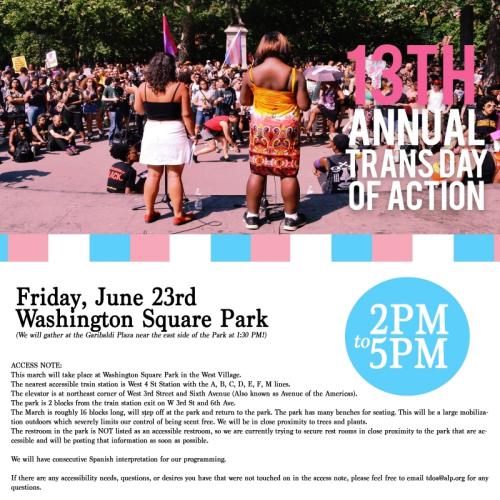 When:
Friday, June 23, 2017 - 2:00pm
Would you like to endorse this years TDOA? Please email endorsetdoa@alp.org to get on our list!
Thank You to the Following Organizations and Individuals for
Endorsing Trans Day Of Action 2017!
18 Million Rising
African Ancestral Lesbians United for Societal Change
America in Transition and Trans Oral History Project
Apicha Community Health Center's Project Connect
Association of Legal Aid Attorneys - UAW Local 2325
Astraea Lesbian Foundation for Justice
Barnard Center for Research on Women
Beyond Bold And Brave presents Black Lesbian Conference 2018
Brooklyn Community Pride Center
CAAAV: Organizing Asian Communities
Center for Constitutional Rights
Day One
Freedom Trainers
Fundación Arcoiris. México
GABRIELA New York
GAPIMNY
GRIOT Circle
Harriet's Apothecary
Her Justice
ICE FREE NYC
If You Want It, LTD
Jewish Voice for Peace, New York City
Jim Collins Foundation
Judson Memorial Church
Justice Committee
M.S. 839 Safe Space Club
Make the Road NY
NAPAWF*NYC
NAPAWF*NYC
New Alternatives for LGBT Homeless Youth
New Jim Crow Movement - Vallejo
New York City Anti-Violence Project
NY Committee for Human Rights in the Philippines (NYCHRP)
Peter Cicchino Youth Project at the Urban Justice Center
Planned Parenthood NYC
Pop Gym
SALGA NYC
Seyi Adebanjo- Tengade Productions
Stonewall Community Foundation
The Universe Danced When You Were Born
Theatre of the Oppressed NYC
Trans Justice Funding Project
UPROSE
War Resisters League
Women's March
Yoga Studio
************
Abby Miller
Alexis Diaz
Benevolence Ng
Erica Kermani
Jasbir Puar
Jay Toole
Justice & Maria Hampton
Justice & Maria Hampton
Karen L. Butt
Kim Ford
Kristen Browde
Lorenza Van Ness
Margarita Guzman
Michele Paolella
Nasheed Abdul-Wakil
Richard Blum
Ryan Li Dahlstrom
Seyi Adebanjo
Shaunee Morgan
Stephanie M. Peña
Winston Sweeting
When:
Friday, June 23, 2017 - 2:00pm