Highlights from ALP
February 13, 2019
In this interview between Kade Cahe, The Audre Lorde Project's  Member Engagement and Leadership Coordinator and Janhavi Pakrashi, the Communications Coordinator, the discussion covers the role and impact of membership development at our organization. At the last Membership Orientation, Kade mobilized a group of 22 new members to participate in an informational gathering in which folks were grounded in the organizing principles of the Audre Lorde Project, in addition to having the opportunity to get to know our staff members and each other. During the gathering, folks broke into group exercises that set the tone for sharing and conceptualizing the roles they might envision for themselves as participants in intersectional feminist movement building.
December 26, 2018
I'm Jessica — the new Executive Director of Audre Lorde Project.
New York City raised me: I was a queer homeless teen in the sex trade who left NYC in search of safety. I've spent the past decade pouring my energy into projects to build safety with and for LGBTSTGNC folks in Los Angeles and Washington, DC — from grassroots fundraising for youth shelters in LA to working alongside trans and queer sex workers of color to resist criminalization of the sex trades and building a network of nightlife venues with staff trained to cultivate safer spaces across DC. This year, facing loss and new life in my own family helped me remember: the revolution starts at home.
Upcoming Events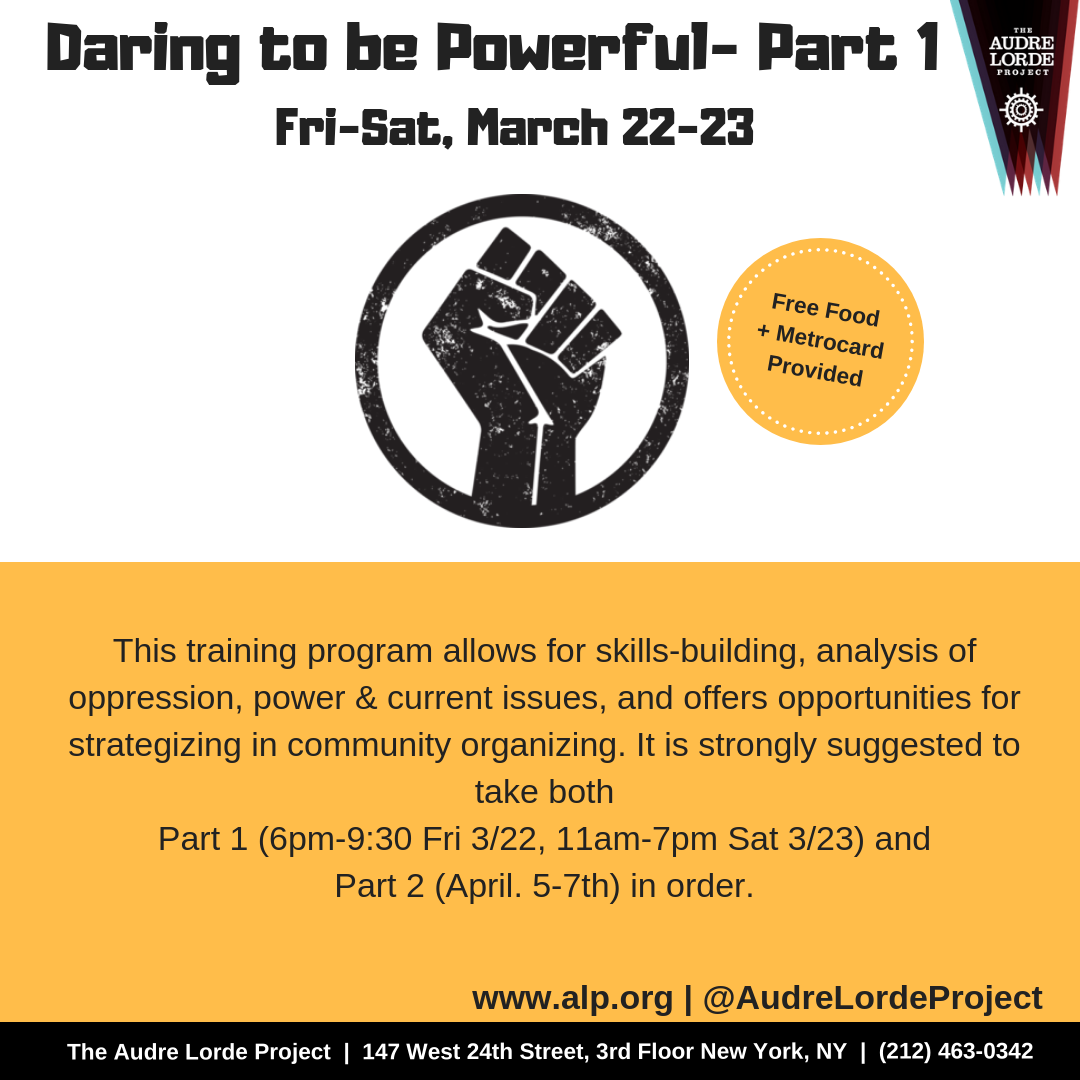 Daring to be Powerful (DTBP) is one of NYC's best training on community organizing, power, & oppression for Lesbian Gay Bisexual Two-Spirit Trans & Gender Non-Conforming People of Color! (LGBTSTGNC POC). The Audre Lorde Project aims to build both individual and collective power to better challenge the multiple oppressions faced by LGBTSTGNC POC communities.  This training program therefore allows for skills-building, analysis of oppression, power & current issues, and offers opportunities for strategizing and additional investments in community organizing.
Come join us for our upcoming sessions. It is strongly suggested to take both Part 1 and 2 in order.
RSVP Here: https://goo.gl/forms/ultxFLIyTVWyWQ7p2