Highlights from ALP
"Sometimes we are blessed with being able to choose the time, and the arena, and the manner of our revolution, but more usually we must do battle where we are standing." --Audre Lorde, Sister Outsider: Essays and Speeches.
The Audre Lorde Project (ALP) is committed to bridging struggle across intersections and ending all forms of oppression, including that of the Prison Industrial Complex (PIC). We support sharing ourselves and our stories to connect our communities. As a progressive organization seeking radical social justice, we recognize the need to strategize, mobilize, and organize to move important and necessary work forward. We endorse this mass bailout because we understand the real impact of the PIC and that people deserve to be with loved ones and at a home while they wait for a trial.
Dear Community!
We are re-opening the search process for the Executive Director position.  During our search over last fall & winter we had the opportunity to meet and learn about really amazing folks out there doing great work. It helped us as an organization to gain clarity on what ALP is seeking to embark on during this next phase of our journey.  ALP's next Executive Director is someone that has strong grassroots organizing skills, is familiar with the NYC political landscape, and can hold and build ALP"s work to continue building economic, gender and racial justice within this political moment to ensure our livelihood and to build political power rooted in transformation. Please spread the word to folks who you think would be a great ED for ALP!
The Audre Lorde Project (ALP) is seeking a full-time Executive Director to help guide the vision and mission of ALP. The Executive Director will build and maintain the political leadership and infrastructure of the organization, while centering organizing with and programming for LGBTSTGNC People of Color in New York City.
The ideal candidate will have a proven ability to lead and develop a diverse, fierce team. This person will be committed to the growth and fiscal well-being of an organization rooted in local, grassroots LGBTSTGNC people of color communities within NYC. This position is an opportunity to engage with NYC community organizations, leaders, the media, as well as individual and institutional funders to help bring about real community wellness and progressive social and economic justice. We are looking for a candidate who can bring joy and fun to this work, and who can hold it down, while keeping it real!
ALP Staff
Upcoming Events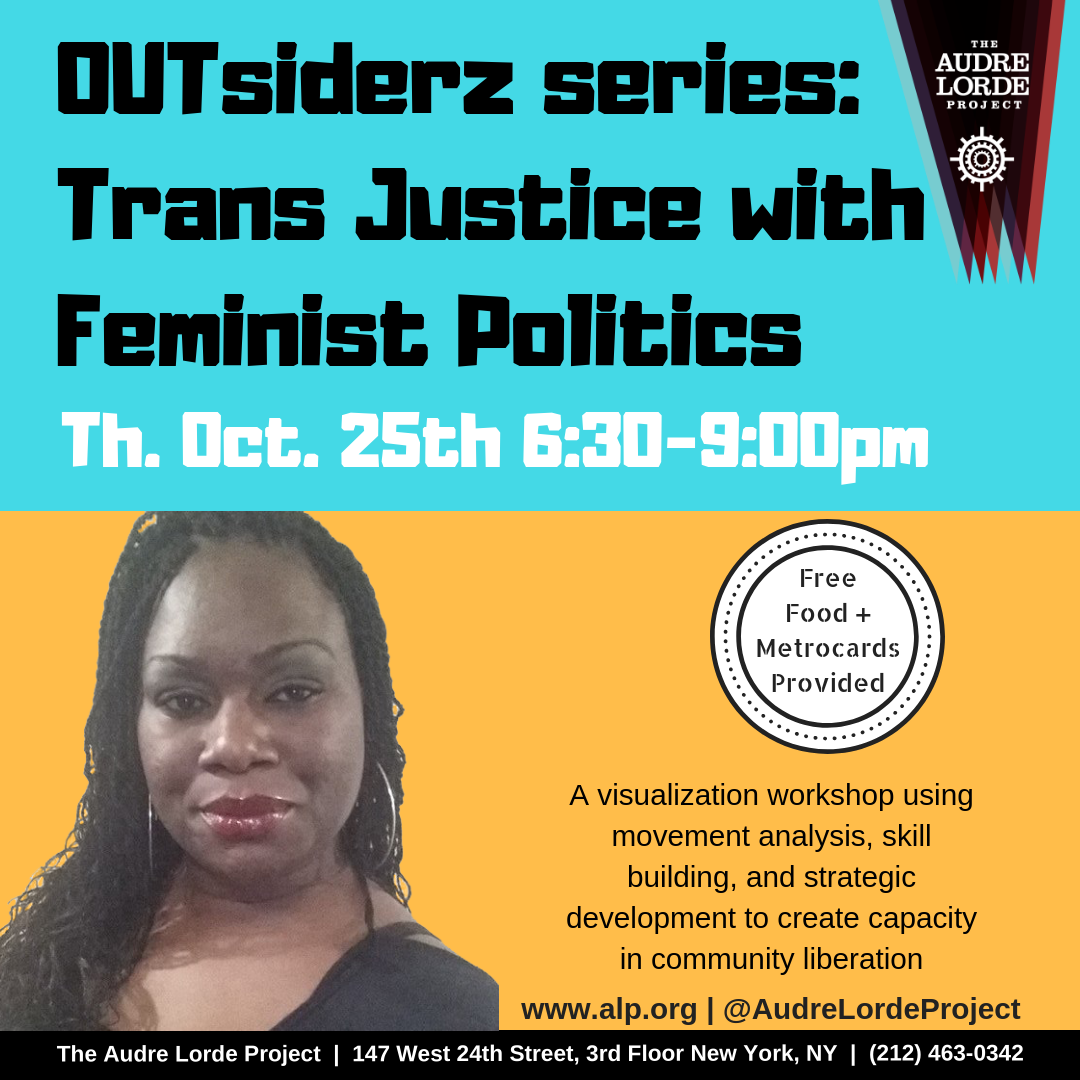 Trans Justice with Feminist Politics is a workshop that introduces feminist politics to NYC's LGBTSTGNC POC's community, and explores how feminist politics relate to Trans liberation. This training introduces an analysis of oppression, power, harassment, and current issues. The workshop will center Trans, GNC, and Two-Spirit people, and is also open to all Lesbian Gay Bisexual Two-Spirit Trans & Gender Non-Conforming People of Color!
RSVP by following this link: https://goo.gl/forms/mmZWfGHRpLsZoco03
When:
Saturday, October 27, 2018 - 10:00am

to

Sunday, October 28, 2018 - 7:00pm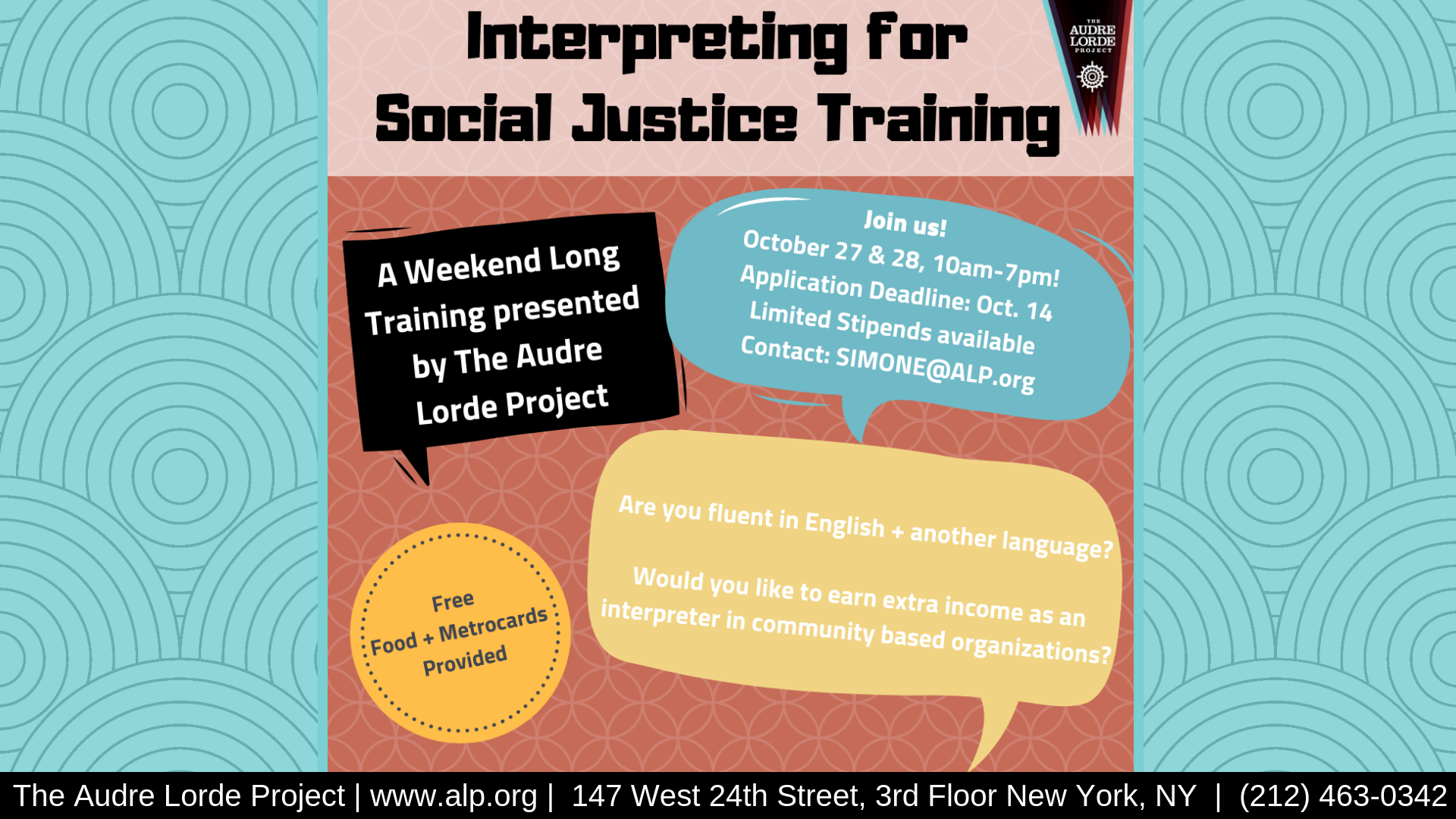 Are you an LGBTSTGNC Migrant who's fluent in English and another language?
Are you an LGBTSTGNC person of color who's fluent in English and another language and wants to support immigrant rights work?
Interested in gaining interpretation skills AND learning about interpreting for social justice?
ALP's Annual Interpreter Training is a part of a larger vision of Language Justice in Lesbian, Gay, Bisexual, Two Spirit, Trans and Gender Non-Conforming (LGBTSTGNC) Immigrant of Color communities.
Join our vision to make organizing more language accessible!