The Safe OUTside the System (SOS) Collective is an anti-violence program led by and for Lesbian, Gay, Bisexual, Two Spirit, Trans, and Gender Non Conforming people of color. We are devoted to challenging hate and police violence by using community based strategies rather than relying on the police. SOS Meetings are held every 1st, 3rd, & 4th Tuesdays in our ALP Brooklyn office in the basement of 85 South Oxford, Brooklyn, NY 11217. For more information you can contact our SOS Coordinator, Kerbie Joseph, at kerbie@alp.org
Tools and Resources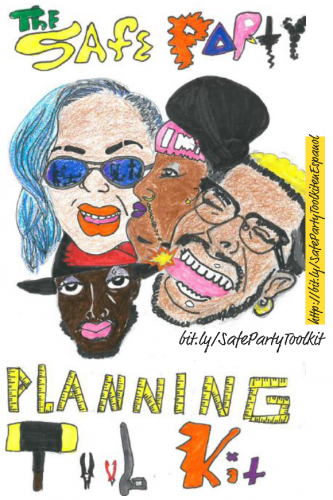 The Safe Party Toolkit is a collection of strategies generated by 3 generations of SOS members and staff to build safety in party spaces without relying on the police or state systems. The Safe Party Toolkit can support you, partygoers, and throwers in:
Creating a space in which partygoers self determination and safety are prioritized
Preventing and intervening in violence before it escalates
Making a community atmosphere where violence isn't acceptable
Encouraging others to intervene/prevent violence from happening
Supporting survivors of violence
Safe Party Toolkit Zine, http://bit.ly/SafePartyToolkitZine
Safe Party Toolkit (English), http://bit.ly/SafePartyToolkit
February 15, 2019
Dear Community,
Love asks us to be tenacious, it asks us to be generous, it asks us to imagine being part of something bigger than ourselves. It asks us to forgive, to listen and revise obsolete ways and evolve in order to fully participate in the work ahead. It teaches us that in order to fully engage with the work of dismantling oppressive systems, we must care for ourselves, examine where we are replicating those systems, and love ourselves most of all by allowing transformation.
Those of you have participated in programs and events with the Audre Lorde Project may have noticed a sense of levity and warmth when we come together to heal ourselves, each other, and our communities. The act of gathering centers and sustains us, in resistance against daily microaggressions and trauma that are par for the course when resourcing ourselves to thrive in a hostile world. This month ALP showed up for protests around the brutal racist and homophobic attack on Jussie Smollet, as well as the ongoing assualt of neglect on our incarcerated communities at Metropolitan Detention Center, in Brooklyn.
Your contributions of time, thought, and resources keep our communities thriving. Thank you for your ongoing support and generosity.