The Safe OUTside the System (SOS) Collective is an anti-violence program led by and for Lesbian, Gay, Bisexual, Two Spirit, Trans, and Gender Non Conforming people of color. We are devoted to challenging hate and police violence by using community based strategies rather than relying on the police. SOS Meetings are held every 1st, 3rd, & 4th Tuesdays in our ALP Brooklyn office in the basement of 85 South Oxford, Brooklyn, NY 11217. For more information you can contact our SOS Coordinator, Kerbie Joseph, at kerbie@alp.org
Tools and Resources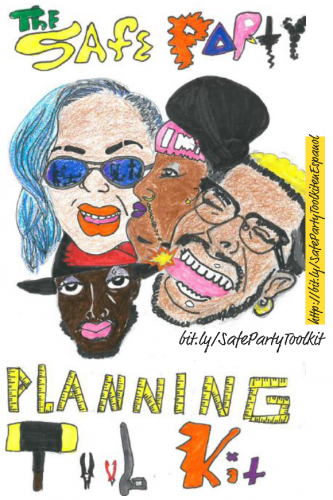 The Safe Party Toolkit is a collection of strategies generated by 3 generations of SOS members and staff to build safety in party spaces without relying on the police or state systems. The Safe Party Toolkit can support you, partygoers, and throwers in:
Creating a space in which partygoers self determination and safety are prioritized
Preventing and intervening in violence before it escalates
Making a community atmosphere where violence isn't acceptable
Encouraging others to intervene/prevent violence from happening
Supporting survivors of violence
Safe Party Toolkit Zine, http://bit.ly/SafePartyToolkitZine
Safe Party Toolkit (English), http://bit.ly/SafePartyToolkit
August 19, 2019
Dear Community,
Pride season has washed over us, and here we are on the other side. Here at the Audre Lorde Project, we've had an eventful month of organizing, educating, holding space, and navigating the inevitable changes that come in the reflective moments in a season of renewal. The sun drenches us, and the weather tempts us back into community; folks are out in the streets, finding each other in the world. Black and Brown bodies are everywhere, finding places to gather and take care of one another, out in public. It's beautiful. It's also a time when concerns about how we stay safe while we're out and about in the world come up. Let's take a moment to consider what we're all doing to love and protect one another out there in the world as the season heats up.
When:
Sunday, August 11, 2019 -

12:00pm

to

6:00pm
It's that time again - drum roll please - time for Bed-Stuy Pride on August 11th, 2019! Our 9th annual Bed-Stuy Pride will be back at Herbert Von King Park, but we need community to make it as beautiful as it is year after year.