The Safe OUTside the System (SOS) Collective is an anti-violence program led by and for Lesbian, Gay, Bisexual, Two Spirit, Trans, and Gender Non Conforming people of color. We are devoted to challenging hate and police violence by using community based strategies rather than relying on the police.
Tools and Resources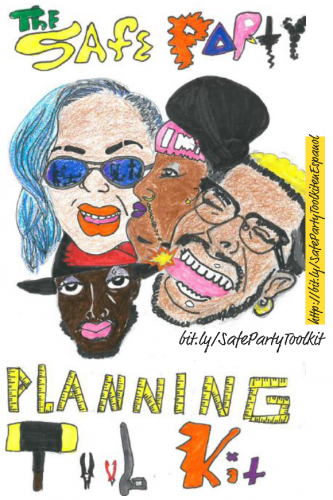 The Safe Party Toolkit is a collection of strategies generated by 3 generations of SOS members and staff to build safety in party spaces without relying on the police or state systems. The Safe Party Toolkit can support you, partygoers, and throwers in:
Creating a space in which partygoers self determination and safety are prioritized
Preventing and intervening in violence before it escalates
Making a community atmosphere where violence isn't acceptable
Encouraging others to intervene/prevent violence from happening
Supporting survivors of violence
Safe Party Toolkit Zine, http://bit.ly/SafePartyToolkitZine
Safe Party Toolkit (English), http://bit.ly/SafePartyToolkit
When:
Saturday, June 9, 2018 -

6:00pm

to

9:00pm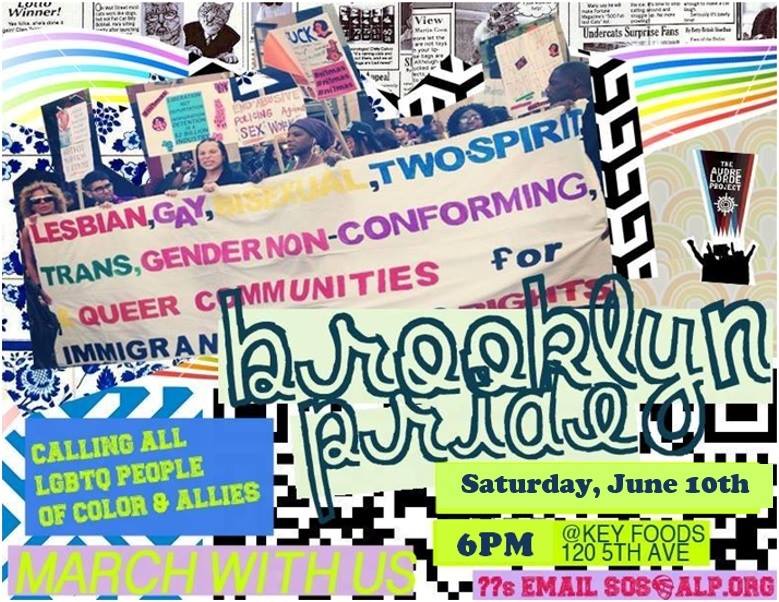 Mobilize with the Audre Lorde Project this Saturday at the Brooklyn Pride Twilight March! Pull out your poom poom shorts, glitter, platforms, drums, and gorgeous posters!  March with us to take back the streets and joyfully resist the corporatization and policing of pride while building safety for our people. We will also be wearing all black clothing as a contingent.
Bring your friends, kids, family, and loved ones! (If you have furry four legged friends, please remember to put them on a leash)
We'll gather at the Key Foods parking lot on 5th Ave. and Sterling St. in Park Slope from 6-6:30pm, and the parade "steps off" promptly at 7:00pm.
Here's a link to the route map, http://brooklynpride.org/wp-content/uploads/2015/01/MapFlyer2015.jpg. The route is 0.8 miles long, straight down 5th Ave.
You can get to the Key Foods parking lot by taking the subway to Atlantic Terminal 2,3,4,5,D,N,Q,R,W , then walking 5 blocks down 5th Ave. Let's show Brooklyn how fabulous, united, and powerful we are!
See you in the streets!
ALP
When:
Saturday, June 2, 2018 -

12:30pm

to

5:30pm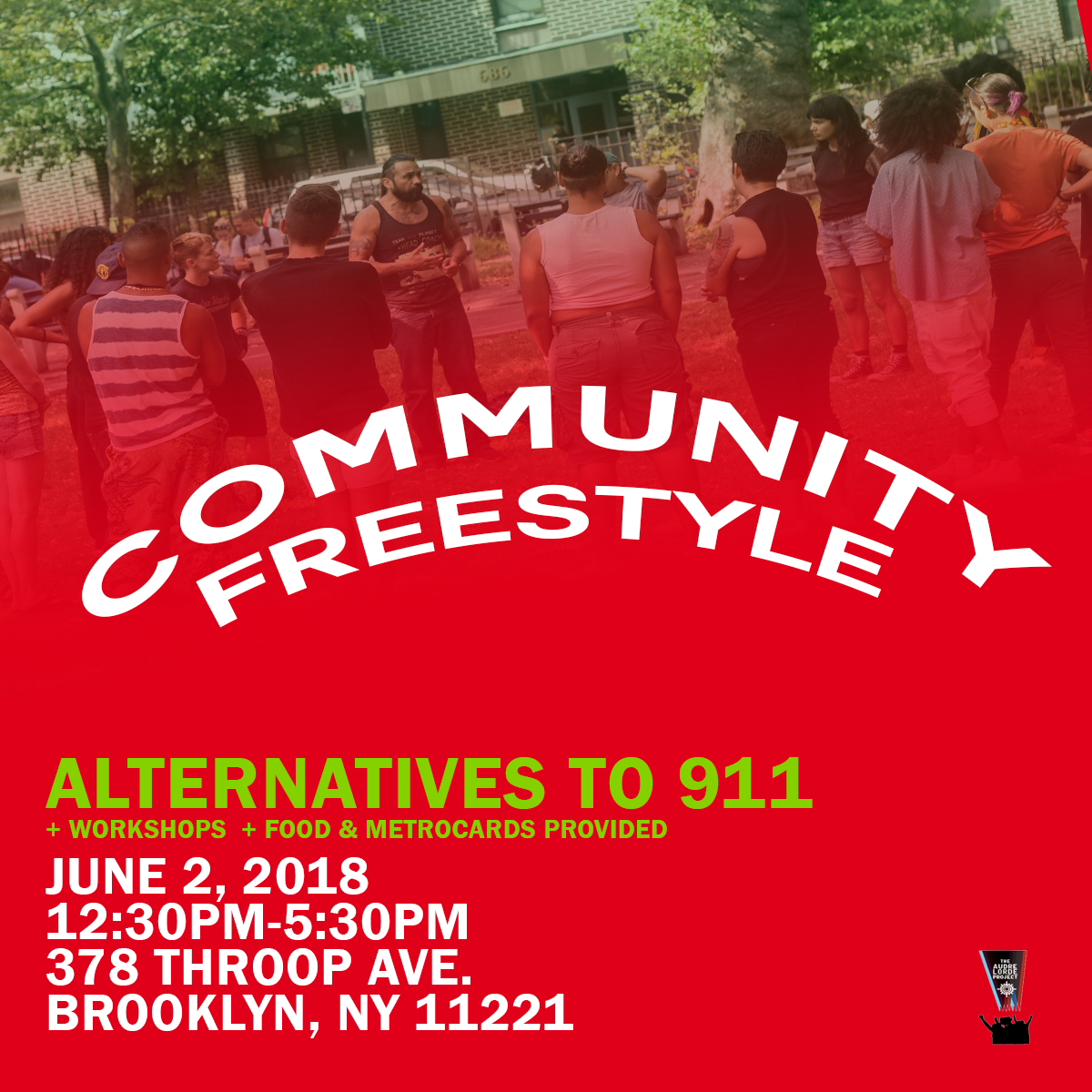 Calling all trans, two-spirit, gender non conforming, queer, lesbian, bisexual, and gay people of color in Brooklyn and our allies!
The Safe OUTside the System Collective of The Audre Lorde Project invites you to our 10th annual Community Freestyle! With the NYPD's clear incapability to not bring excessive violence or death to our communities- there is a clear community ask for alternatives to 9-1-1. But in this community freestyle, we aren't just listing alternatives but also teaching alternatives that we all can practice, use and share!
The workshops will focus on alternative skills for the 3 most NYPD responded calls in our communites: Intimate Partner Violence, Interpersonal Violence and Medical/Emotional/Mental distress.
Food, metrocards and childcare will be provided!
See everyone on Saturday, June 2nd, at Northeast Brooklyn Housing Development Corporation- 378 Throop Ave, Brooklyn, NY 11221-1443. That's the G train to Bedford-Nostrand Aves!
When:
Tuesday, February 6, 2018 -

7:00pm

to

9:00pm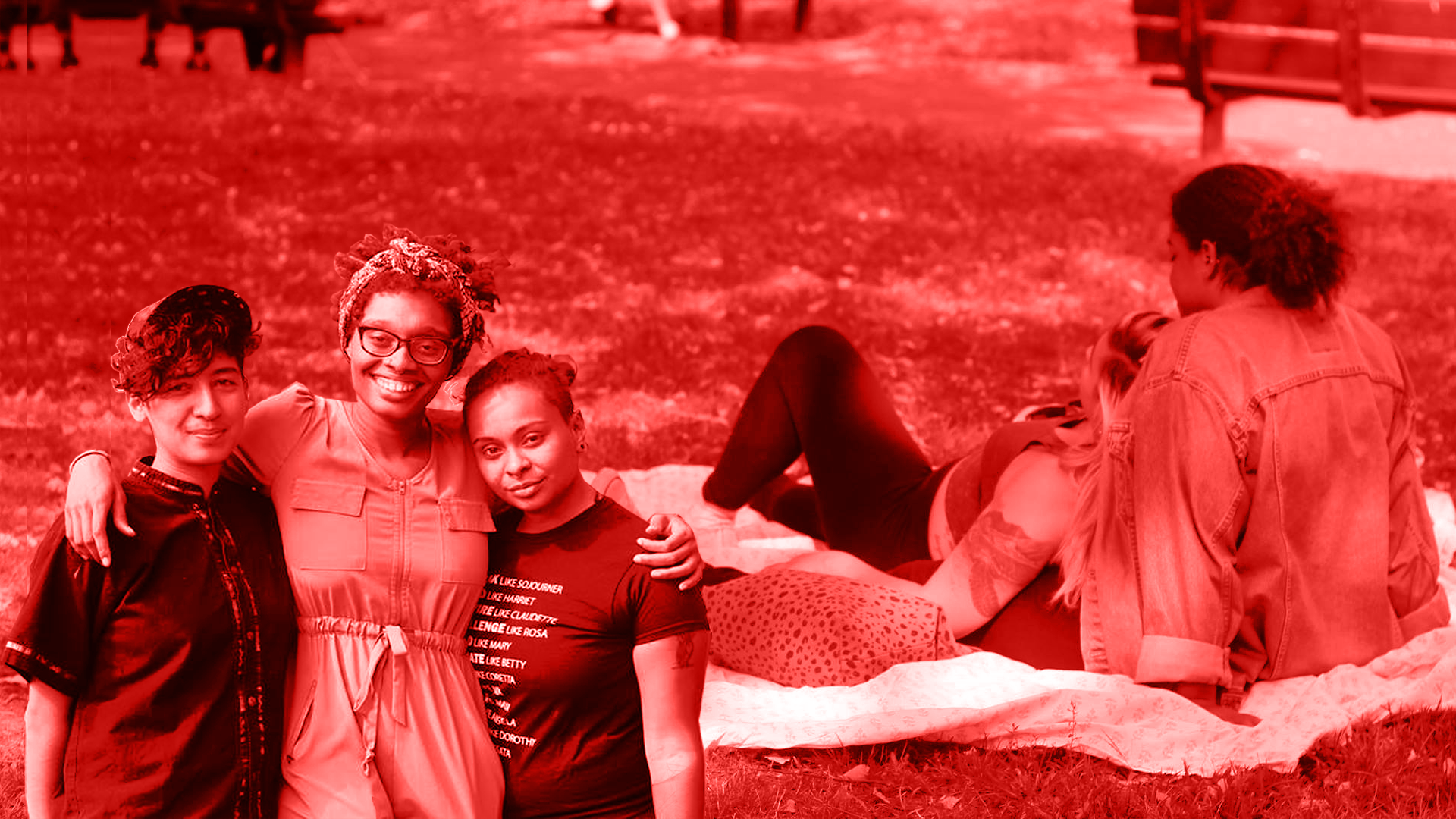 Audre Lorde wrote "Each time you love, love as deeply as if it were forever/only nothing is eternal." In our current time, living under capitalism and many other conditions, we know that it is not love or collectivism that is easily uplifted or maintained, it is individualism and lovelessness. Our pysches are deeply impacted by this and we in turn internalize it and learn to hate ourselves, each other and love those who oppress us. As organizers- it is our duty to always to put love at the root of our work- it's how we create people's change!
Join ALP's Safe OUTside the System Collective as we cyphe on our experiences of love and community organizing, dreaming of liberatory strategies for abolition, while we also plan for our collective and individual wellness as we move throughout the world.
Safe OUTside the System Collective active and core members will facilitate the cypher. We invite you to connect with us and share stories to better understand one another in our pursuit of freedom and liberation. Food and metrocards will be provided.
If you have any questions, comments or concern, please email sos@alp.org for more information. RVSP is required to receive address.