The Safe OUTside the System (SOS) Collective is an anti-violence program led by and for Lesbian, Gay, Bisexual, Two Spirit, Trans, and Gender Non Conforming people of color. We are devoted to challenging hate and police violence by using community based strategies rather than relying on the police.
Tools and Resources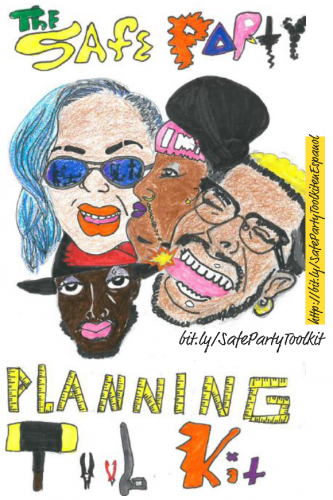 The Safe Party Toolkit is a collection of strategies generated by 3 generations of SOS members and staff to build safety in party spaces without relying on the police or state systems. The Safe Party Toolkit can support you, partygoers, and throwers in:
Creating a space in which partygoers self determination and safety are prioritized
Preventing and intervening in violence before it escalates
Making a community atmosphere where violence isn't acceptable
Encouraging others to intervene/prevent violence from happening
Supporting survivors of violence
Safe Party Toolkit Zine, http://bit.ly/SafePartyToolkitZine
Safe Party Toolkit (English), http://bit.ly/SafePartyToolkit
Thank you to our friend Crystal Waterton for producing this beautiful video depicting our Safe OUTside the System Collective's Ten Year Turnup!
Our SafeOUTSide the System Collective coordinated our annual Bed Stuy Pride in Bed Stuy, Brooklyn this summer. Thank you to Crystal Waterton for producing a video of this year's Bed Stuy Pride.
The Safe OUTside the System Collective hosts Bed Stuy Pride annually as a non-corporate community and family event, rooted in Bed Stuy's Black cultural legacies of pride, resistance, and resilience. We build space to honor our ancestors we lost to homophobia, transphobia, racism, and the state, and to remember Bed Stuy's history of resilience and resistance in the face of violent oppression.