After much visioning, input from our community and work the Audre Lorde Project (ALP) is proud to announce  its newest program, 3rd Space Support.  The 3rd Space Support program seeks to work with Lesbian, Gay, Bisexual, Two-Spirit, Trans and Gender Non-Conforming People of Color (LGBTSTGNC POC) who struggle with issues around employment, education, health care and immigration status. It is a place to give and receive sustainable support; where creation, invention and innovation will be practiced.  We will draw from our resilience to support ourselves. For more information, contact our 3rd Space Coordinator, Simone Sobers, at simone@alp.org .
February 15, 2019
Dear Community,
Love asks us to be tenacious, it asks us to be generous, it asks us to imagine being part of something bigger than ourselves. It asks us to forgive, to listen and revise obsolete ways and evolve in order to fully participate in the work ahead. It teaches us that in order to fully engage with the work of dismantling oppressive systems, we must care for ourselves, examine where we are replicating those systems, and love ourselves most of all by allowing transformation.
Those of you have participated in programs and events with the Audre Lorde Project may have noticed a sense of levity and warmth when we come together to heal ourselves, each other, and our communities. The act of gathering centers and sustains us, in resistance against daily microaggressions and trauma that are par for the course when resourcing ourselves to thrive in a hostile world. This month ALP showed up for protests around the brutal racist and homophobic attack on Jussie Smollet, as well as the ongoing assualt of neglect on our incarcerated communities at Metropolitan Detention Center, in Brooklyn.
Your contributions of time, thought, and resources keep our communities thriving. Thank you for your ongoing support and generosity.
When:
Friday, February 8, 2019 -

6:30pm

to

9:00pm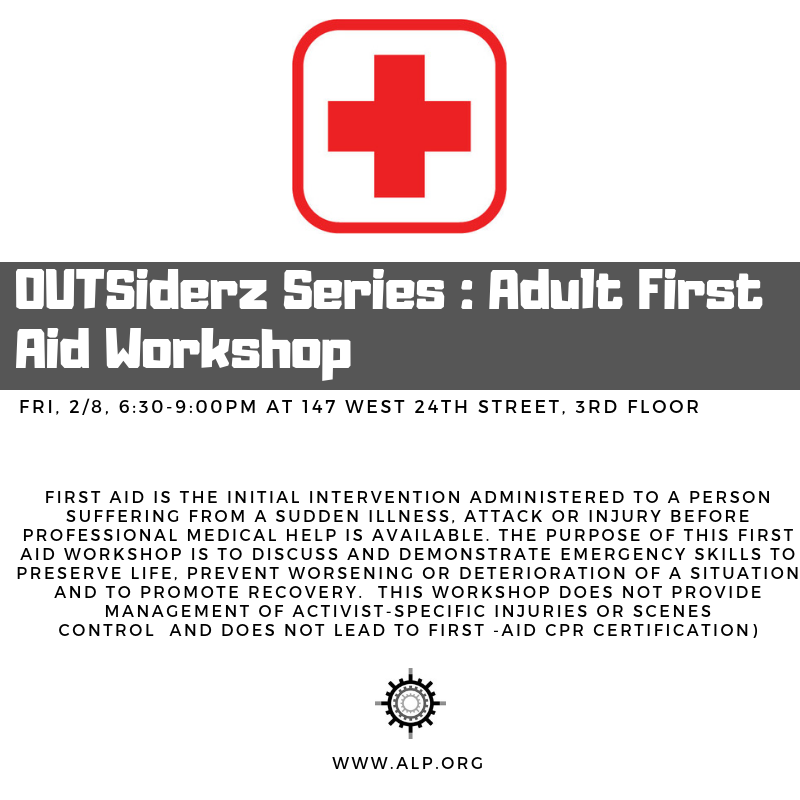 First aid is the initial intervention administered to a person suffering from a sudden illness, attack, or injury, before professional medical help is available. The purpose of this First Aid Workshop is to discuss and demonstrate emergency skills to preserve life, prevent worsening or deterioration of a situation, and to promote recovery. This workshop does not provide management of activist-specific injuries or scenes control and does not lead to First-Aid CPR certification.