After much visioning, input from our community and work the Audre Lorde Project (ALP) is proud to announce  its newest program, 3rd Space Support.  The 3rd Space Support program seeks to work with Lesbian, Gay, Bisexual, Two-Spirit, Trans and Gender Non-Conforming People of Color (LGBTSTGNC POC) who struggle with issues around employment, education, health care and immigration status. It is a place to give and receive sustainable support; where creation, invention and innovation will be practiced.  We will draw from our resilience to support ourselves. For more information, contact our 3rd Space Coordinator, Simone Sobers, at simone@alp.org .
"I have come to believe over and over again that what is most important to me must be spoken, made verbal, and shared, even at the risk of having it bruised or misunderstood"
-Audre Lorde
June 1, 2019
Dear Community,
June is here, and we have a lot going on at ALP! In preparation for our 15th Annual Trans Day of Action (TDOA), we're bringing you powerful opportunities to participate in movement history with us this year. It's been 50 years since the Stonewall Riots, and we still have work to do, but it can't happen without your support and participation. It's the perfect time of year to get involved in the work of centering LGBTSTGNC People of Color in our movement spaces. Volunteer with us, apply to join our board, or make a donation to support our work. Folks who have been trained on ALP's Community Safety protocols are strongly encouraged to join our Safety Team and support us at TDOA.
When:
Friday, May 17, 2019 - 4:00pm

to

Saturday, May 18, 2019 - 6:00pm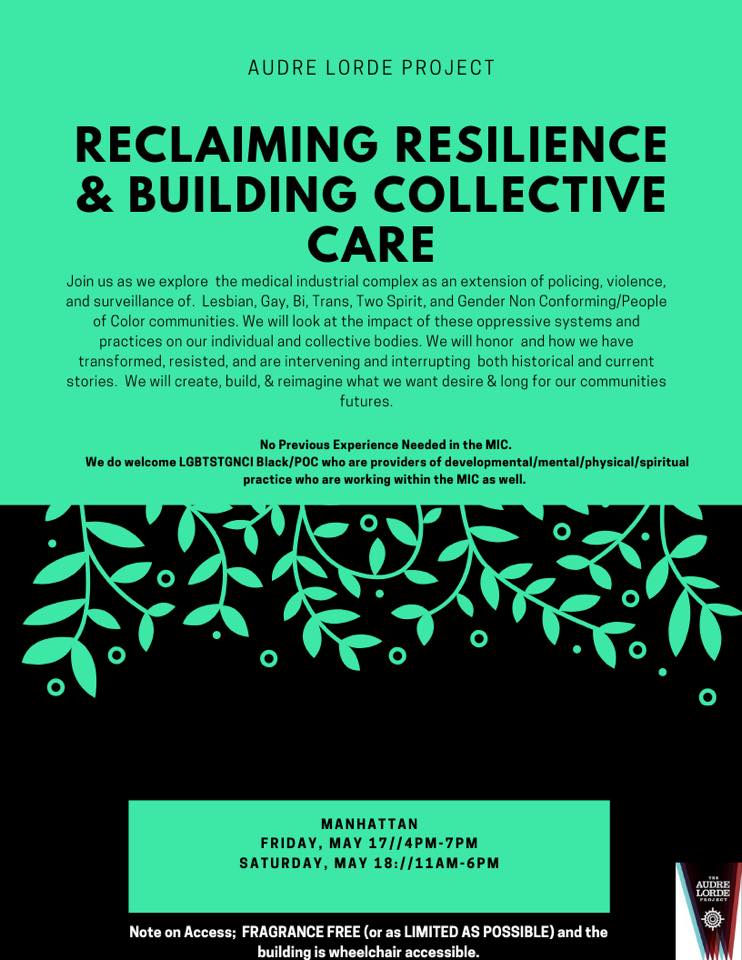 Join us as we explore the medical industrial complex as an extension of policing, violence, and surveillance of Lesbian, Gay, Bi, Trans, Two Spirit, and Gender Non Conforming/People of Color communities.