After much visioning, input from our community and work the Audre Lorde Project (ALP) is proud to announce  its newest program, 3rd Space Support.  The 3rd Space Support program seeks to work with Lesbian, Gay, Bisexual, Two-Spirit, Trans and Gender Non-Conforming People of Color (LGBTSTGNC POC) who struggle with issues around employment, education, health care and immigration status. It is a place to give and receive sustainable support; where creation, invention and innovation will be practiced.  We will draw from our resilience to support ourselves. For more information, contact our 3rd Space Coordinator, Simone Sobers, at simone@alp.org .
"I have come to believe over and over again that what is most important to me must be spoken, made verbal, and shared, even at the risk of having it bruised or misunderstood"
-Audre Lorde
When:
Friday, May 17, 2019 - 4:00pm

to

Saturday, May 18, 2019 - 6:00pm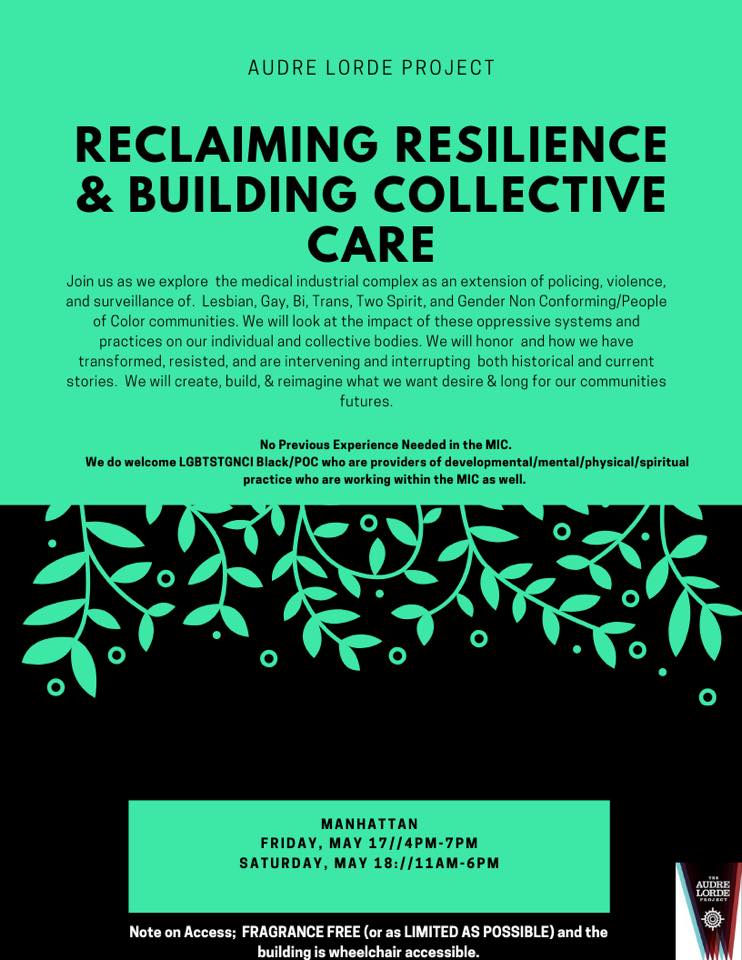 Join us as we explore the medical industrial complex as an extension of policing, violence, and surveillance of Lesbian, Gay, Bi, Trans, Two Spirit, and Gender Non Conforming/People of Color communities.