TransJustice and the Audre Lorde Project would like to thank you for making this year's Trans Day of Action a fabulous success!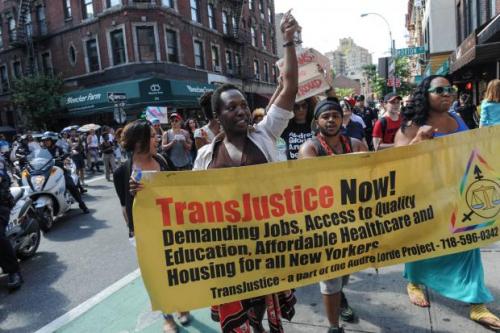 Over 600 people came out onto the Christopher Street Pier to lift up the legacy and work of Trans and Gender Non-Conforming People of Color (TGNC POC), demand social and economic justice for all, and take back Christopher Street on the 44th anniversary of the Stonewall Riots. Trans Day of Action is one of the only political actions that occurs in New York during the pride season which is led by TGNC POC specifically, and we are honored to create the space to shout out and lift up Stonewall as an inherently political event in our history.
This year, we were excited to have speakers Lourdes Ashley Hunter, Jay Tool from Queers for Economic Justice, Brooke Cerda from the Sylvia Rivera Law Project, Nico Fonseca from FIERCE, Lorena Borjas from ACQC and TransLatina, Mitchyll Mora from Streetwise and Safe, Jocelyn from Make the Road New York, and our very own Lorenzo Van Ness!
You Can Check out some of the photos from the day of here or on the event page here
We had amazing interpretation from our Immigrants Rights program members, wellness practitioners from our Health and Wellness Collective, as well as fierce hype squad folks who kept our energy up throughout the march!
As we wind down from a full pride season, TransJustice wants to say thank you for turning out and supporting Trans and Gender Non-Conforming folks of color as we continue the struggle for recognition, safety, and justice that our elders such as Sylvia Rivera and Marsha P. Johnson started 44 years ago on those very same piers and streets. We know this fight is far from over, and we look forward to continuing to build a movement that has space for all of us.