When:
Wednesday, January 18, 2017 - 6:00pm

to

Tuesday, January 24, 2017 - 9:00pm
Are you passionate about the issues of employment, housing, education, health care, and immigration? 
Do you want to learn how to navigate the system? 
Support your community?
Join the 3rd Space Support Response Team!
We are looking for folks to support Audre Lorde Project's Lesbian, Gay, Bisexual, Two Spirit, Trans and Gender Non Conforming (LGBTSTGNC) People of Color (POC) community members who are currently navigating the issues of housing, employment, education, health care, immigration status, and more.  As a part of the Response Team you will: do intakes, provide one-on-one advocacy, suggest resources and referrals, and support our members. We will also build up community-based skills and strategies for how we care for ourselves and each other.  This team is a place to give and receive sustainable support; where creation, invention and innovation will be practiced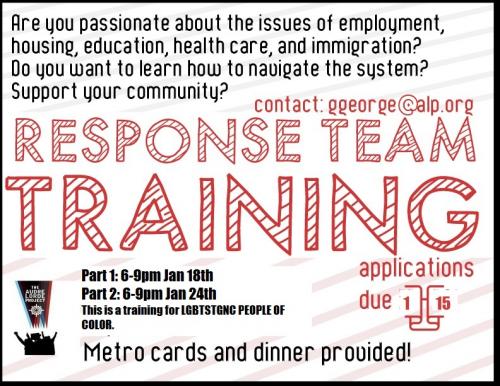 ALP's Response Team Training will be held on:
Wednesday, January 18th from 6pm - 9pm and
Tuesday, January 24th from 6pm – 9pm  
Metro cards and dinner provided!
This is a training for LGBTSTGNC People of Color. 
What will I learn at the training?
How to provide compassionate, non-judgmental listening.
How to identify triggers and maintain your own boundaries.
How to provide practical support and help people figure out their options.
How to offer resources and referrals in community.
ALP strategies for community care including vibe checking, mobile wellness strategies, and wellness/safety planning.
After the Training participants agree to:
Support ALP's Mission, Guiding Principles and Vision Statement.
Commit to 5 hours of Response Team activities per month for at least 6 months.
One check in meeting or phone call a month or as needed to support your work with community members.
Attend a Daring to Be Powerful Training and other ALP trainings that will help support your work.
Please download & send completed applications to:  Gina George, 212-463-0342 x16 or ggeorge@alp.org
Within the 3rd Space Response Team we hold on to the idea that LGBTSTGNC POC communities have always found ways to support each other and survive outside of systems. The 3rd Space Support program hopes to encourage and create space for these organic methods of community support and community building around employment, education, health care and immigration status to continue.
Check out the Facebook Event Here!