Highlights from ALP
Dear Community,
Throughout our 23-year history, the Audre Lorde Project has worked on multiple fronts -- developing LGBTSTGNC POC leaders, educating our people and allies, organizing 20 events per year, leading campaigns for justice, mobilizing over 3,000 people annually, and building capacity for movements towards liberation. We have often moved at the pace of crisis. We have moved with urgency because of the vast needs of our community, but also often have fallen victim to capitalist ideals of productivity over people. This has at times caused us to stumble - choosing punitive responses over transformation, placing healing on the back burner, and not being as transparent with internal happenings within the organization as needed. In solidarity with our members, current/former staff, and the community that we serve, we want to apologize for the harm that has been caused. As an organization, we are not exempt from causing harm, but we are dedicated to improving and internal change. This letter is to express how we will now intentionally begin that work and how community can collectively plug into this process.
Starting in October, ALP will enter a 9-month restoration period to better focus on deep internal study and alignment. This period will end in June 2020. During that time, our staff will come together to strengthen our political education tools and curriculum, evaluate our trainings, programming, and campaigns, and ensure that we are best positioned for the long fight to liberation.
During this time, we'll also be moving from our Chelsea office back into our Fort Greene space full-time. Gentrification has made rents in NYC unsustainable and ALP is not immune to these pressures. From November 1 to January, our offices will be closed to the public while we prepare for our move.
Read on to learn more about our plan and a few of the ways that we are asking people to stay involved.
Upcoming Events
When:
Monday, November 4, 2019 - 6:30pm

to

Monday, November 25, 2019 - 8:30pm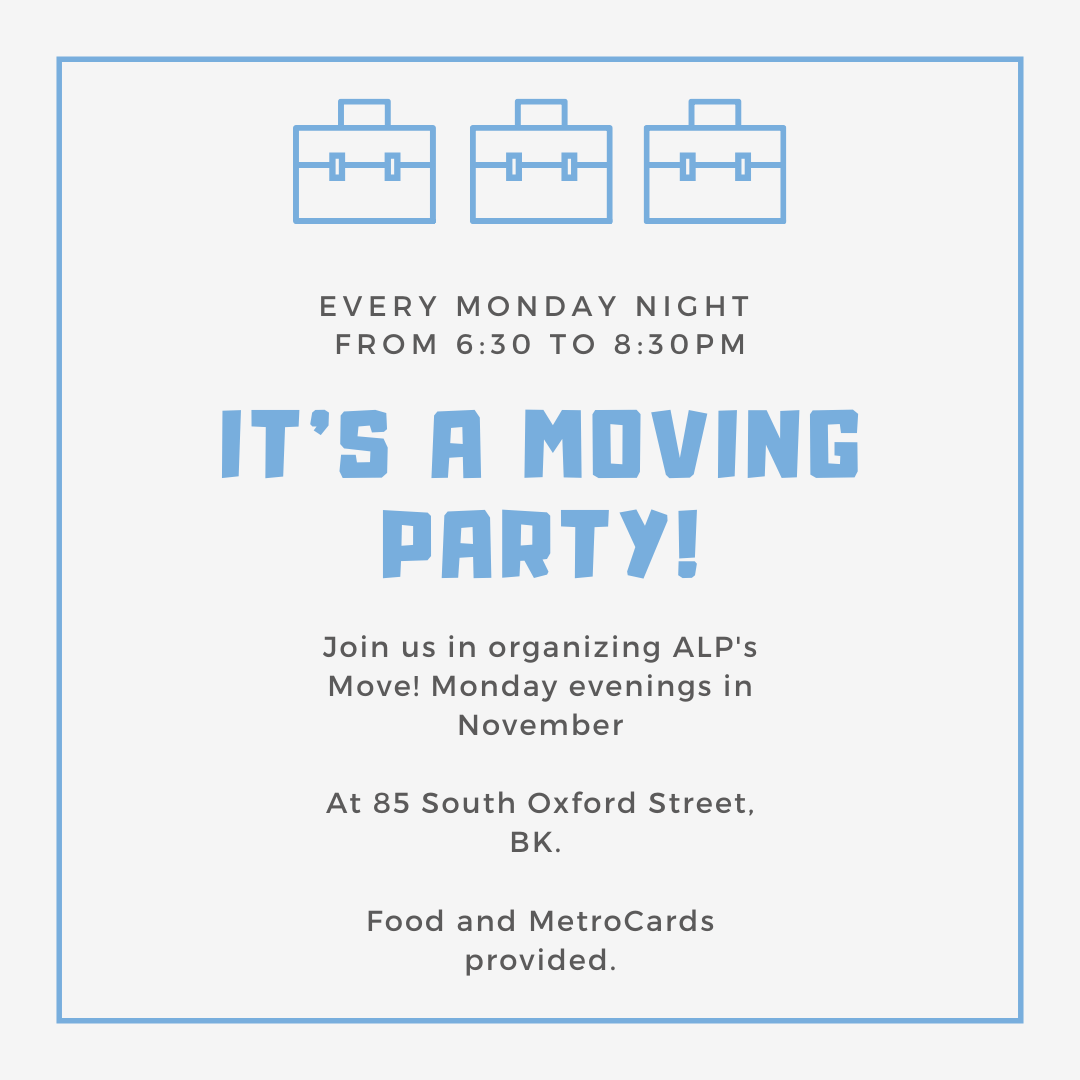 When:
Monday, December 2, 2019 - 6:30pm

to

Monday, January 27, 2020 - 8:30pm