Dear Community,
The holidays are approaching, and the season of gathering and generosity is upon us. This can be a conflicted time for many folks in our communities, who struggle with family or rely deeply on chosen family for day-to-day survival. One of our greatest powers as community is to gather folks to commit to caring for one another in times of abundance and in times of need. We encourage folks to reach out to us about gatherings and community activities during this time.
In the legacy of a truly member-led organizing space, we're proud to announce that Cleopatra Acquaye-Reynolds and Maxwell Scales will be co-directing the Audre Lorde Project through and past this Restoration Period. Cleopatra has been working with ALP for over 4 years and has inhabited several different roles - member, staff person, and director. This trajectory ensures a complete understanding of how the different parts of the organization work and function in synchrony. Maxwell has been working on the development side of social justice since 2007 and was a dedicated ALP member, responsible for grill duties at Chillin' and Grillin' for the past couple years. Maxwell's background includes expertise in both grassroots fundraising and institutional giving, which provides ALP with a balanced understanding of the organizational interdependence on member support and institutional funding. To learn more about Cleopatra and Maxwell, check out this interview or their welcome letter to our members and supporters.
At ALP, this is a time of deep change, as we begin our transition out of our Manhattan office. Our Monday night packing parties are underway and have been a connective ritual for bringing members, staff, board, prospective members, and community together to chip away at the work at hand. Internally, we've been connecting around eminent change and generating adaptive strategies for growth and sustainability, with a series of workshops and consultations that are guiding us into a new era of growth and adaptation. As we transition, we'll need your support and well wishes. 
Immediate ways you can support our work include lending a hand at our moving parties, pledging to support us on #GivingTuesday on December 3rd, becoming a sustaining donor, and adding your voice to our current campaign work. We are deeply grateful for all the ways community have been showing up for the Audre Lorde Project and are excited about the journey ahead.
In Solidarity,
Janhavi Pakrashi
Communications Coordinator
Thanks to everyone for all the support we've received since announcing that we're moving from Manhattan. We've also gotten a lot of questions and wanted to provide answers to some of the concerns that have come up most frequently.
Are we closing down?
Nah, son.
Why are we moving?
In a word: Gentrification.
In some more words: Moinian is the landlord organization that owns the historic Miss Major-Jay Toole building at 147 W 24th Street. Moinian has increased our monthly rent over the past 9 years (from around $2,400 to nearly $10K) and this has been unsustainable for some time. Because we know our work to be far from finished, we are making this move back to Fort Greene to save, fundraise, and intentionally plan for a future in a more permanent and accessible home.
Where are we moving to?
Back to our original office in Fort Greene, Brooklyn.
What's happening to the Manhattan office?
That's up to Moinian, the landlord organization (and/or the remaining organizations who call the building home).
Are y'all planning to stay in the Brooklyn office forever?
Nah. It's a smaller space lacking an elevator, which we already know is not what our people need or desire for our organizing work.
What happens around accessibility for the Brooklyn office?
ALP Brooklyn is less than 4 minutes from the Lafayette Avenue C train and has a total of 14 steps (separated by landings of 3-8-3 steps) between the front door on the ground floor and our office space. During the Restoration Period (now through June 2020), some of our community forums will be held in our Brooklyn office, but throughout our stay, we intend to lean on our community partners for whom we have offered free/low-cost space for workshops and meetings in the past.
Join us in our Manhattan office for Monday Moving Parties this December and we can brainstorm specifics on your needs together.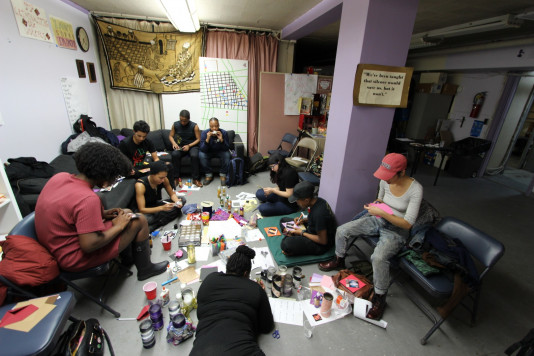 This month, ALP is excited to bring you some updates from our campaign work. TransJustice Coordinator Rumi Akong shares new developments from our Brick by Brick Campaign for affirming and sustainable housing:
As the winter solstice draws near and our inward organizing deepens in this 3rd month of ALP's Restoration Period, TransJustice wanted to update our newsletter readership on the progress of the Brick by Brick Campaign. During this 4th outreach cycle, we travelled far from our Chelsea office to connect with community folks in the New York City districts represented by the LGBT Council, particularly those of Carlos Menchaca (D25) and Ritchie Torres (D13), who support housing equity for ALL New Yorkers.
From Allerton and Fordham Road to Greenwood Heights and Sunset Park, NYC is a big place and neighborhoods are worlds of their own. These neighborhoods were unfamiliar to our humble-mighty team of TGNC canvassers, who travelled an average of 10 hours on the MTA weekly to and from target sites (TGNCPOC POWER GETS IT DONE!)
Thank you kindly to all our community members who have answered our calls and helped us begin to exact the in-district reach of the BxB Campaign. We look forward to sharpening our collective management of base-building strategy and developing comprehensive skills for face-to-face representative engagement when we return this upcoming summer of 2020. Until then, you can take part in our campaign by filling out a digital pledge card.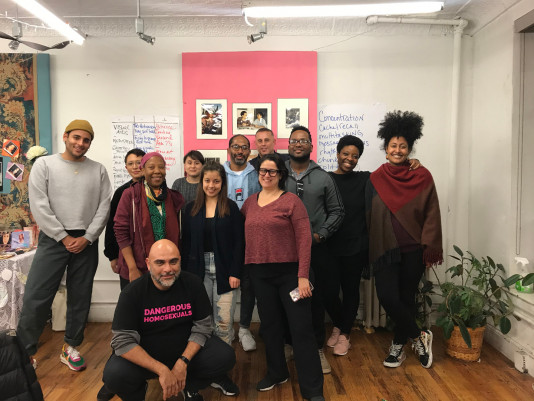 In October, we hosted our annual Interpreting for Social Justice workshop. A huge thanks to our 13 amazing participants and our facilitator, former ALP Finance Director and current SONG Co-Director, Roberto!
This workshop is a key part of ALP's commitment to migrant and language justice. The folks who attended the 2-day training were able to learn practical skills for interpreting along with the politics of creating multilingual community spaces. A special shout-out to Roberto for generously providing ALP staff with an oral history of language justice organizing so that we are able to ground our work in that legacy.
Since the training, we've received a lot of emails about when to expect the next workshop. We encourage folks to check back in with us next fall for the next installment and we appreciate the excitement and need for this training.
Are you a social or direct service provider who needs experienced translators of color? Feel free to reach out to info@alp.org so we can pass opportunities along to our listserv of interpreters we've trained over the years!