When:
Friday, January 24, 2020 - 6:00pm
Where:
Audre Lorde Project - Manhattan Office, 147 West 24th Street, 3rd Fl, NYC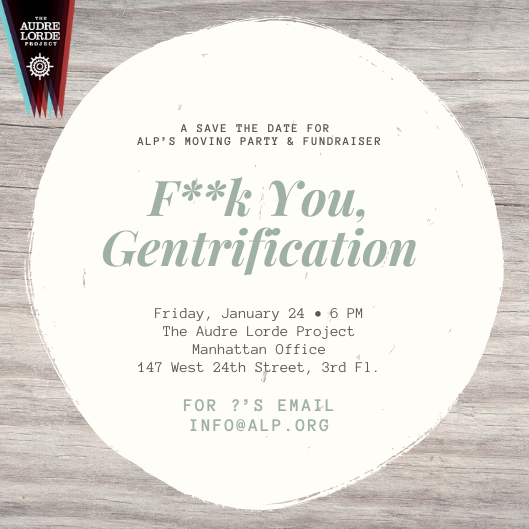 Researchers say that 1 in every 10 people in New York City is being gentrified out of their home. And now it's happening to ALP too. We're losing our Manhattan home at the historic Miss Major-Jay Toole building in Chelsea, due to rising rent that's not sustainable for a small, radical grassroots org like us.
Join ALP community as we say goodbye to our political home for the past 10 years! There will be food, sliding scale drinks, music to boogie to, and the chance to build together.
Tickets start at $10 and are sliding-scale - no one will be turned away for lack of funds. All money raised will go towards helping ALP run our organizing campaigns, educate our members, and politicize our people!
Volunteers get in for free. Contact us for more info.