Dear Community,
New York City is opening up again after vaccination rollout, and it's going to bring up a lot of important new questions as we move forward into the next stage of the pandemic. For a community organization that has historically gathered people as part of our work, this is the moment to consider the balance between autonomy and collective safety in movement building cultures. The safety work of gathering crowds is being transposed to meet the needs of the moment, but the philosophical questions underpinning it are present. 
When we think about the community political consciousness as a body, we understand that nourishment means the provision of resources, talent, planning, and time. When we think of the body of an individual struggling through a pandemic, nourishment manifests as safe human connection, being able to create and sustain a stable domestic environment, being able to have wellness needs met, and having access to nutritious food. When a body survives a struggle that was designed to kill it with neglect or violence, processing the trauma that follows requires attentiveness towards healing and safety. We hope you all make the journey from isolation into community in the safest possible ways for yourselves and for those around you.
For a lot of LGBTSTGNC folks, the month of June is a sacred time when we celebrate our battles, our wins, and also mourn together. It is an honor and a privilege to work at an organization that teaches and gathers people around world-changing ideas, provides safety through shared experience in movement building, moves resources towards developing members, and builds narratives of political change into the public view. This is the space of radical compassion and connection around our shared and individual struggles.
In this pandemic time, many of us have been feeling dissociated by isolation and the primacy of digital life. As we shift into a state of return, we might hesitate to participate with the very same institutions that have created the conditions of neglect and marginalization we might feel, caught between the imperative to survive and the risk of trusting institutional power that has not historically protected us. So what is the path moving forward? How do we nourish our political bodies in these times?
One way to do that is to use June as a time to give back to LGBTSTGNC intersectional movement organizing spaces. As Audre Lorde taught us, we don't live single issue lives, and our movements toward bringing justice to marginalized communities are intertwined and networked. Nourishing as many organizations, groups, and collectives as possible is a tangible pathway to making our movements stronger, more impactful, and accountable to us. 
You'll hear more from our Grassroots Fundraising Coordinator Danya in next month's newsletter about specific ways folks can plug in and sustain the deep, rich organizing networks we are fortunate enough to be a part of here in New York City. So, stay tuned for more! 
I'll end by underscoring just how important and impactful it is to attend to your local social justice ecosystem in this time of healing in the midst of community crises. If you're not local to the tri-state area and are considering how to give during pride season, please consider orgs that are also member-led, mission driven, and center the most marginalized voices in the work that they do.
With Love and Respect,
Janhavi Pakrashi
Communications Coordinator
Upcoming Events and Reminders
Click on the flyers below to register. For regular reminders, be sure to follow ALP on social media channels.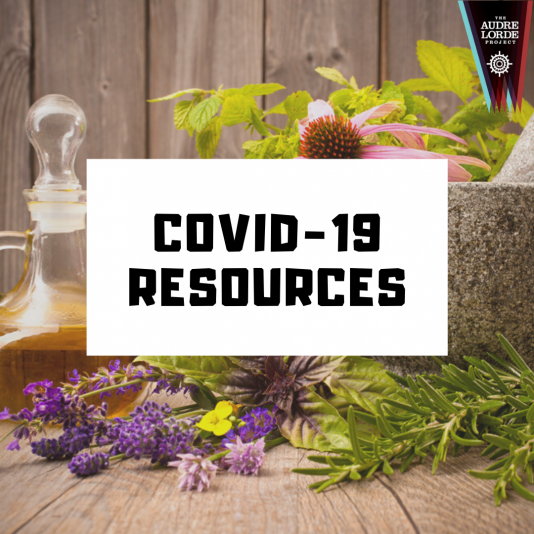 NYC QTBIPOC Centered COVID-19 Guide
Compiled by our amazing former Director of Dignity and Care, Simone Sobers, we offer community a list of COVID-related resources that center the needs and resilience of QTBIPOC folks in NYC.
Click here to read more about the intentions of this resource or click the button below to be taken directly to the guide.
Audre Lorde Project
85 South Oxford Street
Basement
Brooklyn, NY 11217