Dear Community,
As the year comes to a close, we have much to reflect on at The Audre Lorde Project. It has been a formative year that is culminating in one of our busiest seasons ever. We attended our allies' Trans Day of Remembrance events, held a Pod Mapping workshop to assist members with winter wellness planning, raised funds on Giving Tuesday, and held our annual staff, board, and member visioning retreat in preparation for the year ahead.
While we took a break from coordinating our annual Trans Day of Remembrance event in the West Village this November, ALP participated with ally organizations who were creating spaces to honor and remember those we have lost. Members and staff from ALP supported The Osborne Association, TransLatinx, and NYTAG at their TDOR offerings. Awareness of the constant violence inflicted on marginalized bodies is something ALP is attentive to every day — it is woven into the fabric of our work for safety and wellness for our people. We dream of a time when the growing list of our fallen family ends, when liberation and justice are omnipresent, and when our most vulnerable community members no longer face violence.
Understanding that the holiday season can be difficult for our community members, we invited folks to join us for a pod mapping workshop, where participants mapped out their immediate support circles and connected intentionally with chosen "pods" to activate networks for community care and planning for safety and wellness. The season can feel isolating, and families can feel complicated, but the practice of acknowledging existing support systems can be life-saving at critical moments. We thank Mia Mingus and the Bay Area Transformative Justice Collective's work for providing us with these tools.
Giving Tuesday was a great success! Our new board members, staff, and ALP allies helped us raise and surpass our goal of $4,000 for the day. We are so grateful to all of those who shared our posts, made donations, and mobilized to help us kick off the most critical fundraising period of the year.
Our Monday night moving parties have been impactful. We're making significant progress in downsizing and reorganizing in preparation for the move to Brooklyn. The parties are bringing together veteran ALP members, staff, and interested new faces to focus our gathered energy on making a gentle transition. Join us in the New Year if you're down to support.
In January, we will be having a F**K You, Gentrification fundraising party to help us get off to a good start in our new formation! With a powerfully transformative year in the rear view, we will gather to honor the Manhattan space, which provided an iconic location for years of service and served as a safe haven for our members and allies. The hope for this event is to bring together ALP family, past and present, to gather resources for one of the biggest transitions the organization has experienced to date, honor our legacy, and say a collective goodbye to forms that no longer fit us. We hope you will join us in closing a chapter and beginning a new one in our evolution as an organization and a community.
In Solidarity,
Janhavi Pakrashi
Communications Coordinator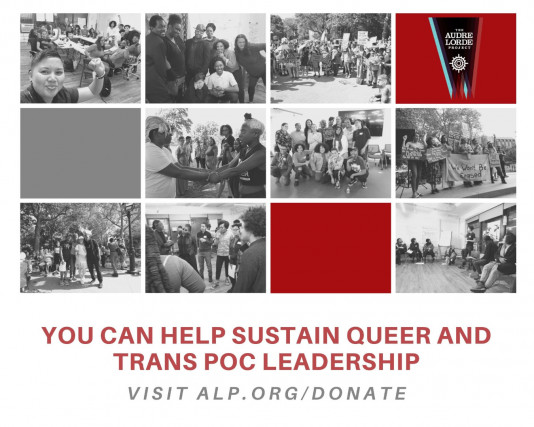 Want to Give a Meaningful Holiday Gift?
Then donate to ALP!
Give lesbian, gay, bisexual, two spirit, trans, and gender non-conforming people of color access to political education, leadership development, wellness space, and the tools to fight for our safety and liberation!
Give in the spirit of collective interdependence — we need all of you to sustain this culture-shifting work.
Audre Lorde Project
147 West 24th
3rd Floor
New York, NY 10011