When:
Monday, December 18, 2017 - 6:00pm

to

Wednesday, January 17, 2018 - 11:59pm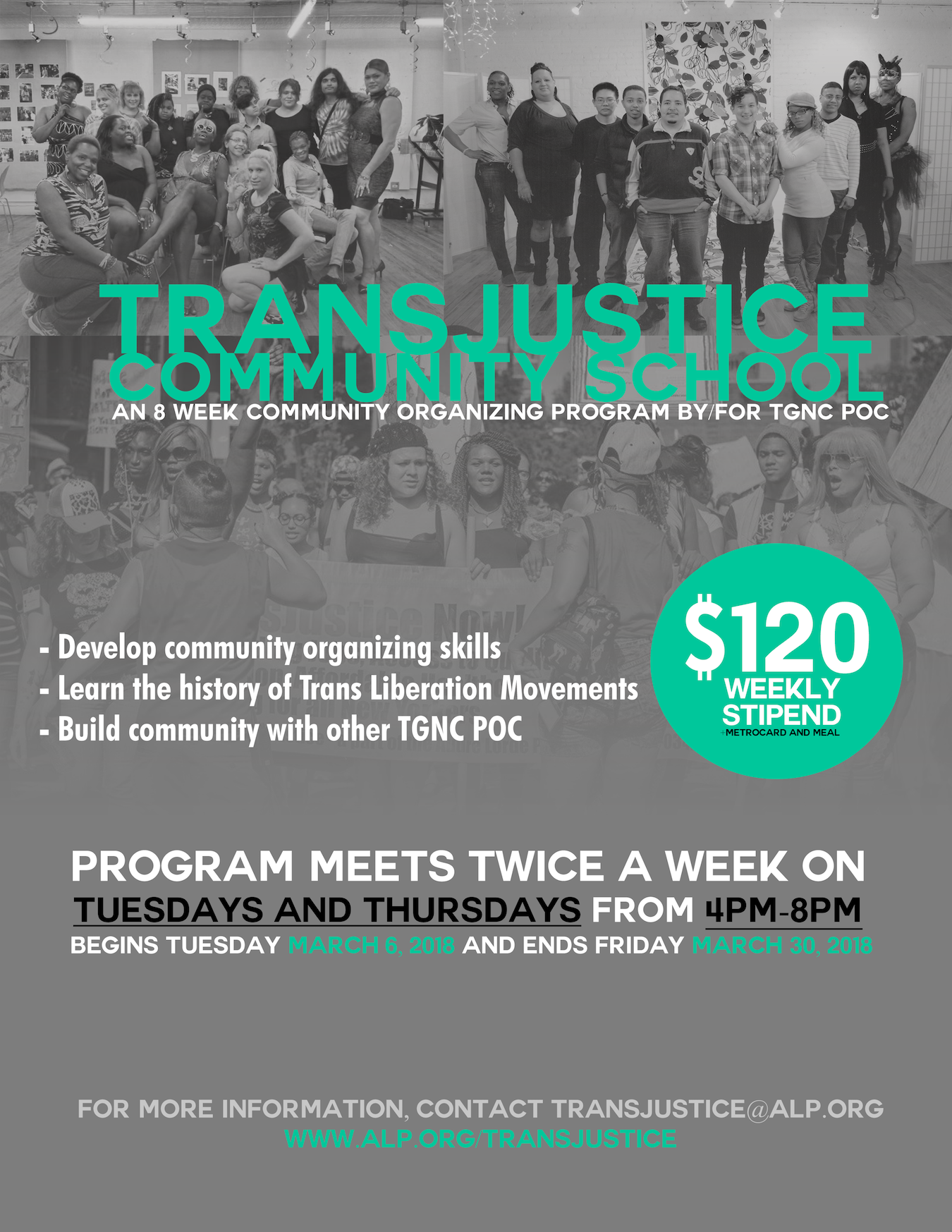 TRANSJUSTICE COMMUNITY SCHOOL APPLICATIONS OPEN!
The TransJustice Community School is for People of Color who identify as Trans and Gender Non Conforming for example people who identify as Trans, gender non-conforming, gender variant, gender deviant, butch lesbians, drag queens, bi-gendered, Two-Spirit, drag kings, femme queens, A.G., gender queer, non-gendered, andro, crossdressers, gender-benders, etc.
The TransJustice Community School is for Trans and Gender Non-Conforming People of Color who want to gain community organizing skills and make change in their communities.
Overall Goals for Participants
Gain self-confidence and awareness of our relationships to ourselves and the world at large
Be able to analyize and engage with how power, priviledge and oppression impacts our relationships to ourselves and our community
Learn the history of Trans Liberation movements and campaigns in Trans and Gender Non-Conforming Communities of Color
Learn strategies and tactics for how to build a campaign
Gain skills and tools for public speaking and facilitation
The TransJustice Community School is an eight week program that begins Tuesday February 6th, 2018 and ends Friday March 30th, 2018.
There will be 2 sessions a week from 4pm-8pm on Tuesday & Thursday

There is no fee for participation. Participants will receive a meal at each session. Members will receive a weekly stipend, and MetroCard's (full participation is required). 


On time attendance at all sessions is required and you must stay the entire duration of the school.

Location will be at ALP, 147 west 24th st, 3rd floor, Manhattan, NY. 
This year the TransJustice Community School will be facilitated by Omi Masika. Omi (they/them) is a facilitator who's worked with organizations such as the GLBT Host Home Program and the Trans Youth Support Network. When they aren't facilitating, they enjoy coaching and competing in Muay Thai, cooking/eating food, and catching up on Thursday night ShondaLand.
HOW TO APPLY:  Complete and return the application by Wednesday January 17th, 2018 (Midnight). There are four options for submitting an application:
Via Google Form. Complete Application Here: https://goo.gl/forms/2lgkJNjYUgFzXN0i2

Via Email. Download application and send completed application by email to     with the subject TJ School Application  

Via Regular Mail. Download application and mail completed application to 147 W 24th Street 3rd Floor, NY, NY, 10011.

In Person. Download application and drop off completed application at 147 W 24th Street 3rd Floor, NY, NY, 10011.
All applicants will be notified sometime between.  Friday January 26th – Friday February 2nd, 2018 if they have been accepted into the school.