When:
Friday, May 17, 2019 - 4:00pm

to

Saturday, May 18, 2019 - 6:00pm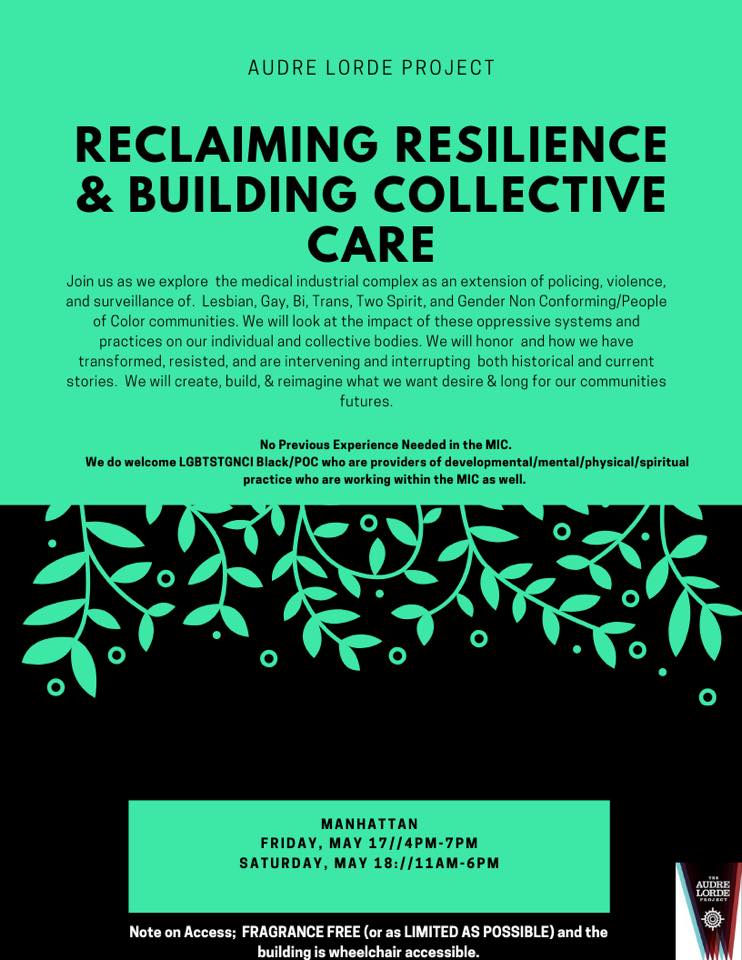 Join us as we explore the medical industrial complex as an extension of policing, violence, and surveillance of Lesbian, Gay, Bi, Trans, Two Spirit, and Gender Non Conforming/People of Color communities.
We will look at the impact of these oppressive systems and practices on our individual and collective bodies. We will honor how we have transformed, resisted, and are intervening and interrupting both historical and current stories. We will create, build, & reimagine what we want, desire, & long for for our communities' futures.
This event will be facilitated by Cara Page & Adaku Utah with support and organizing from the 3rd Space Collective at the Audre Lorde Project - a collective of LGBTSTGNCI POC who are dedicated to deepening the integration of healing, wellness, and sustainability in organizing and movement work. We are healers, cultural workers, and organizers. If you too are interested in expanding wellness, access, and sustainability for our community and/or have practices, offerings, and resources you would like to share with our community, join the Collective and contact 3rd Space Coordinator Simone at simone@alp.org!
FRIDAY, MAY 17 / / 4PM - 7PM
SATURDAY, MAY 18 : / / 11AM - 6PM
No Previous Experience Needed in the Medical Industrial complex (MIC).
We do welcome LGBTSTGNCI Black/POC who are providers of developmental/mental/physical/spiritual practice who are working within the MIC as well.
Note on Access:
- To honor community needs we are requesting that this space be FRAGRANCE FREE (or as LIMITED AS POSSIBLE)
- The building is wheelchair accessible and has an elevator
- Located 3 and 1/2 blocks from the A/C 34th Street Subway
- Gender liberated, accessible and single stall bathrooms
Food, Teas, and MetroCards Available
We have limited capacity so please fill out this form. If there are any questions, email simone@alp.org
APPLY HERE - https://forms.gle/WQSaQbCTfdJvLLQL8
APPLICATIONS DUE SUNDAY 4/21