When:
Friday, November 2, 2018 -

6:00pm

to

9:00pm
Where:
The Audre Lorde Project 
147 w 24th Street
New York, New York 10011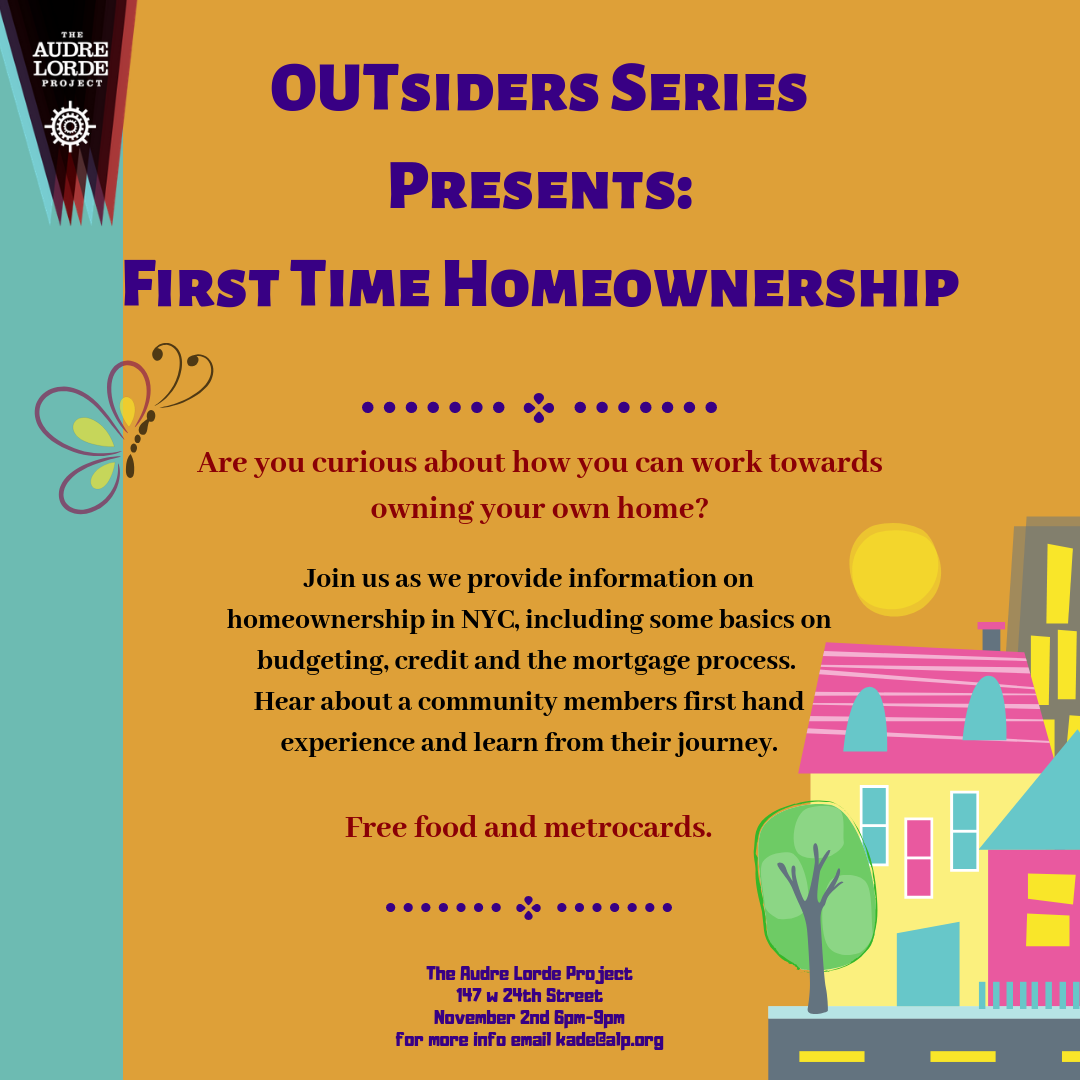 Are you curious about how you can work towards owning your own? Join us as we provide information on homeownership in NYC, including an introductions to budgeting, credit, and the mortgage process. Hear from our Audre Lorde Project's community members' first hand experience and learn from their journey. First Time Homeownership is an informative event that aims to build the skills and knowledge in securing homes in our city as we resist gentrification and displacement. This event is open to all Lesbian Gay Bisexual Two-Spirit Trans & Gender Non-Conforming People of Color!
RSVP by following this link: https://goo.gl/forms/ShN7G63KAJTOjlX33
Please complete the RSVP form by November 1st, 2018
This workshop will be Friday, November 2nd, from 6:00pm to 9pm at the Audre Lorde Project's Manhattan office at 147 w 24th Street. 
Dinner will be served from 6:00-6:30. The workshop begins at 6:30pm. 
ABOUT THE COMMUNITY LEADERSHIP SKILLS TRAINING SERIES
What do you want to organize OUTside the lines? Do you have an organizing project you are looking to build from the inside OUT, and need the skills to do it? We are here to cultivate your skills to build towards a dream project that you have wanted to bring to life.
This Leadership Development Series will support you by increasing your skills and developing your leadership within the realm of community organizing and social change work. This training will help you to better challenge the multiple oppressions faced by LGBTSTGNC People of Color communities. We committed training and building our community members so that we are all recognized as individuals with power who are collectively building movement. We want you to have more tools to build vision and transform our lives!
•    The training is specifically designed for LGBTSTGNC People of Color
•    Meals and light refreshments will be provided
•    Metrocards will be provided
•    There is no fee for participation
If you have any questions, email Kade@alp.org