When:
Tuesday, October 4, 2022 - 12:00am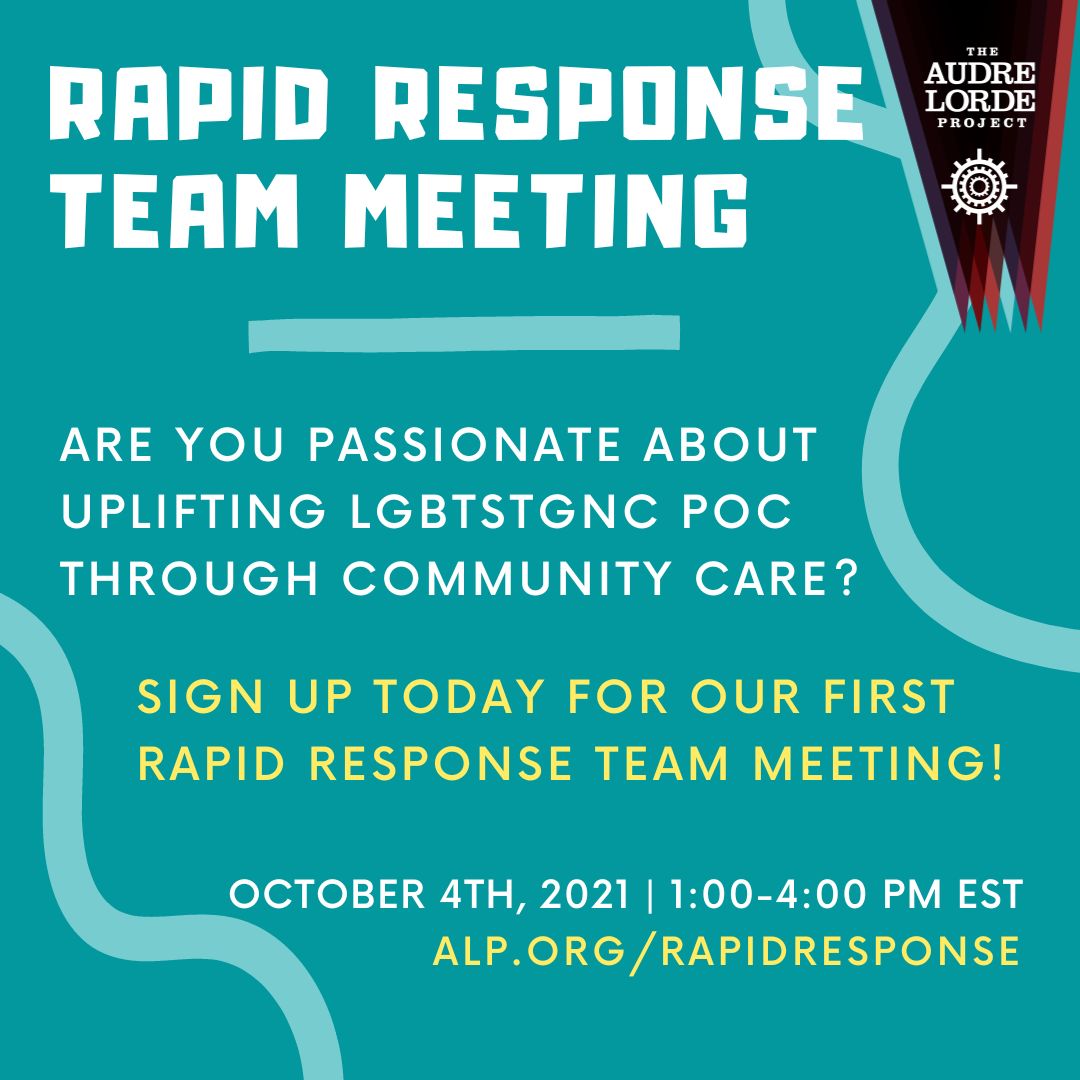 *This event is open to current members of ALP's response team, or folks who have attended an ALP response team training in the past*
Are you interested in providing support to Audre Lorde Project's Lesbian, Gay, Bisexual, Two Spirit, Trans and Gender Non Conforming (LGBTSTGNC) People of Color (POC) community members who are currently navigating the issues of housing, employment, health care, immigration status, and more?
Join us via zoom for our first response team meeting, this fall. We will be rebuilding connections, reflecting on last year, and renewing our expectations and visions for the upcoming year.
We will collaborate to build up community-based skills and strategies for how we care for ourselves and each other.  This team is a place to give and receive sustainable support; where creation, invention, and innovation will be practiced!
Skills we will build together:
How to provide compassionate, non-judgmental listening.
How to identify triggers and maintain your own boundaries.
How to provide practical support and help folks understand their options.
How to offer support through resources and referrals in community.
ALP strategies for community care, including wellness/safety planning.
Our Collective Commitments:
Support ALP's Mission and Guiding Principles, and ensure our work aligns with our values 
Attend monthly meetings (or read notes and check-in with 3rd space coordinator if you are unable to attend)
Attend other ALP trainings that will help support your work, time/capacity permitting.
Work towards practicing active listening and cultivating awareness of each other's time and capacity
Communicate your own needs and boundaries around time/capacity transparently and intentionally 
Be prepared to not just offer members support, but to ask for it when you need it yourself. 
Register today to join us for an evening of centering and grounding in our community and our care for one another.