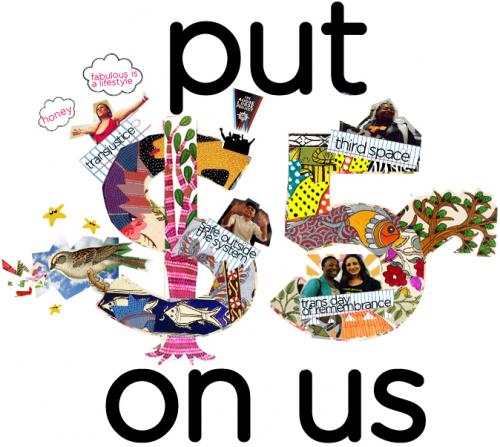 The Audre Lorde Project (ALP) continues to transform Lesbian Gay Bisexual Two Spirit Trans & Gender Non Conforming People of Color lives in New York City and our movements at large! Many of us still live in poverty, face under employment, homelessness, policing and violence and yet we are resilient and are building strategies that insist on our collective survival and liberation. We believe we are the ones to value, honor and resource our stories & lives with dignity, love & liberation.  
As we head towards a new year we are excited to build safety, leadership, wellness, movement & the cultural memory of our communities with you. We especially want to lift up ways we resource and sustain our own work, because We are Worth It!
Join us for the ALP 'Put $5 On Us' Fundraising Drive!  You are invited to Put $5 or More a Month on Us!  When 500 Members of ALP, and our Family & Friends, put $5 a month or moreon ALP, we can generate $30,000 towards our collective liberation. 
Put $5 on our Safety! 
Increasing safety in our communities through the Safe Outside the System (SOS) 'Community FreeStyle' and 'Annual BedStuy Pride' that are building safety & resistance to police and hate violence in Central Brooklyn. 
Put $5 on our Leadership!              
Building community organizers & leadership through political education and cultural experiences like the 'Interpreter Training' & 'Daring to Be Powerful' organizing trainings.
Put $5 on our Wellness!
Honoring our wellness practices & traditions by creating wellness spaces at our ALP mobilizations and events with LGBTSTGNC People of Color practitioners.
Put $5 on our Movement Building!
By leading campaigns that transform the conditions of our lives including the leadership of TransJustice in the Communities United for Police Reform Coalition to organize for the passing of the Community Safety Act; and our Safe Neighborhood Campaign, led by Safe Outside the System (SOS) Collective, building more safe spaces and alliances to transform violence in our neighborhoods.
Put $5 on our Cultural Memory!
Expanding our cultural work through projects such as the 'Real Trans Lives NYC' Storytelling Project that honors the legacy of Trans & Gender Non Conforming POC leadership in New York; and the SOS 'Living Room Cyphers' documenting our stories of safety and resilience.
Make your monthly pledge or one time donation by filling out this form @ donate online or by mailing in a contribution with a check or money order to our Manhattan office (147 W. 24th St., 3rd Floor, NY, NY 10011).  If you are interested in receiving more information on the 'Put $5 On Us' ALP Fundraising Drive please contact The Audre Lorde Project at (212) 463-0342 OR giving@alp.org.
Thank You for helping us build towards our future and sustaining our collective wellness, safety & liberation.  In the words of Audre Lorde, 'without community there is no liberation...'
In Vision, Cara
Cara Page
Executive Director
Audre Lorde Project
As The Audre Lorde Project, Inc. is a 501 (c) 3 approved organization, your voluntary contribution is tax-deductible to the full extent allowed by law.  You may request a copy of our last annual report from us or from the State of NY, Office of the Attorney General, Charities Bureau.