This press release is republished from the NorthEast Two-Spirit Society's website.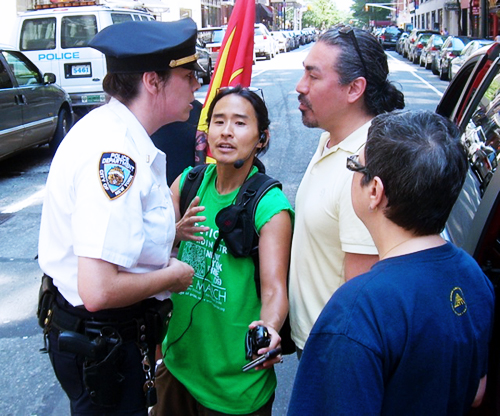 NEW YORK – The NorthEast Two-Spirit Society (NE2SS) and Kris Hayashi, Executive Director of Audre Lorde Project were forcefully ejected from this year's annual Heritage of Pride March in New York City yesterday.
Just before 2PM, Lieutenant Connoly of the Midtown Taskforce demanded that the People of Color Contingent leave the parade. The reason given was that a delay of 6 blocks existed between the People of Color contingent and the contingent in front of them.  NYPD raised the issue of the gap once and POC contingent marshals were in the process of closing the gap.   Kris Hayashi, Executive Director of Audre Lorde Project (ALP), and Loyda Colon also of ALP explained to Lieutenant Connoly, that they were in the process of closing the gap and Lieutenant Connoly refused to listen.  Lieutenant Connoly then insisted that the POC contingent leave the parade, and attempted to arrest both Colon and Hayashi. Lieutenant Connoly then ejected Harlan Pruden, the driver of NE2SS' support vehicle and co-founder of NE2SS, other members of NE2SS (who led the People of Color Contingent), and Hayashi from the parade. Hayashi was physically dragged off the parade route.
"It should have been a day to celebrate and have fun," Harlan Pruden, Co-founder of NE2SS.
After being ejected, Pruden and Hayashi asked to get NE2SS back into the parade.  Pruden was repeatedly threatened with a summons and towing of the organization's vehicle. After 30 minutes, the official answer from the NYPD as communicated by Heritage of Pride was that NE2SS could continue to march as long as Pruden was not included. Without their support vehicle, of which Pruden was the only driver, NE2SS could not continue.
Kevin VanWanseele, NE2SS member, "This was supposed to be a proud day for LGBT Native American people in New York City and in the end it was not!"
About NE2SS: NE2SS works to increase the visibility of the two-spirit community and to provide social, traditional and recreational opportunities that are culturally appropriate to the two-spirit community of NYC and the surrounding tri-state area.  According to the 2000 US Census, our area is the home to the largest urban American Indian population in the country. At the heart of NE2SS effort is community development for all our peoples.
About ALP:  The Audre Lorde Project is a Lesbian, Gay, Bisexual, Two Spirit, Trans and Gender Non Conforming People of Color center for community organizing, focusing on the New York City area.  ALP coordinates the People of Color contingent at Manhattan Pride.