September 11, 2020
Dear Community,
Time is moving differently. The pandemic is asking us to reflect on our own ways of looking at the world and how these perspectives have served us or created challenges for us in the past. It's undoubtedly a growth period for Audre Lorde Project's staff, members, and board.
We are asking questions, like, how do we gather safely? How do we keep each other safe and connected in this isolating time? How can we adapt to this new landscape of movement building and political education? What are we doing to build resilience in this moment? How can this era teach us about our own roles in building movements, creating solutions, and participating safely, in resistance? Who is this crisis turning us into? How is it strengthening us? What is it showing us about ourselves as individuals and as communities who are most impacted by long-standing systems of structural oppression that become most obvious in times of crisis? These are the questions we're asking ourselves at ALP, as we turn the bend on six months of pandemic life.
The season is changing. We have had months of isolation and reflection. The definition of safe space is being transformed, just like our lives. The steps we have been taking as an organization mirror the trajectory of the pandemic. We are gathering forces internally in strengthening our ability to work together remotely and efficiently, or safely in public and shared space. We've been putting together programming and offerings for the digital space and mapping out new ways to create synchrony and connectivity during what is possibly the most challenging moment in our organization's history. The obvious direction is to take it as an opportunity to adapt, and that is exactly what is happening.
ALP's staff has been participating in online coursework to empower our individual digital skill sets in preparation for fall and winter. These when these modalities will become more important than ever for us to continue to organize and strengthen our communities. We are standing at a turning point in our organization's narrative, and that's why this newsletter has more questions than answers in it.
The last two months have been full of experiments, learning, and realigning ourselves internally for the work ahead. Typically we would be preparing for Bed-Stuy Pride at this time of year, instead we're improving our digital skill sets and coming up with strategies for meeting our members and community where they are during a global pandemic.
How can we heal ourselves and each other in accessible ways? How can we gather without being able to share a room? How can we learn and teach without feeling at risk? How can we change the world without leaving our homes? These are just some of the questions we're asking as the season shifts.
In Solidarity,
Janhavi Pakrashi
Communications Coordinator
A Letter from Kade Cahe, Membership Engagement and Leadership Coordinator
Dear ALP Community, 
A decade ago, I found my political home when I walked into the Audre Lorde Project for the Miss Major-Jay Toole Building's opening celebration. I was honored to join ALP's staff in 2018, during another historic moment where staff at ALP is majority Black and TGNC. As I reflect now, I sit with gratitude, sadness, and excitement to share that I will transition out of my role as ALP's Member Engagement and Leadership Coordinator by mid-September 2020.
During my time at the Audre Lorde Project, we re-committed deeply to community accountability and transformative justice. Although challenging, I appreciate all of the opportunities to practice that accountability work within myself and with our community, whether I moved individually, was representing this organization, or moved with my fellow staff and members. The most important part of accountability work is often silent and invisible to the larger public. I feel blessed to have seen and participate in a true commitment to repair work at a pace that accounts for our different accessibility needs. Every day during my time at ALP, I feel connected to the legacy and responsibility of leadership that comes with years of centering LGBTSTGNC POC.
As we begin our new fiscal year, I am in awe that we completed most of the first year's goals from our new strategic plan despite the global pandemic and the oppressive systems coming at our mostly Black TGNC staff / larger communities. We moved. We worked hard to disrupt burn-out culture. We also had a powerful series of internal and external community forums with the hopes to re-align ourselves with our principles. We transitioned in new Board members and are on our way towards a long-term financial sustainability plan for our organization. As we are emerging from our Restoration Period, I feel confident that members will find more accessible ways to connect with our collective work. 
Grounding ourselves in restoration means that this summer we moved with a stronger foundation and the tools necessary to keep building people power. Thanks to our collective work, we bring in the second year of our strategic plan by: 
Launching a more integrated membership structure and meeting schedule
Digitizing our core curriculums with an eye to accessibility
Building sustainable leadership tracks that center our TGNC BIPOC members
Intentionally merging our healing, safety, and accountability work within all of our programs
Once I transition out of my staff role, I will dedicate myself to growing as a full stack software developer with the hopes to create and build more technology that is for us and by us. I received the 2020 Edie Windsor Coding Scholarship to attend a coding bootcamp this fall. We need abolitionist technology that fights against surveillance and our increasing militarization. I do hope to return next year to ALP as a member. Pero for now, I am excited to manifest our next leaders at ALP. Our community organizing is strategic, including cultural work, healing and rapid response work, leadership development, political education, and campaigning. Collectively, we are resilient, multi-talented, powerful, visionaries that will continue to shape and shift our world(s).
In solidarity, 
Kade Cahe
Since our last update in early June, ALP has been busy creating digital spaces for our community to build skills, organize together, and find joy and healing.
We led two sessions of Daring to be Powerful for 14 members, our core training on power, oppression, and organizing. 25 folks joined us for Pozitively Resilient, an annual community forum focused on POC-led HIV organizing. We partnered with BYP100 and the Brooklyn Movement Center to host the blow-out Juneteenth Freedom Party, where a crowd of hundreds gathered for Black liberation.
In the ramp up to Pride, members of ALP's 3rd Space Program, Heena and Chauvet, organized a Community Care Day, offering lessons on breathwork, bodywork, and navigating healthcare for the 35 folks in attendance. With comrades from Sige, BAYAN, BYP100, Nodutdol, and CAAAV, along with long-time ALP members, Lorenzo and Ashleigh, we facilitated a safety training to assist 65 participants in increasing their de-escalation tools. Featuring TGNC POC leaders from across the country and here at home in NYC, we hosted a bi-lingual panel for 80 members on building a more trans-inclusive world.
In July, to support with the ongoing housing crisis and movement to cancel rent, we partnered with the Crown Heights Tenant Union and Taaffe Tenants Association to offer a Housing and Tenants Know Your Rights workshop.
We're excited to share videos from a few of our events: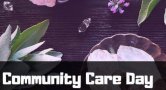 Community Care Day
We took our annual Community Care Day online, with Self-Massage, Breath Work, Ancestral Culinary Healing Traditions, and an info session on navigating the healthcare system during COVID.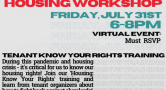 Housing Know Your Rights
An info session with tenant leaders and tenant organizers, educating us on our housing rights and how to fight back against slumlords.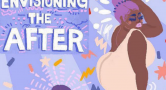 Rebuild: Envisioning the After
A community roundtable with Trans & Gender Non-Conforming organizers of color from across the country, considering narratives and tactics in creating strength for our TGNC communities in perilous political times. Art by ALP core member @bbkashe.
Work with us at ALP!
The Audre Lorde Project is hiring!
We're searching for dedicated comrades to support and grow our membership and leadership development, healing justice, and resource organizing work!
Come join our amazing team and help organize for the safety and wellness of LGBTSTGNC people of color.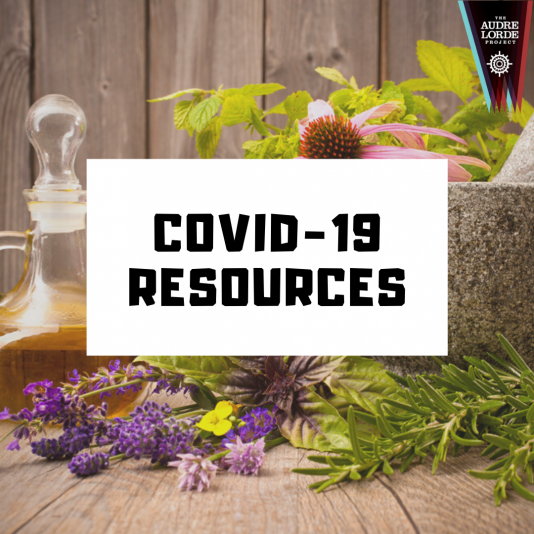 NYC QTBIPOC Centered COVID-19 Guide
Compiled by our amazing former Director of Dignity and Care, Simone Sobers, we offer community a list of COVID-related resources that center the needs and resilience of QTBIPOC folks in NYC.
Click here to read more about the intentions of this resource or click the button below to be taken directly to the guide.
Audre Lorde Project
85 South Oxford Street
Basement
Brooklyn, NY 11217