October 30, 2020
Dear Community,
This month's election season comes to a dire conclusion, regardless of electoral outcomes. White supremacist reactivity and assaults on our human rights and bodily autonomy will be the outcomes --  there's no point in denial about these realities. The only way to react is to build and to create our own tools. 
Our response at ALP will be to provide healing space and to reignite our digital rituals to engage new possibilities for creating safety and change for community members who are currently experiencing multiple levels of trauma and rupture in the midst of this violently invisibilizing and isolating political moment. We are experiencing a political crisis, a community health crisis, and a crisis in human connection. We want healing, we want safe community, and we want sustainable growth that meets the needs of our most vulnerable. We want to create space for people to be able to react and respond to the conditions at hand, to be held, and to be shown pathways to strategic political adaptation that is unapologetic and takes up the space it needs to thrive beyond survival. The challenges to creating space in a time period where isolation is a requirement for health is the obstacle we have been navigating in preparation for winter.
With multiple hiring processes underway, and a generative new direction in developing our digital programming, we are doing our best to meet folks where they are at. We are holding these possibilities with the understanding that our communities are struggling to summon resilience without the ease of connection that existed before almost 8 months of pandemic. You all deserve respect and acknowledgment for surviving this, and we want to provide channels of connection and healing as we proceed. We are grateful for how you have shown up for yourselves, for us, and that we can cultivate hope together.
Regularly scheduled TransJustice and SOS meetings have resumed, digitally, as our staff work plans have been revised and adapted for pandemic conditions. We will be hiring a new 3rd Space Coordinator, Member and Leadership Engagement Coordinator, and adding the new position of Grassroots Fundraising Coordinator to our staff. These hires anticipate a growth period that will provide more programming for members and financial sustainability for the organization as we summon and translate power into gentle, collectively inspired evolution.
The same sword that is cutting us is also showing us what we are made of. All the while, we are trying to create a reality without swords, and so we must resist, we must persist, we must help one another through these trying times and not rely on the powers that be to protect us from harm. We can show up for each other and be empathic to the struggle for presence in a world that has always challenged our survival, and which is currently painfully amplified in that mission in this moment. Our response is to amplify right back with love and community care. That's what we are doing as the season proceeds.
With Love and Respect,
Janhavi Pakrashi
Communications Coordinator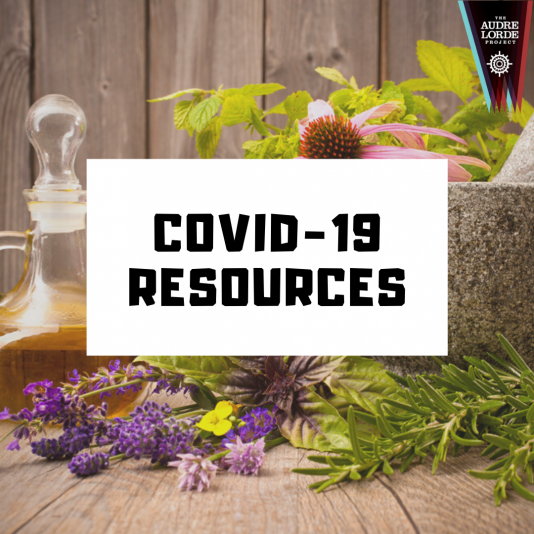 NYC QTBIPOC Centered COVID-19 Guide
Compiled by our amazing former Director of Dignity and Care, Simone Sobers, we offer community a list of COVID-related resources that center the needs and resilience of QTBIPOC folks in NYC.
Click here to read more about the intentions of this resource or click the button below to be taken directly to the guide.