May 29, 2020
Dear Community,
It's with love and a sense of hope that we must regard our movements in one of the most challenging ordeals in human history. We might feel like we have no energy left after watching toxic news cycles, designed to weaken our resolve by reminding us of what we already know. We might feel inhibited by our inability to gather on the streets in resistance. We might feel daunted by the fact that there is no clear path or way forward ahead of us, according to the media that we are being fed and are acclimated to. We might not know what to do with the burden of grief, combined with the understanding that we must transform the same world that is harming us every day. The energy that is required for this project is infinite, and unknowable, until the process is complete. And we must trust each other more than ever in this moment to be on the same page about creating a better world, while that very world is keeping us from physically gathering, harming us, and taking our lives.
Hope resides in the understanding that our movements can, and have, created massive shifts in the political landscapes we live in currently. Hope resides in the fact that we are a resourceful community that will gather and resist, regardless of the white supremacist infrastructures that we have already survived. Hope resides in the fact that we know how to resource ourselves by creating our own pathways and strategies for carving out futures that shed toxicity by creating shelter and safer space, by us and for us. Today's newest challenge is not to create physical space, but to continue to gather and resource each other in emerging spaces that will escalate in their capacity to transform or destroy the systems of oppression that target our most vulnerable.
It is our mandate to live, be willing to ask for help, and heal each other in these challenging times. Joy, creative abundance, and resourcefulness that is informed by collective ancestral wisdom, community care, and tactical organizing are all going to play a role in our success. These strategies all become impossible without giving ourselves space and time to grieve and find connection in each other's journeys. Typically, Pride month is the time when this happens in physical space for our communities. It's simply not going to be able to happen safely this year.
At ALP, we are grieving many things - the lives lost due to our country's crooked policing and healthcare systems, the ability to be physically together and hold each other in this grief. This is our first year since its inception that Trans Day of Action cannot safely take to the streets. This does not mean that we're giving up on gathering. It means that our communities will rise to challenge and do it anyway, with or without the approval or collaboration with the state that oppresses us and devaluates our non-white Queer bodies every day.
It is with tremendous anger, and fierce hope, that I encourage all of you to participate with us within your capacity this Pride season. Resilience is exhausting work that takes a tremendous amount of courage. We honor you all for the work you have already put in and want you to know that we love you, regardless of how you are able to show up in this moment. Your survival is already a success.
In Solidarity,
Janhavi Pakrashi
Communications Coordinator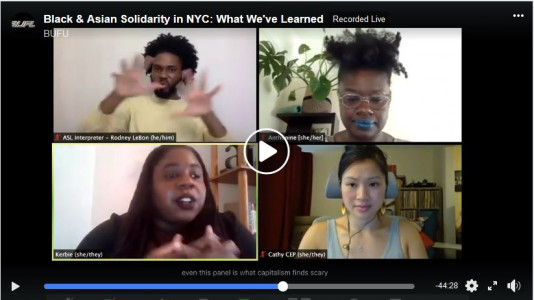 Reflections from Our Events
On Monday, May 11, we had a Membership Info Call with our core and active members to find out how they're doing, what their needs are, and how ALP can better support them. Our Co-Director Cleopatra highlighted the importance of being intentional with our work with members and their needs right now:
ALP has an intention of moving at the speed of our members' wellness because we are all going through this pandemic at the same time.
With our partners from the Center for Anti-Violence Education and amazing ALP Board Member Lolan, we facilitated Essential Stories, a conversation about the experiences of people of color during COVID-19, on Saturday, May 16. Over 20 folks joined us to share the ways that stigma, racism, and criminalization have impacted them in the past couple months. Together, we created a very generative space to talk about how to move towards the world we'd like to see when this pandemic has lessened and who in our community is being left out of these conversations. Scroll down to view the invitation for the upcoming second installment, Essential Stories: No Stories Left Behind.
We held a Fundraising Training on Tuesday, May 19 to support our community in growing their skills to organize resources. Co-Director Maxwell led 25 folks through traditions of giving in communities of color, the relationship between fundraising and organizing, and how to maintain a mindset of abundance while doing this critical work.
In coalition with Black and Asian organizers, we helped coordinate Black-Asian Solidarity in NYC: What We Learned on Tuesday, May 26. Over 600 folks showed up to hear from an intergenerational panel about the lessons they learned in cross-racial solidarity work and what remains to be done to fight white supremacy and unlearn our internalized oppression. View the recording here.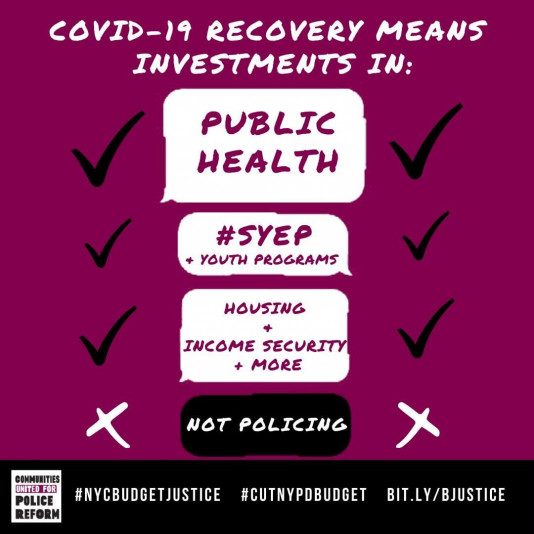 NYC Budget Justice
ALP has signed onto Communities United for Police Reform's NYC Budget Justice campaign to fight city officials' deep cuts to desperately needed social services while maintaining the NYPD's full budget. We submitted written testimony to the City Council's Finance Committee on the importance of funding community-based strategies for safety, rather than the militarized police force. ALP Co-Director Cleopatra testified before the Committee on Public Safety, uplifting economic support programs over discriminatory social distance enforcement:
We need to meet people's basic needs in the current pandemic and beyond. Our coalition acknowledges that the world as we knew it was not in a state to pull policing out of NYC's day-to-day operations. But in our present, vulnerable communities are left to be punished by policing practices from a world that no longer exists. We are seeing and hearing accounts of violent policing of Black and Brown New Yorkers that will be referred to as so-called "social distancing enforcement" but is often simply abusive broken windows policing being rebranded during this COVID-19 pandemic.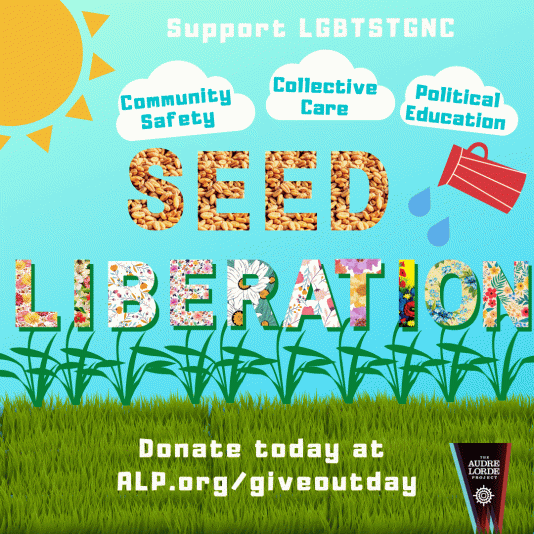 Resource Organizing
ALP is aware of the financial struggles that our community are facing. As an org led by black TGNC folks, we are facing similar issues. We are being intentional with our fundraising and want to share more ways for folks to plug in.
Our biggest thanks to every one of y'all for helping make GivingTuesdayNow a success! We really appreciate the way that folks stepped up and continued to give, even under the current troubles. We were able to meet our goal of $1,500! Over 20 first-time donors joined our fight for LGBTSTGNC POC liberation.
Are you down for ALP and want to help organize funds for our sustainability? Go to our Give Out Day page and join us as a fundraiser! You can share your own story of how ALP has impacted you and your community, reaching out to friends, family, and colleagues to gather resources for the movement.
Audre Lorde Project
85 South Oxford Street
Basement
Brooklyn, NY 11217