June 28, 2021
Dear Community,
We hope you've enjoyed a safe and connective pride season and are finding your power in community as the summer kicks off. 
For the past two years, due to pandemic conditions and concerns for community safety, we have provided digital alternatives to being on the streets and are beginning to re-imagine how to gather safely, inclusively, and with accessibility in mind as the lessons of the pandemic teach us how to care for each others' well-being in public spaces. The necessity of consent culture, the normalization of communicating our safety needs to one another in shared space, and the critical importance of understanding who our immediate networks of care are, have been powerful developments in our communities' values. These are also organizing trajectories that the Audre Lorde Project has always been rooted in, for the purpose of gathering folks safely to advocate for our needs without a police presence. The goal has always been to create tools that do not replicate the white supremacist heteropatriarchal tactics that have been designed to control Black, Indigenous, POC, Immigrant, Femme, and Trans and Gender Non-Conforming bodies. 
In 2019, we interviewed Jay Toole on the 50th anniversary of Stonewall to talk about how the riot started as a collective abolitionist response to normalized police violence by a coalition of targeted and marginalized groups. During that time period, the police could take a person to prison if they weren't wearing gender-appropriate clothing, and it was typical for LGBTSTGNC people to have to choose between self-determination and survival in how we expressed ourselves in public. 
We have come a long way in 52 years, but there is still work to do in the areas that remain most critical for our survival: non-discriminatory housing, fair access to employment opportunities, affordable and humane healthcare, and freedom from police violence. For now, we're still watching the realities of identity-based violence that persist without the systemic changes we have always gathered to demand.
As we begin to organize in physical spaces again, we are moving with evolved sensibilities and awareness about safe convening. We are making organizing choices that consider the balance between our human need to be in community and the life-saving aspects of prioritizing our collective and individual well-being in an ongoing global pandemic. Not everyone in our communities will be able to get vaccinated and it's not a safe option for many others. How we navigate inclusivity in the coming months will set the tone for a post-pandemic reality where organizing and political education occupy digital and physical space in tandem.
The work at hand is the development of an accessible and adaptive movement building strategy that holds us accountable to one another, and to our own needs in defining the options that post-pandemic organizing holds in store for us. We are currently embedded in a global struggle with a virus, and many people are drawing connections between their own struggles and those of folks connected by common structural challenges. When we begin to understand this common ground, and act with synchronic awareness, we build movements that create a better world for all.
In Solidarity,
Janhavi Pakrashi
Communications Coordinator
Show Your Support for ALP
The Audre Lorde Project is deeply rooted in community support and we are so grateful for the continued support we've seen over the last year. 
As we close out Pride month, we still haven't reached our goal of on-boarding 100 new monthly sustainers. Please consider becoming a monthly donor at $5, $10, $20, or any amount that is meaningful to you, if you're in a position to contribute.
Can you help us move the needle?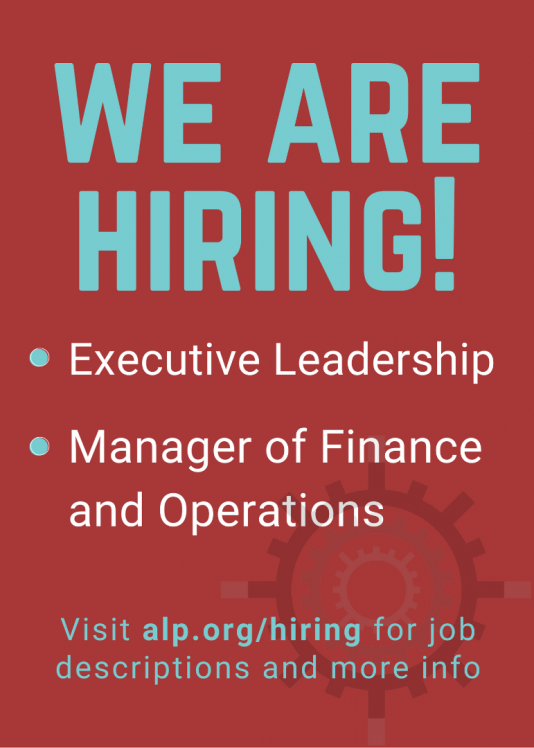 Our search is live – the Audre Lorde Project is looking to recruit a new wave of leaders to support LGBTSTGNC organizers of color in New York City! Currently, two full-time positions are open at ALP:
Executive Leadership ($75,000 for Co-Directors and $85,000 for Solo Executive Directorship, plus benefits)
We are searching for empathetic, confident, organizers who know their way around team dynamics and NYC's LGBTSTGNC POC community. Currently, the position can be applied to by one candidate or a two-person co-director team who are eager to build on each others' strengths to guide ALP forward as it seeks to deepen its politic, connection to community, and a more sustainable future. Are you that somebody?

Manager of Finance and Operations ($61,000, plus benefits)
Do you know a spreadsheet wizard into budgets, organizational management, and fiscal policies? Send them our way!
Run it up, y'all! Let's find some amazing comrades to join our team at ALP!
For more info, visit alp.org/hiring.
For questions about the Manager of Finance and Operations, please email hiring@alp.org. If you want to be in touch about the Executive Leadership position, please reach out to Chriss Sneed and the rest of ALP's Board by emailing board@alp.org.
As we enter Pride month, ALP's programming is ramping up in full force!
At the start of June, we held a Queer Radical History Cypher focusing on uplifting the lives and legacies of queer, trans, and gender-variant folks of color who contributed to the liberation of LGBTSTGNC people. 
Our annual POZitively Resilient event was a transformative space for HIV cultural work. Organized by two core members, we were joined by a talented roster of performers, musicians, and makers using their voices to bring the often untold narratives of our community into focus. 
Acknowledging that there is often grief and reflection that goes along with Pride, we offered our annual Community Care Day as a healing space for our people. Coordinated and facilitated by a core member, 5 LGBTSTGNC POC healers led sessions on self-massage, yoga, breathwork, and other wellness modalities to support and nurture the spirits of our members, attempting to address the trauma that we are all faced with daily in this system that was not built for us.
We hope to see you at our upcoming events!
Click on the flyers below to register. For regular reminders, be sure to follow ALP on social media channels.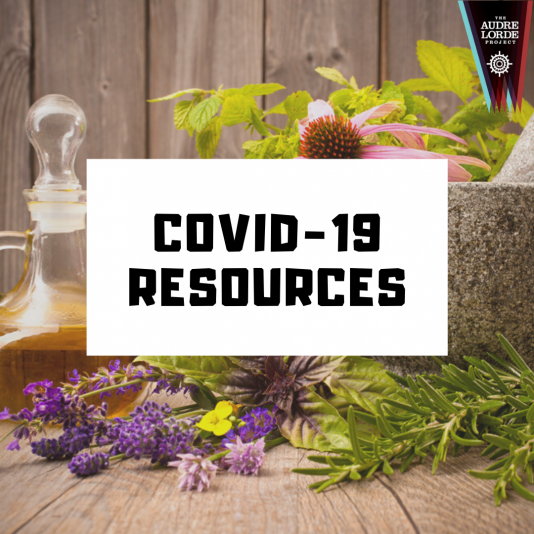 NYC QTBIPOC Centered COVID-19 Guide
Compiled by our amazing former Director of Dignity and Care, Simone Sobers, we offer community a list of COVID-related resources that center the needs and resilience of QTBIPOC folks in NYC.
Click here to read more about the intentions of this resource or click the button below to be taken directly to the guide.
Audre Lorde Project
85 South Oxford Street
Basement
Brooklyn, NY 11217