February 18, 2021
Dear Community,
The life and work of Audre Lorde beg us to imagine the world through a lens that critically examines power where it is gathered, and where it must disperse for the well-being of our communities. It asks that we learn from her lived experience as a poet, scholar, mother, worker, teacher, organizer, survivor, and movement leader. Her legacy requests that we learn from her experiences in imagining and creating empowered futures that integrate the understanding that the political and the personal are inextricably intertwined. Political conditions preclude our personal experiences, and those personal experiences are catalyzed into power by expressing ourselves, caring for one another, caring for ourselves, and working towards our collective freedom. It is no wonder that the systems we are forced to live in, designed by straight white cis-gender men, are reacting in force in this political moment. They are afraid.
In the wake of shifting political leadership in the US, we may feel a sense of relief that our day to day has become less deadly. But in truth, the last 4 years have proved that America is built on white supremacy and conditions are worsening for our most vulnerable. We are almost a full year into a global pandemic with no clear end in sight, and our communities are struggling to access the core principles of Audre Lorde's legacy: Joy, Safety, Liberation, and Healing.
At The Audre Lorde Project, our programs reflect the provision of these pillars. 3rd Space creates community healing opportunities in our community care events. Safe Outside the System focuses on abolition and community safety in Brooklyn and beyond. Member Engagement and Leadership builds political education towards liberation., And if you've ever been to a TransJustice event, you know that the performances are the very essence of Queer joy and our work to organize for self-determination honors the resilience of our most targeted TGNC communities. This month, we are pleased to welcome 4 new staff members, India, Anqa, Danya, and Indra to support the organization's fulfillment of Audre Lorde's vision and values.
She lived with the embodied understanding that words transform realities. We exist in our identities, targeted by state-sponsored violence, and will persist in building new futures with our creativity and revolutionary sense of love. These powers of transformation will build a compassionate world that uplifts the pieces of who we are which were not meant to survive systems of physical, emotional, and spiritual violence. With these four pillars informing our minds and bodies, beyond survival, our communities will thrive. And on this day we honor the life, work, and legacy of our namesake. Happy 87th Birthday, Audre Lorde.
With Love and Respect,
Janhavi Pakrashi
Communications Coordinator
ALP Staff Reads "A Litany for Survival"
In honor of her 87th birthday, the staff gathered on zoom to do a collective offering for community members. We thank you for your continued support, and are grateful to be part of this journey of continuing Lorde's legacy of of creating space for Joy, Safety, Healing, and Liberation.
We offer a warm welcome to our new staff members: India, Anqa, Danya and Indra.
TransJustice Community School 2021 Applications are Open!
This April, a few fierce & fabulous alumnae of TransJustice Community School (TJCS) will hold our first ever virtual cohort! TJCS is an intensive program that aims to strengthen our community and ourselves in building our skills through generating the knowledge we bring in our lived experiences and history of our lives. This TJCS is a 6-week long, compensated commitment for eight folks seeking to deepen their understanding of digital organizing. Please distribute the application widely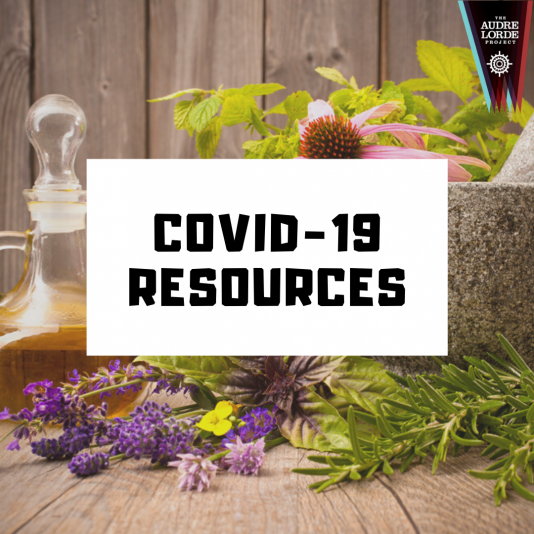 NYC QTBIPOC Centered COVID-19 Guide
Compiled by our amazing former Director of Dignity and Care, Simone Sobers, we offer community a list of COVID-related resources that center the needs and resilience of QTBIPOC folks in NYC.
Click here to read more about the intentions of this resource or click the button below to be taken directly to the guide.
Audre Lorde Project
85 South Oxford Street
Basement
Brooklyn, NY 11217