When:
Saturday, November 2, 2019 - 10:00am

to

Sunday, November 3, 2019 - 7:00pm
Where:
Audre Lorde Project, 147 West 24th Street, 3rd Floor, NYC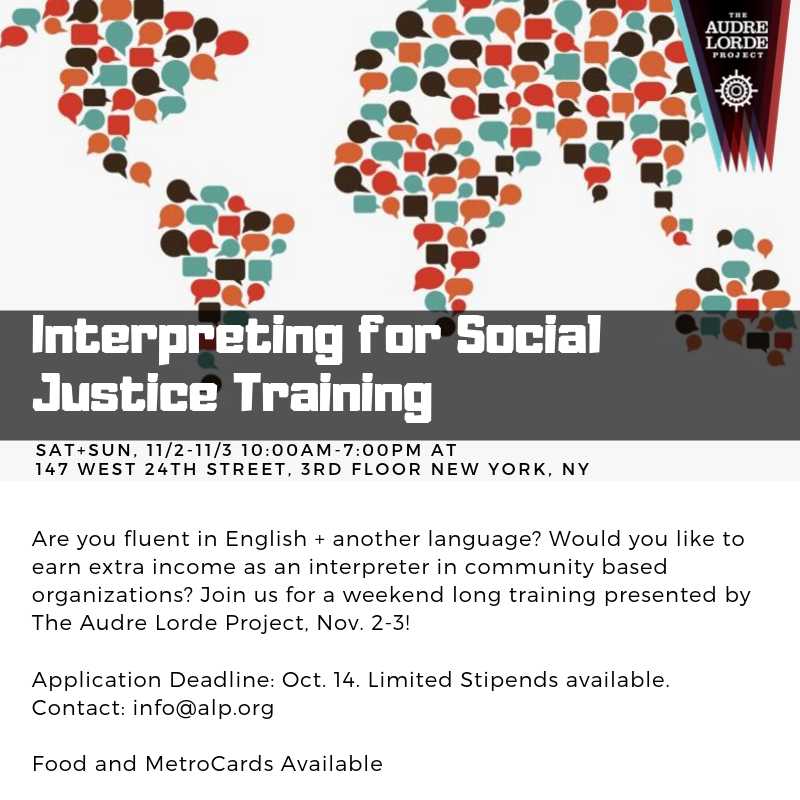 Are you an LGBTSTGNC Migrant who's fluent in English and another language? Are you an LGBTSTGNC person of color who's fluent in English and another language and wants to support immigrant rights work? Interested in gaining interpretation skills AND learning about interpreting for social justice? Join ALP for "Interpreting for Social Justice"!
ALP's Annual Interpreter Training is a part of a larger vision of Language Justice in Lesbian, Gay, Bisexual, Two Spirit, Trans, and Gender Non-Conforming (LGBTSTGNC) Immigrant of Color communities. This Interpreters Training seeks to provide opportunities for LGBTSTGNC Immigrants of Color who are already informal community interpreters to:
Gain greater skills in interpretation.
Learn resources and strategies to use interpretation to generate income.
Better understand how to make our community spaces more accessible.
Share knowledge about health, social, and community resources.
Share resources on translating health, sexuality, and gender issues.
The program includes two all-day trainings on Saturday, November 2nd and Sunday, November 3rd, which will focus on sharpening interpretation skills. You MUST be available for both days to participate. There are a limited number of stipends available for this training.
What's the Commitment?
After completion of the training, participants will be expected to volunteer 8-10 hours providing interpretation for ALP events and actions after shadowing more experienced interpreters, attending practice sessions, and participating in skills development exercises, and evaluation.
Can I be one of the interpreters in this program?
Yes! If you:
Identify as Lesbian, Gay, Bisexual, Two Spirit, Trans, Gender Non-Conforming, Queer, or not Heterosexual/Straight.
Identify as a Person of Color.
Are fluent in more than one language including English.
Priority will be given to NYC-based applicants.
What are the next steps?
Apply by Monday, October 14th, 2019
After filling out the application and sending it in, we will call you for any clarifying questions and to inform you if you are accepted to the training.  
If you wish to participate in the program, but do not need a stipend, please note this on your application. While stipends are limited there will be space for some non-stipend participants.
How to apply:
Complete this form!