June 17, 2014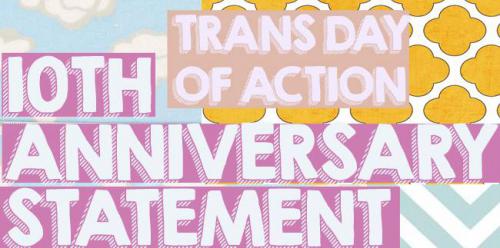 TransJustice of the Audre Lorde Project
Celebrating 10 Years of Trans Day of Action;
A Decade of Resistance, Resilience, and Revolution
By Elliott Fukui
TransJustice Coordinator
"We are powerful because we have survived"
-Audre Lorde
TransJustice, a political group by and for Trans and Gender Non Conforming People of Color (TGNC POC), is honored and excited to be holding our tenth anniversary Trans Day of Action on Friday, June 27th from 2:00-5:00pm at the Christopher Street Pier this year. Trans Day of Action is a political march and rally that brings together TGNC POC and our allies to call attention to the continued violence, discrimination and institutionalization of our people, while simultaneously lifting up and celebrating our legacy of resilience, organizing, and community building.
Speaking on behalf of TransJustice, we feel truly humbled, grateful, and honored to be a part of TransJustice and Audre Lorde Project every day, and especially on this momentous occasion. We also feel grateful that we are a part of the Miss Major Jay Toole (MMJT) Building for Social Justice, alongside our comrades: FIERCE, Sylvia Rivera Law Project, Queers for Economic Justice and Streetwise and Safe.  The organizations of the MMJT Building center the needs of Lesbian, Gay, Bisexual, Two Spirit, Trans, and Gender Non Conforming People of Color communities and our allies.
Our struggle for liberation and justice has not been simple or easy, but vital in moving forward our desire and ability to struggle across difference while honoring the legacy and leadership of our people. Ours is a movement centered in love, accountability, collective power and transformation.
Trans and Gender Nonconforming people, and particularly those of us who lie in the intersections of multiple oppressed identities, continue to experience a disproportionate amount of targeting at the hands of systems, institutions and individuals who criminalize and dehumanize us for the simple fact that we live fully in our truths, even if those truths are contradictory to and invalidate the binaries set up to keep the few on top and the rest of us on the lower rungs of this society.
Our identities, our survival, and our legacy is inherently a danger to oppressive systems. It is our resilience, resourcefulness, fabulosity and interdependence that gives us the power to continue the struggle for our liberation and the liberation of all people who experience oppression because of their race, gender, sexual orientation, ability, immigration status, their income (or lack thereof) and their housing status.
Trans Day of Action is a reclamation and a call out, not for our inclusion in a society that relies on oppressive systems and institutions to function and survive, but for a remembrance that our movement has and always will be a radical act of resistance to the violences of oppressive institutions and systems. That ours is a struggle for freedom from those systems, and a beautiful visioning of a world where we are not only accepted, but celebrated, loved and lifted up for/in all our identities.
Let us celebrate our legacy of resistance and continue the struggle for justice and liberation for all people by educating, organizing, and mobilizing our communities.
TransJustice is a political group created by and for Trans and Gender Non-conforming people of color. TransJustice works to mobilize its communities and allies into action on the pressing political issues they face, including gaining access to jobs, housing, and education; the need for Trans-sensitive healthcare, HIV-related services, and job-training programs; resisting police, government and anti-immigrant violence. For more information contact Elliott Fukui, Program Coordinator of TransJustice. 212.463.0342 ext.13,
Twitter: @Audrelorde
Facebook: https://www.facebook.com/AudreLordeProject
Instagram: @AudreLordeProject
#TDOA #ALP #TransJustice