When:
Saturday, February 18, 2023 - 5:00pm
Where:
Skylight Gallery @ 3rd floor of Restoration Plaza
1368 Fulton St, Brooklyn, NY 11216
Join us to celebrate Audre Lorde's 89th birthday in a way she loved most: a party with and for queer and trans community of color!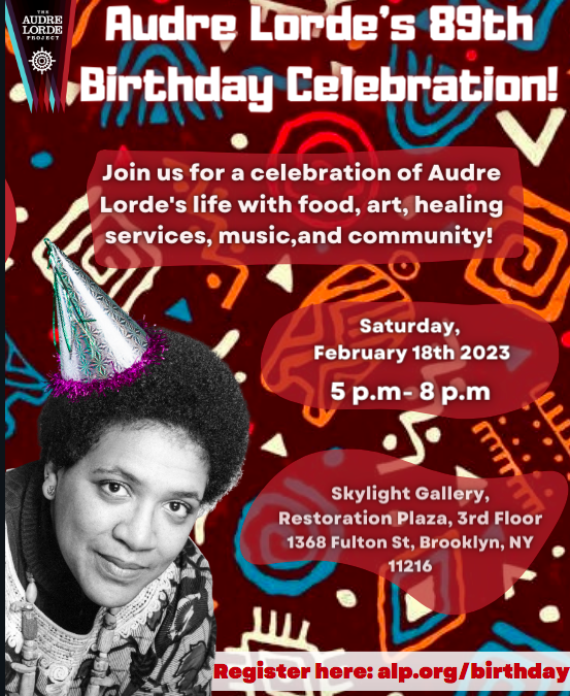 SOS & MELC Presents: Audre Lorde's 89th Birthday Celebration!
Join us in celebrating Audre Lorde's 89th birthday with one of her favorite things: a celebration of LGBTSTGNC communities of color! We will be coming together in-person with an abundance of food, music, care and you! Come for speed friending, where you will have the chance to think of all things safety and liberation – and maybe find a revolutionary bae in the process. We will be offering healing practices, including reiki, tarot, and an altar for Audre that we encourage folks to bring offerings for. And there will be art- an art walk to be exact; as well as interactive prompts, community photobooth and archive pictures of Audre. We can't wait for you to join us for a night of joy and memory.
RSVP at www.alp.org/birthday is required to attend this event, which is created for and produced by folks who are Queer, Transgender, Black, Indigenous, and/or People of Color. White allies are encouraged to support in other ways, including volunteering for roles the day of the event. If interested, please email Membership Coordinator Anqa at anqa@alp.org. We can't wait to be in community with everyone- as our upcoming birthday ancestor once said, "Without community, there is no liberation." See you on February 18th at 5PM!
Please note: proof of negative COVID test (rapid or PCR) will be required within 24 hours. Rapid tests will also be available onsite.