When:
Saturday, November 7, 2015 -

11:00am

to

4:00pm
Where:
Meet at the ALP BK Office, 85 South Oxford, Brooklyn, New York 
Gather at ALP BK at 11am for coffee, juice, breakfast snacks, and water. We'll ride into Bed-Stuy together from there!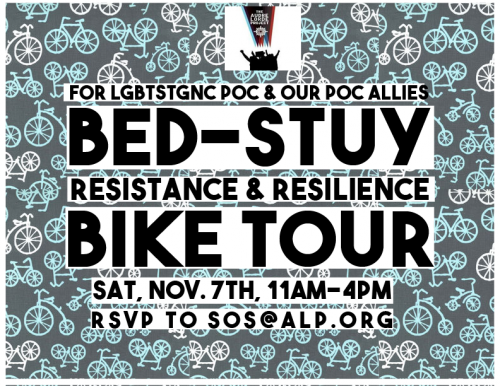 If you want to participate in the bike tour, but don't have a bike, you can borrow one! You can pick up the bike at ALP BK at 11am.
If you're white and have a bike and helmet a person of color can borrow for this bike tour, please contact Tasha at sos@alp.org. Or, if you're a POC, and have a bike and helmet but can't make it to the bike tour, and wanna lend your bike to a POC, also contact Tasha.
If you don't ride a bike, but would like to run or skate the route, join us! We'll have a contingent of skaters and runners!
If you want to be a part of the tour, but don't run, skate, or bike, we're working to time and map the route so that folks can take the bus or train to meet us at sites.
To participate, please RSVP to sos@alp.org, and let us know how many folks you're bringing and their preferred mode of transportation. Also, please let us know if you need to borrow bikes, and if so, how many.
This event is for LGBTSTGNC POC & our POC Allies