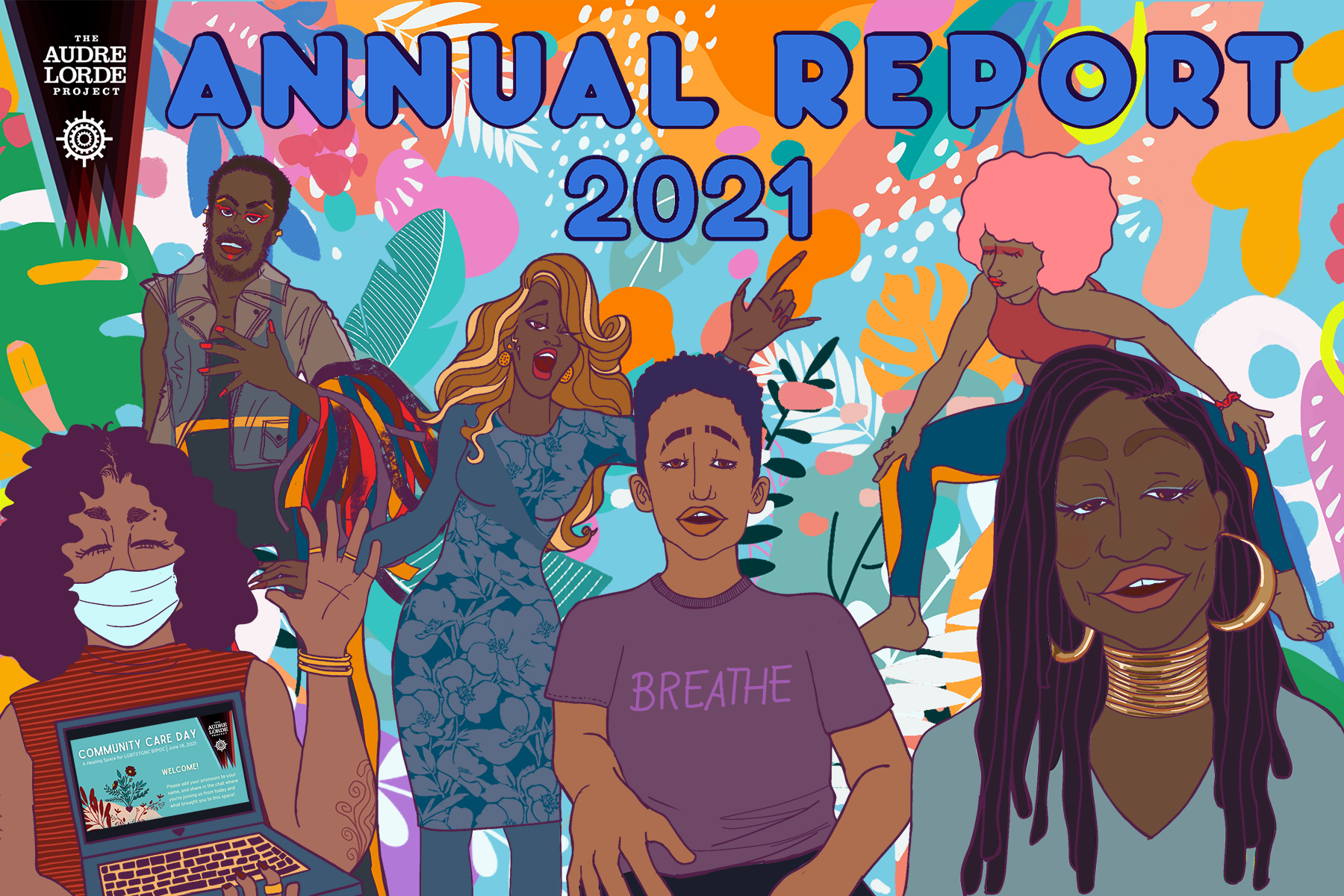 Image Description: An illustrated collage of Audre Lorde Project members at various events throughout the 2021 calendar year. The collage includes illustrations of queer and trans people of color dancing, singing, and smiling. On the bottom left there is an illustration of a person waving and holding a laptop screen with the words "Community Care Day" on the screen. Near the center, there is an illustration of an ALP member wearing a purple shirt with the word "breathe" across the center.  At the top of the illustration are the words "Annual Report 2021" in big, bold blue letters. The Audre Lorde Project logo is in the upper left hand corner. Credit: Acacia Rodriguez
Annual Report 2021: The Year We Moved at the Pace of Trust
Flexible. Transitional. Safety. Discovery. Openness. These are some words that our community used to describe the past year at the Audre Lorde Project.
In the midst of an ongoing pandemic and systemic violence that continues to harm our queer and trans people of color kin, we've allowed ourselves the space and time to adjust and readjust. We embraced change – in our plans, capacity, abilities, processes, and simultaneously, in ourselves. These changes have fortified our roots, deepening our commitment to our members, community, and one another as liberatory co-conspirators. 
In 2021, the Audre Lorde Project moved at the pace of trust – creating moments of stillness for us to name the immense loss and grief that many of us have experienced over the past year, and continue to experience. In those moments of stillness we named the fear and uncertainty that many of us felt and are still feeling, and created refuges of safety together. 
We did this through regular membership meetings, trainings, and workshops, supported, facilitated, and resourced by you – our network of members, supporters, and allies. In these online spaces of community and care we brought the joy, safety, political education, and camaraderie that previously only existed in-person at the ALP office into Zoom and digital space.
We invited queer and trans people of color to organize, heal, laugh, reminisce, and celebrate with us. We challenged ourselves to reshape our work, processes, and timelines to reflect the values, needs, and realities of our membership of lesbian, gay, bisexual, Two Spirit, trans and gender non conforming people of color in New York City.
To usher us into a new year, we've compiled a handful of audio reflections (
click here for a transcript
) from folks in our community that capture what this past year has collectively meant for the Audre Lorde Project in our own words and voices.
Thank you for the deep care, generosity, compassion, and grace that y'all have poured into the Audre Lorde Project since we first opened our doors back in 1996. We are immensely grateful to be doing this work with y'all and look forward to continuing to build towards collective liberation with you in 2022 and onwards.
With love and care, 
The Audre Lorde Project Staff
P.S. – Want to know more about what this year has meant for us in terms of fundraising, finances, and programs? Look out for our 2021 Impact Report dropping in early January and be sure to sign up for our newsletter to receive updates about all-things-ALP.