HOURS: PT: 20 hrs per wk REPORTS TO: Director of Programs & Executive Director POSITION SUMMARIES: Using creativity, and ALP's mission, and guiding principles the co-coordinators will work collaboratively with members and designated staff members to coordinate, develop, and evaluate a community organizing area led by and for Trans and Gender Non Conforming People of Color. These positions include supervision of volunteers and members, campaign development, political education and leadership development programming oversight and implementation, oversight of program area(s), public speaking, representing on coalitions, monitoring program budget and reporting and representing the organization to relevant funders. Experience in Trans & Gender Non Conforming (TGNC) People of Color organizing is preferred. Learn more.
A nationally recognized force in the struggle for racial, social and economic justice, ALP now seeks a Manager Of Finance & Administration. This person is central to supporting our next stage of organizational and programmatic growth as a center for community organizing through building upon and maintaining strong organizational infrastructure and sustainable finances. This leader, who reports to and works closely with the Executive Director must be a dynamic and creative individual committed to justice, and leadership development and practices that reflect ALP's principles. TITLE: Manager of Finance & Administration HOURS: Full Time. 40 Hours Per Week REPORTS TO: Executive Director Learn more.
Sunday, August 16, 2015 - 12:00pm - 6:00pm
An annual Free Community Event and BBQ that Celebrates the diversity of the Lesbian, Gay, Bisexual, Two-Spirit, Trans & Gender Non-Conforming People of Color & Allies.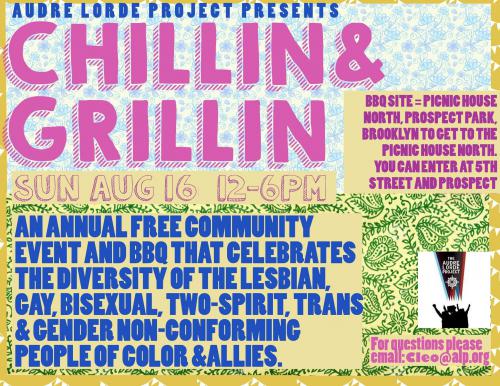 Sunday, August 30, 2015 - 12:00pm - 6:00pm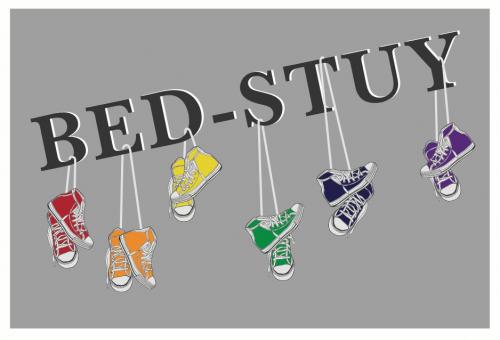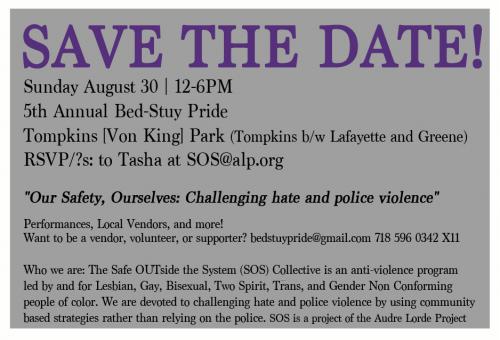 Sunday August 30th 12PM - 6PM
5th Annual Bed-Stuy Pride
Tompkins [Von King] Park

Come celebrate lesbian, gay, bisexual, two spirit, transgender and gender-non-conforming people of color living in the Bed-Stuy and Central Brooklyn community. The day will feature local artists, performances, workshops, music, vendors, family friendly wellness & fitness activities and more!
11º Dia Anual de Acción Trans para la Justicia Social y Económica - Puntos de Acuerdo Político
Iniciado por TransJusticia del Audre Lorde Project, un centro organizativo comunitario para Personas de Color Lesbianas, Gays, Bisexuales, Dos Espíritus, Transgénero y de Género No Conforme (LGBTSTGNC POC)
Viernes, 26 de junio del 2015 Read more »