Saturday, September 24, 2016 - 11:00am - Sunday, September 25, 2016 - 5:00pm
Daring to Be Powerful (DTBP) is one of New York City's largest People of Color centered community organizing workshops. The Audre Lorde Project aims to build both individual and collective power to better challenge the multiple oppressions faced by Lesbian, Gay, Bisexual, Two Spirit, Transgender and Gender Non Conforming People of Color communities. DTBP is our signature organizing institute for building skills, analysis of oppression & power, learning about current issues and campaigns to get involved with, and offering opportunities for strategizing and community organizing.
Monday, August 29, 2016 - 11:59pm
We're calling all graduates of TransJustice Community School to apply to our first ever TransJustice Community School 1.5!
TransJustice Community School 1.5 is a four week program focused on campaign organizing where participants will learn skills needed to develop and implement a grassroots campaign that works towards the liberation of Trans and Gender Non Conforming People of Color. Together we will generate knowledge from our lived experiences and our community's rich history as we continue to build this movement together.
TransJustice School 1.5 is for People of Color who identify as Trans and Gender Non Conforming who have graduated from TransJustice Community School (this is a pre-requisite) for example people who identify as Trans, Gender Non-conforming, gender variant, gender deviant, butch lesbians, drag queens, bi-gendered, Two-Spirit, drag kings, femme queens, A.G., gender queer, non-gendered, andro, gender-benders, etc. People who graduated from TransJustice Community School between 2010-2016.
Attached to this, is the application. Feel free to print it out, and bring it to our Manhattan office. (addressed listed in application), or email it to nico
alp [dot] org.
If you have any questions, feel free to email nico
alp [dot] org or call at 212.463.0342 ext. 13
We're so excited for the opportunity to grow the work of TransJustice Community School and look forward to your applications!
Sunday, August 28, 2016 - 12:00pm - 6:00pm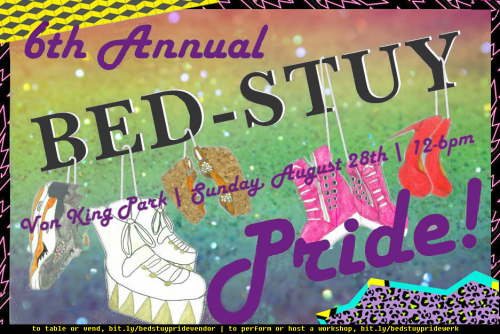 Come celebrate lesbian, gay, bisexual, two spirit, transgender and gender-non-conforming people of color living in the Bed-Stuy and Central Brooklyn community. The day will feature local artists, performances, workshops, music, vendors, family friendly wellness & fitness activities and more!
ALP's 12th Annual Trans Day of Action on June 24th was a huge success with over 2000 Trans and Gender Non Conforming People of Color and Allies taking to the streets! The resistance, resilience and power of Trans and Gender Non Conforming People of Color was deeply felt. Read more »