August 13, 2021
Dear Community,
After a robust pride season and COVID restrictions lifted for gatherings in New York City, we hope you are re-emerging into public life in safety, good health, and spirits raised by sunlight and safe gathering. It is a hopeful time in comparison to August of 2020, and we are moving forward optimistically and with caution about the future of convening our communities. There is still work to do in the wake of a revolutionary year that normalized phrases like abolition, racial justice, white supremacy, and anti-Blackness into the popular dialogue and conversation around achieving a world that does not permit the murder and neglect of QTBIPOC bodies by forces of the state.
One of the great challenges of this moment is to be able to hold the simultaneous reality of being an intersectional identity, and also being able to impactfully coordinate efforts across movements to dismantle the white supremacist hetero-patriarchal structures that are upheld by the state. In periods of healing and reflection after a prolonged crisis, it's a relief to know that we are not alone, and this isn't the first time our movements have needed a reflective pause after a raging storm.
In Audre Lorde's essay, Learning from the 60s, she shares some insight with readers about lessons learned from movement-building in that time, which are more relevant than ever at this moment:  
"You do not have to be me in order for us to fight alongside each other. I do not have to be you to recognize that our wars are the same. What we must do is commit ourselves to some future that can include each other, and to work toward that future with a particular strength of our individual identities. And in order to do this, we must allow each other our differences at the same time as we recognize our sameness. 

If our history has taught us anything, it is that action for change directed only against the external conditions of our oppressions is not enough. In order to be whole, we must recognize the despair oppression plants within each of us-- that thin persistent voice that says our efforts are useless, it will never change, so why bother, accept it. And we must find that inserted piece of self destruction that lives in flourishes like a poison inside of us, unexamined until it makes us turn upon ourselves and each other. But we can put our finger down upon that loathing very deep within each one of us and see who it encourages us to despise, and we can lessen its potency by the knowledge of our real connectedness, arcing across our differences. 

Hopefully, we can learn from the 60s that we cannot afford to do our enemies' work by destroying each other."
Moving forward with this key idea in our namesake's library of legacies, we will be focused on safe healing and planning our year in programming with the understanding that our rituals of gathering in public will return, and that being present with each other in the aftermath of an extended public trauma may be a source of repair. The next stages of our healing will take work that addresses trauma without replicating the oppressive tools of the state.
Our organization's new fiscal year has begun; our work planning process is taking shape as a calendar of offerings that honors the legacy of the organization and integrates our own values around what sustainable movement-building looks like during a global pandemic. 
For folks who are interested in plugging into our work, showing up for our upcoming events is the simplest way to get involved. BedStuy Pride: Virtual Vibes and Vendors edition will be held on Zoom, and folks can register here. Please sign up and share widely!
In Solidarity,
Janhavi Pakrashi
Communications Coordinator
Tuesday, August 24th, 6:30-8:30 - Open Member Meeting (contact anqa@alp.org for details)
Thursday, September 9th, 6:30-8:30 - 3rd Space Quarterly Meeting (contact indra@alp.org for details)
Tuesday, September 14th, 6:30-8:30 - TransJustice Campaign Meeting (contact rumi@alp.org for details)
Tuesday, September 21st, 6:30-8:30 - Safe Outside the System Campaign Meeting (contact kerbie@alp.org for details)
Wednesday, September 22nd, 6:00-8:00 - Organizing Coordinating Committee Meeting
Tuesday, September 28th, 6:30-8:30 - Open Member Meeting (contact indra@alp.org for details) 

Thank You for Supporting ALP
Thanks to you, our community of members and allies, we're heading into the rest of the summer and fall with a strong base of supporters powering our work!
Your support generates the space for us to collectively vision forward while also building safety, liberation, and transformation for lesbian, gay, bisexual, two-spirit, trans, and gender non-conforming people of color in New York City today.
From all of us at ALP, thank you!
Upcoming Events and Updates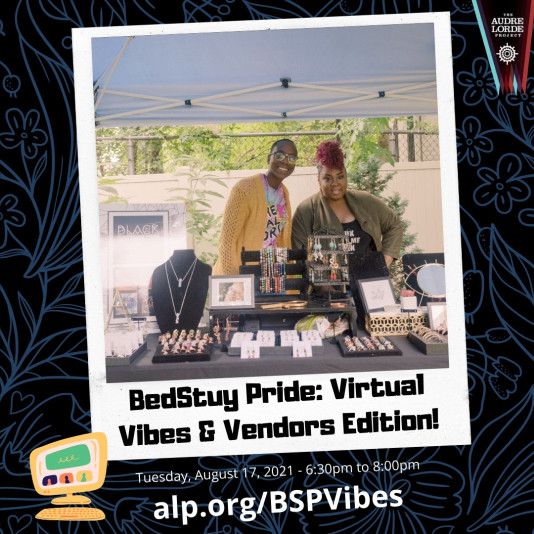 BedStuy Pride: Virtual Vibes and Vendors Edition
BedStuy Pride has always been a space that centered and most importantly celebrated the lives, talents, and vitality of lesbian, gay, bisexual, two-spirit, transgender, and gender-non-conforming people of color living in NYC by providing space, wellness, art, and community support! 
Join us on Tuesday, August 17th at 6:30pm via Zoom for BedStuy Pride! Come enjoy good music, good energy, a healing space, good company, and meet radical, community safety/de-escalation trained businesses and spaces! Food vouchers will be provided. 
This is an event brought to the community by the Safe Outside the System Collective! For any vendors interested in being part of our virtual vendor event, email the SOS coordinator at kerbie@alp.org.
Want to level-up your fundraising skills and help financially sustain queer and trans people of color organizing for justice, safety, and liberation? Join our Resource Organizing Committee!
You'll learn the basics of grassroots fundraising and play an active role in helping the Audre Lorde Project develop a fundraising program that is rooted in an anti-capitalist politic and informed by a nuanced understanding of how economic injustice uniquely harms queer and trans people of color in this country. 
Please complete this brief interest form and plan to attend the first meeting on Thursday, September 2nd, 6:30-8:30 pm! Once you complete the form, we'll send you the Zoom link 48 hours before the meeting. Send any questions to Danya AbdelHameid, ALP's Grassroots Fundraising Coordinator, danya@alp.org 
No previous fundraising experience needed!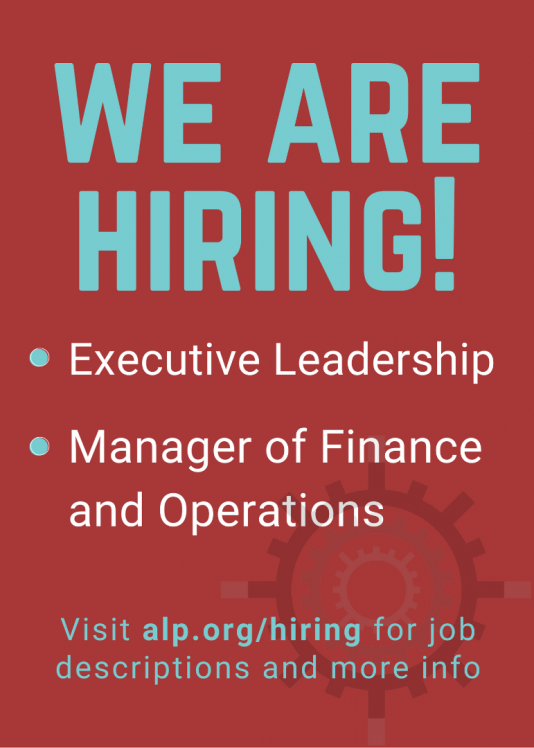 Our search is live – the Audre Lorde Project is looking to recruit a new wave of leaders to support LGBTSTGNC organizers of color in New York City! Currently, two full-time positions are open at ALP:
Executive Leadership ($75,000 for Co-Directors and $85,000 for Solo Executive Directorship, plus benefits)
We are searching for empathetic, confident, organizers who know their way around team dynamics and NYC's LGBTSTGNC POC community. Currently, the position can be applied to by one candidate or a two-person co-director team who are eager to build on each others' strengths to guide ALP forward as it seeks to deepen its politic, connection to community, and a more sustainable future. Are you that somebody?

Manager of Finance and Operations ($61,000, plus benefits)
Do you know a spreadsheet wizard into budgets, organizational management, and fiscal policies? Send them our way!
Run it up, y'all! Let's find some amazing comrades to join our team at ALP!
For more info, visit alp.org/hiring.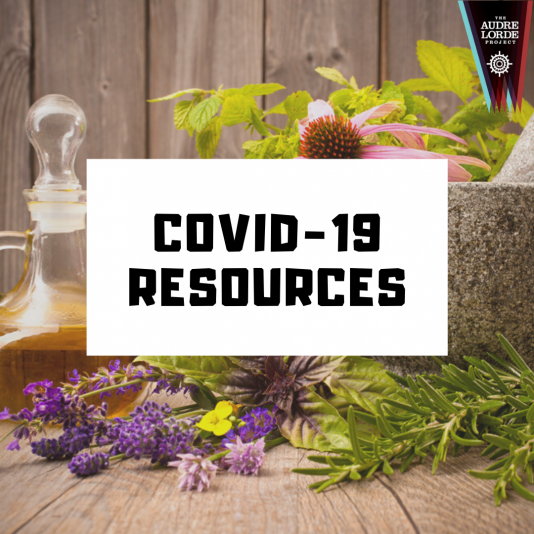 NYC QTBIPOC Centered COVID-19 Guide
Compiled by our amazing former Director of Dignity and Care, Simone Sobers, we offer community a list of COVID-related resources that center the needs and resilience of QTBIPOC folks in NYC.
Click here to read more about the intentions of this resource or click the button below to be taken directly to the guide.
Audre Lorde Project
85 South Oxford Street
Basement
Brooklyn, NY 11217